Battle of Slots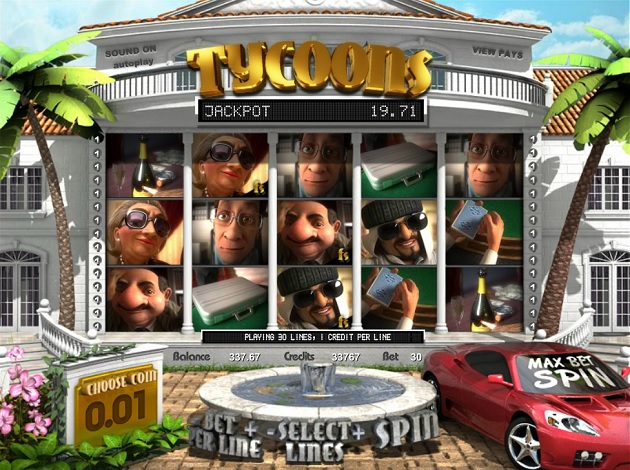 Tycoons Plus
Money. It's a crime. Or at least if you take Pink Floyds words for granted. Should you ask one of our protagonists in Tycoons I'm pretty sure they would say it is the other way around. But after a life of all luxuries imaginable there is not much left to make the old heart beat faster, so four of the wealthiest people on earth gather here at Casa del Dinero to play a bit of poker. With the highest possible stakes. Their life. No that was a lie, it's just really big amounts of money but they really like money.

There is however a twist here, as the tycoons select a few people worthy to join them in this extraordinary event and it seems like you have been chosen. The tycoons never choose someone without the luck, skill and daring that is necessary to be a champion here so they must have seen something in you. As the invitee you get to place bet on who is going to win the hands of poker they are playing, and you will receive part of the winnings of your chosen tycoon.

So which one do you believe in? Is it the billionaire oil tycoon/philanthropist Mohammed Al Amoney or maybe Johanna Qash the German heiress of a big car company? You might prefer Duke Gerald Quidvenor, a British nobleman with a lot of old money and the manners that come with that. And last but not least we have Mark Zuckercoin, the up and coming young tech-wizard with a brilliant future ahead of him. They will all compete for your favour and try to bring you to their side so choose wisely. Or just play your favourite, whatever you might think will work. The only thing that is certain is that after a night in Casa del Dinero your life will never be the same.

Tycoons Plus is a five reel and 30 payline video slot from the people over at Betsoft. Tycoons Plus is a touched up version of the old favourite Tycoons. The hard working people at Betsoft saw that there was room for improvement in this exciting video slot and decided to give it the touch-up the slot deserved. Both the music and the animations relays and aura of wealth and exclusivity which makes the sensation that is Tycoons Plus all the more enjoyable. Over here at Videoslots.com we are really happy to have another game of this calibre in our online casino and hope you share our excitement and give this slot a go. The slot itself is a five reel, three rows and thirty payline game with three different bonuses, the Poker Round, the Free Spin bonus and the Jackpot bonus.

So jump into your Lamborghini, leave your wife at the Villa in Monaco, bring your lover from the French Riviera and head over the Casa del Dinero for a night you will never forget.