Battle of Slots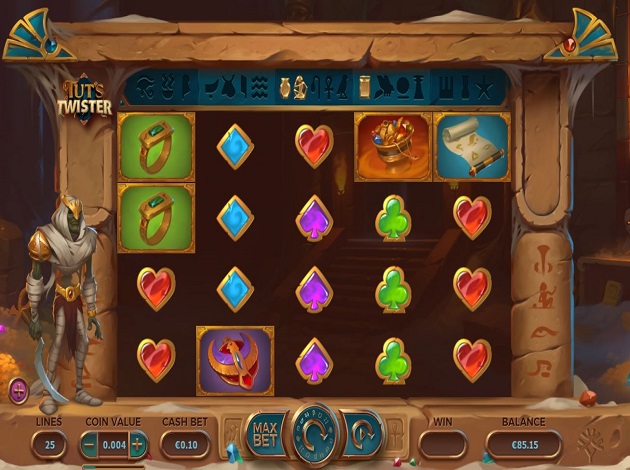 Tuts Twister
Tut´s Twister introduction
Complete the collection to start a desert twister, walk the lane of the Wilds, solve mysteries, and multiply them in the new masterpiece by our all-time favourite, Yggdrasil. A game supplier that proves time and time again why it is in the limelight of the industry with players always wanting more and games always giving more.
Yggdrasil always makes sure players can indulge in a theme that captivates and engages – and this time is no exception, with inspiration taken by Egypt and the mightiest of them all – Tut (Tutankhamun as he is also called). He was the Pharaoh of the ancient Egypt at a shy age of 10, yet, his tomb wasn't found until the year of 1922. The discovery received world-wide coverage and re-sparked a high interest for Egypt all around the world. Tut´s death mask was found in the tomb, and has become one of the most well-known Egyptian symbols. Surely you know of the blue and golden Pharaoh mask?
But even after his death he has caused some whiffs. The "mysterious" deaths of the two who excavated Tut´s grave has been seen as an attribute to the curse of the Pharaohs – and in this game he literally stirs up a twister. It is time to find out just what powers this Pharaoh has from beyond the tomb.
We proudly present Tut´s Twister by Yggdrasil!
Tut´s Twister features
Tut´s Twister is a Video Slot offering a generous amount of Features – but before we get into details, you must know of the symbols, and of which ones can grant you these.
The game holds the set of card suit symbols as low valued symbols, being clubs, diamonds, hearts and spades. Going up from there are the papyrus, the gold ring with a green emerald, the Horus eagle jewellery, and the bucket filled with coins, diamonds and jewellery. These all grant you wins in combinations of at least 3 of-a-kind. All are worth differently depending on your bet size, meaning that the more you bet, the higher valued symbols.
Then what are these magical feature symbols? A Wild of the golden Pharaoh statue as well as small Egyptian hieroglyphs which you need to collect while spinning the reels will take you to the golden tombs. Let´s get to collecting!
Tut´s Twister free spins and bonuses
As mentioned, there is a generous amount of special features in this game, and the main one is the Twister Collection Feature.
When you see the reels, you can also see that above each reel there are collections of between 3-5 hieroglyphs. With the help of landing Wilds on the reels, you will collect these hieroglyphs, and whenever you get a new one it will turn into gold and land on top of the reels in its places. When you then manage to fill a reel´s full collection, you trigger Tut´s Twister on that same reel. Tut will appear in a full-blown twister and you will get 1 extra Wild on the reels for ach collected hieroglyph.
Tut´s Twister Feature can also be triggered when you land 2 or more Wilds on the reels, which awards you Re-spins with Walking Wilds and an increasing Multiplier. The left reel will turn into the twister and this acts as a locked Wild Reel.
The Walking Wild will walk towards the twister until they are sucked in and you will be awarded Re-spins until no Wilds are on the reels. For each 3 Wilds in this feature, the Multiplier will increase with 1x.
Last Chance and Final Spin: if there are no more Wilds on the reels, another extra spin will be awarded – which ultimately gives you another chance to land a Walking Wild.
If then no Wilds land on the Last Chance Spin, the Twister will be scatter all Wilds and accumulate then on the reels to award a final win with the accumulated multiplier.
You also have a Mystery Feature where you can win 4 different types of awards. By landing the question mark you can win one of the following;
1 hieroglyph
Extra Wild and Tut´s Twister
25-2,500 coins
No award (empty symbol)
Tut´s Twister payout
With its marvellous feature comes 5 reels over 3 rows and 25 paylines that pays from the left. The lines are fixed, so you will play on all lines in all spins. The bets goes a long way from €0.10 up to a maximum of €125.
Tut´s Twister graphics and music
Tut´s Twister is a visually masterpiece, offering top-notch graphics and impressive design. Tut is standing next to the reels, still wrapped in the same bandages he was buried in. at a win, he suddenly goes excited and opens his glowing blue eyes and shows us his creepy, cool smile – letting us know that his soul never actually left him. He is swinging his sword and does his best to turn up the storm just for you.
The game is set inside the tomb, with sandstone walls and treasures in the back. The animations, symbols and 3D graphics are all brilliant and the details of the game are simply alluring.
About Yggdrasil
Yggdrasil is one of todays´ leading providers of online and mobile games, as well as for lottery content and live lotto. They deliver content to the biggest operators in the iGaming industry, and they are well-known for providing games with flawless design and high entertainment value.
Apart from creating games, Yggdrasil has also launched their own innovations and developments through their time. One of the biggest developments in the so-called iSENSE 2.0. This is a unique HTML5 product that lets operators launch the games on both desktop and mobile at the same time, which has proven to be a success for both Yggdrasil and their operators.
Games from Yggdrasil has since start been a big favourite among players. With a grand variety and a big collection, their portfolio contains everything ranging from video slots, both classic and video scratch card games, 3D video keno games, instant lotto, live studio lotto, as well as progressive jackpots that go from desktop to mobile versions. They also recently started a daily lottery draw live from Malta where players can win some humongous jackpots!
We believe the Yggdrasil Gaming products speak for themselves; there is no other way to experience the greatness of Yggdrasil than doing it live, on your own.
Some of the Yggdrasil editions are; Beauty and the Beast, Legend of the Golden Monkey, Vikings Go Wild, Wicked Circus, Winterberries, and much more.