Battle of Slots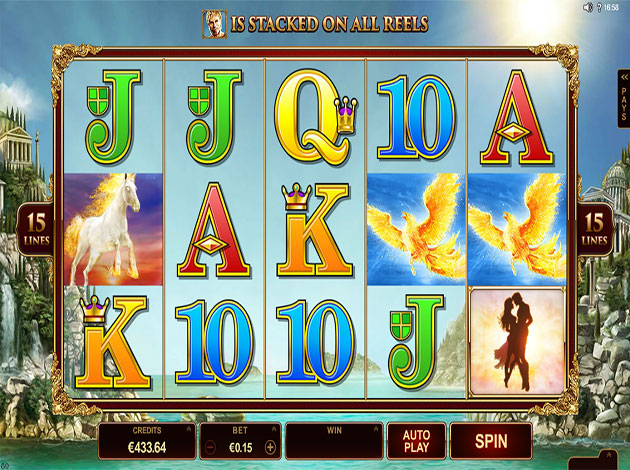 Play Titans of the Sun - Hyperion online: Check out our slot review below
Ladies and gentlemen, we at Videoslots.com feel privileged to be able to present to you: Titans of the Sun – Hyperion, from Microgaming. Microgaming is known all around the world for being one of the biggest and best game providers in the industry. They always delivers extremely well-made, innovative and immensely entertaining video slots.
In Greek mythology, Hyperion was one of the twelve Titan children of the mother of all; creator and giver of birth to the earth, Gaia. Together with Cronos, he overthrew his father Uranus, before they themselves were overthrown by the Olympians. Hyperion, together with his Titaness sister Theia, gave birth to Selene (Moon), Helios (Sun) and Eos (Dawn).
Titans of the Sun – Hyperion is a 5 reel video slot with 3 rows, 15 paylines and you can bet up to 150 coins. The symbols in Titans of the Sun – Hyperion consists among other things of the classic video slot symbols A, K, Q, J and the number 10, which stands for the highest value cards in a regular deck of cards. The Scatter symbol is portrayed by a beautiful drawing of Hyperion and Theia holding each other. If you should manage to land 3 or more of this symbol anywhere on the screen, a Free spins-round of 15 will be triggered. The Free spins-round will be retriggered if you land 3 or more Scatter symbols during the Free spins-round.
Titans of the Sun – Hyperion introduces a completely new on-screen feature called the legendary Mystery Symbols. All Mystery symbols come stacked on the reels and transforms into any single high or low paying symbol after it lands on the reels, which improves your win chances greatly.
Both the sound and graphics in this game is truly amazing. Microgaming has really hit the spot when it comes to the event sounds. A full orchestral score, utilizing big drums, further enhances the glory of the thrilling Free spins-round for instance. The graphics is absolutely breath taking, with an extremely beautiful backdrop, great animations and high definition symbols.
Just as always, you can try this game completely free in the demo version if you want to try the game out at first. And when you feel ready for some real action you can log in to your Videoslots account and start to play and win real money.