Battle of Slots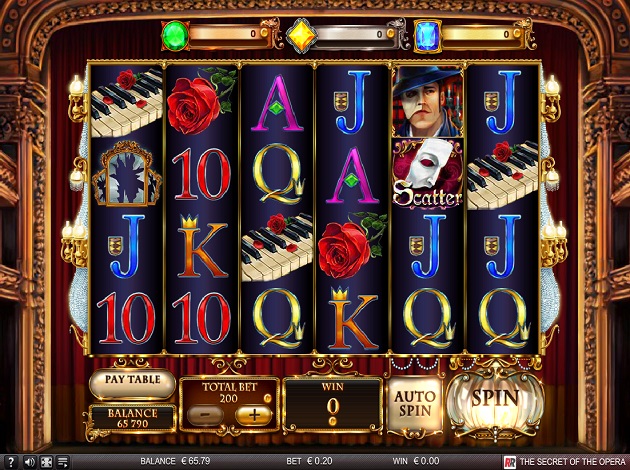 Play The Secret of the Opera online: Check out our slot review below
The Secret of the Opera Introduction
The Secret of the Opera slot is inspired by the hit musical created by Andrew Lloyd Webber called The Phantom of the Opera. The show first opened in 1986 and almost 30 years on, it has been transformed into an exciting and mysterious slot game.
The game takes you on a journey of love, passion, and anger through its brilliantly designed interface and symbols. The two main characters are Christine the opera singer, and Phantom, the bitter man who fell in love with her. Every time these characters meet in the game you get rewarded with amazing prizes.
The Secret of the Opera Game Features
Featuring everything from Wilds and Scatters to free spins and a special bonus. This slot displays a total of 24 symbols split into 6 reels with 50 paylines. You can start bets from as little as € 0.1 and keep raising them until € 200. Just like most slots you can opt to use the handy autoplay button rather than playing each round manually yourself.
The Secret of the Opera Free Spins and Bonuses
As you start the game, you will immediately notice 3 bars at the top of the slot. Each bar has a different coloured gem and shows you your progress towards a random multiplier. Each time a gem stops on the visible part of the reels, the corresponding bar fills up further.
The scatter symbol, which is represented by the mask, unlocks The Great Overture Bonus game. In this minigame, you need to use your keyboard or touchscreen to play chords which unlock parts of the music sheet. There are three music sheets in this game and unlocking any one of them will award you free spins. You will get 20 free spins if you complete the blue sheet and 15 free spins if you complete the green sheet. Completing the pink sheet awards you 10 free spins.
Apart from these bonuses, the game also includes free spins and wildcards which come in three ways; fixed, moving and expanding. During the free spins bonus, both Phantom and Christine will take up the entire reel in which they appear. If they happen to be on reels 3 and 4 they will combine and you will get a further 5 free spins. If, on the other hand, they appear separately, you will still get another free spin.
The Secret of the Opera Payouts
The Secret of the Opera's high return to play percentage is translated into its many payouts. The game includes numerous symbols related to the theme, such as a red rose, a piano, and a broken mirror. Your goal is to get 6 of these so as to win 200 times your bet. However, even if you get 3, 4 or 5 you will get you some great multipliers on your bet. The game also has the 10, Jack, Queen, King and Ace card symbols. These offer multipliers of up to 100 times your bet.
A non-progressive jackpot of 200 coins awaits you if you succeed to spin a full payline which includes 6 Christine symbols, 6 Phantom symbols or 6 wild symbols. In this slot, the wild symbol consists of a golden text surrounded by candles. Winning this jackpot will surely make you sing to your highest note.
During gameplay, the wild symbol can replace any other except a scatter symbol. If you are lucky enough to get between 3 to 6 wild symbols you will win with a multiplier of up to 1000 times your bet. If, instead you get between 3 to 6 Christine or Phantom symbols you will still win with up to 500 times your bet.
The Secret of the Opera Graphics and Sound
Get ready to be transported directly to the opera stage. Your seat is front and centre, the best one in the house. On the sides of the reels you can see magnificent chandeliers. Behind the reels you can see the red velvet curtain is down. There are rows upon rows of seats in front of you and on your side. The game music is all that you would expect during your favourite play. With such a realistic setting, you would be forgiven for thinking that you are actually at Broadway or London's West End.
The Secret of the Opera Conclusion
Released in 2016, the game features a number of unique attractions which are sure to keep you engaged and excited. It is a medium to high variance slot.
About the Provider
Red Rake Gaming is a software development company, specialising in Slots and other casino games. Spain might not be the Mecca of online gaming, but Red Rake Gaming provides an exception. With a development crew of Spanish natives, the website is offered in Spanish and the company headquarters are in Valencia, Spain. Because of this, the main markets are those of Spain and Europe. The Red Rake Gaming team consists of 40 experienced professionals, who have created the world´s first video slot with orbit reels!
The employees mostly focus on generating high quality content in the casino industry, with a particular focus in slot games. These are all quite successful, generating a volume of more than 5 million spins daily, just to mention some of the statistics related to it. These statistics are pretty positive: Red Rake is a company with over 40 employees, offering over 50 Slots in 16 languages, 7 casino games on Facebook, 15 million users, and 15 new Slots every month – just to mention a few.
The game portfolio of Red Rake Gaming is vast and versatile, offering games with various themes, spectacular graphics and animations, as well as careful algorithms that result in an even better gaming experience.
Red Rake Gaming editions we offer at Videoslots.com right now are Little Red Riding Hood and Atlantis.