Battle of Slots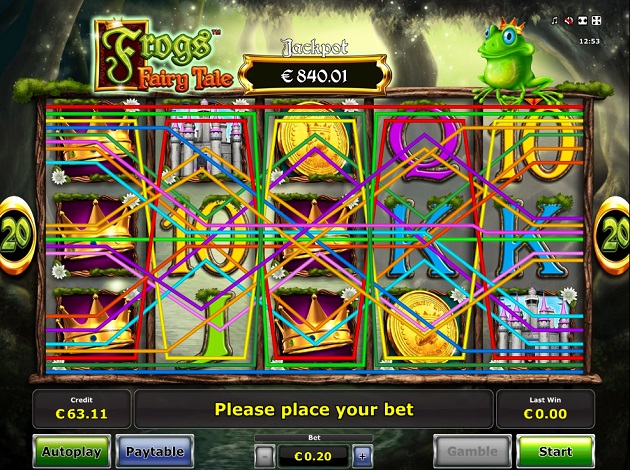 Play The Frogs Fairy Tale online: Check out our slot review below
The Frogs Fairy Tale Introduction
Once upon a time, a little green frog laid resting on his pad. His name was Frogesto Froggilino, originating from the Italian ponds – and on his head was a shiny, gold crown. A long time ago he got lost, but he barely could remember this himself due to his tender young age at the time. No other frog in the new pond truly knew why this little Italian frog was wearing a crown – but they all envied him.
One day, he made a big leap with an aim for the biggest and best pad of all the pond but missed it by quite a few inches. He landed on his many toes, and lifted his head to see a big castle with pink towers; it was unlike anything else he had ever seen. He jumped up to the front door and took his first step into his future life. Inside was gold, jewellery, treasures, and gold coins lined up everywhere – but no other frogs to be seen. In front of him, all of a sudden was a big mirror – and he just realized how his crown looked just like the rest of the crowns hidden in this giant pink castle. Frogesto had met his fate – and it was a most rewarding one.
Your time to come with Frogesto has arrived, and if you treat him with the out most respect and manners, he might take you to see his new, lucky fate inside the doors of the castle far off.
We proudly present the magical; Frogs Fairy Tale Video Slot from Greentube!
Frogs Fairy Tale Features
The Frogs Fairy Tale is just what it sounds like and described above, inspired by a fairy tale about these little jumpers – frogs in its enchanted and forest of riches. And in this, you can find yourself winning both big and good, with features like no other. There is a set of 9 basic symbols, these consisting of card deck symbols, the pink castle, the golden coin, the set of jewellery, and the frogs' kings´ crown. The worth of these all depends on the bet size you place. But there is a lot more than that coming your way in this magical game.
There is a lot of Bonuses that can be triggered by some extra special symbols, these all triggered by Frogesto the Frog himself. We will tell you all about these below!
Frogs Fairy Tale Free Spins and Bonuses
Frog Bonus: while the reels are still spinning, Frogesto can start eating flies. If he does, each one he eats will increase a Bonus multiplier. When the reels then stop, the total price awarded on the reels will be multiplied by the total Bonus multiplier.
Lily Pad Bonus: when 3 lily pad symbols lands on the reels of 1, 3, and 5, this Bonus Game is triggered. This is a mini game where you are transported to the little pond, where lily pads are lying on the water. If you then find 3 matching symbols to win one of the following; Free Spins Bonus, Enchanted Stream Bonus, Colossal Reel Bonus, or the Princess Prize Bonus. If you reveal five Jackpot symbols, you win the Progressive Jackpot prize. Here is a bit more about these;
Free Spins; in the Free Spins Features, a Wild Frog, a Wild Princess, and a Wild Prince symbol can appear on the reels – these all stacked on the reels.
Enchanted Stream; here you press the leaf to reveal or move along the trail along the enchanted stream, where you can make your way forward to win Multipliers and possibly the Golden Ball Bonus.
Golden Ball Bonus; 5 golden balls with Multipliers on them will fall into the pond. Choose an area of the pond to reveal a golden ball and your prize.
Colossal Spin Bonus; symbols on the reels can be replaced with Colossal Reel Symbols that are equal to 9 basic symbol positions.
Princess Prize Bonus; the princess will blow some kisses and award you prizes, with each kiss, the prize grows bigger.
Frogs Fairy Tale Payout
Frogs Fairy Tale is a Video Slot offering 5 reels over 3 rows and additional 20 paylines. All wins are made of combinations of a kind, landed from left to right on the reels. In the game, there is an offered Jackpot, and every 4.0% of every stake goes directly into the Jackpot.
About the game provider, Greentube
Greentube is one of the most appreciated, well-known, and most experienced game suppliers of everything from software, games, and land based gaming products in the world. With its launch in 1980 and their successful, international expansion only 2 years later, the company strived and reached all its goals quickly. Today it has offices and locations in over 50 countries all over the world and still exporting high-tech gaming equipment to over 70 countries. The company has 24,000 employees, all working to provide its players with brilliant products, which consist of among others 160,000 gaming terminals!
The way to its success can surely be found in its dual strategy as the work goes from being producers of high-tech gaming equipment and operators of electronic casinos, regular casinos and sports betting outlets, as well as technology and service partners in the lottery segments. As you hear, there is no stopping to this brilliant company.
But we are here for its online Video Slots – and they are sure brilliant too. Currently, over 240 Video Slots are offered by Greentube, and they all offer us vivid themes, a grand gameplay, thrilling features, and big winning opportunities – which is why Greentube is one of the most beloved game suppliers on the markets. They also offer Video Slots for both online and land based casinos, as well as Multigames, Jackpots, and Electronic Table Games.
Frogesto Froggilino works his best to make your experience in his now, own enchanted forest as best as he can – and this is surely a masterpiece in the making. We wish you the best of luck, may you get as lost in a castle as Frogesto did!