Battle of Slots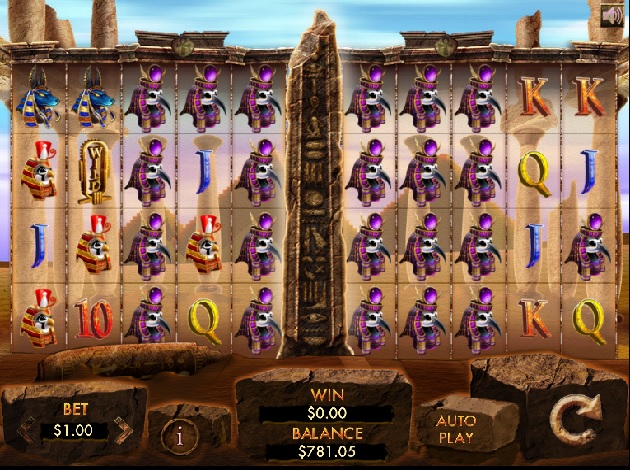 Temple of Luxor
Ladies and gentlemen, boys and girls! We at Videoslots.com are extremely excited to present yet another amazing and innovative release from one of our most beloved game providers, Genesis Gaming. Genesis has, ever since the start up back in 2008 made, made themselves known for always releasing very fun and exciting casino games in top-notch quality that the whole family can enjoy. If you enjoy this game, I would strongly advise you to browse through their, to say the least impressive portfolio of games. I can almost guarantee that you will find something to your liking in there.
Temple of Luxor is a video slot that is built up a little different than others. Instead of the classic 5 reel video slots with 3 rows, they have put in 2 sets of 5 reels with 4 rows with a whopping 100 paylines you can keep active for each round. When you are playing the normal play, the first set of reels pays left to right, and the second set pays right to left. This gives you the chance to easily keep track of both games at the first time. If you should manage to land 2 scatters in each game screen in normal play, the Temple Free spins round is triggered. When you start this feature the reels combine through the dividing obelisk, which is now a reel filled with wilds. This enormous set of reels consists of 11 reels and 50 paylines and pays both from left to right and right to left. If you land 2 scatters on reels 1-5 and 2 scatters on reels 7-11, you will be rewarded with 10 more free spins.
Genesis has really put down their heart and soul in Temple of Luxor, which you can really see when it comes to the layout of the game. Both the sound and graphics in Temple of Luxor is absolutely amazing, with a great soundtrack, well-made symbols and a beautiful background, all in a classic Egyptian theme that a lot of you experienced slot players will recognize.
If you want to give the game a go before you start to play for your own money, Temple of Luxor is, just like all our other slots and video slots, available totally free in our demo version. Here you have the chance to get a grasp of the game, so you know how all the features work. When you are ready for real action you can simply log in to your VideoSlots account and play for real money, to experience maximum excitement.
So what are you waiting for? Take this opportunity to play a very fun, well-made and unique video slot. I can almost guarantee you that you will fall immensely in love with this awesome game, just like all of us here at the office.
We at Videoslots.com would like to take this opportunity to wish you the very best of luck in Temple of Luxor. And as always, remember to have fun while playing.