Battle of Slots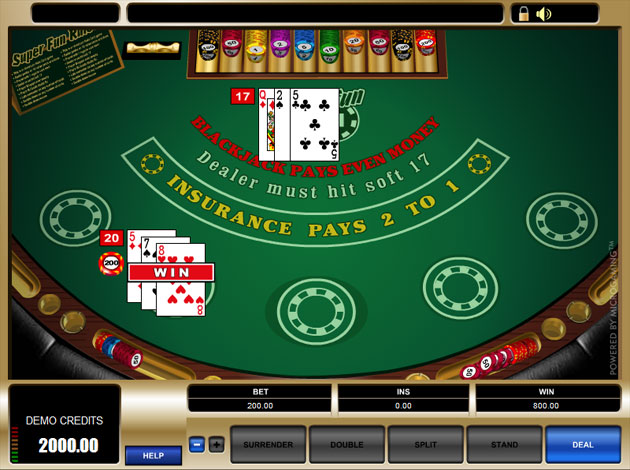 Play Super Fun 21 online: Check out our review below
When looking at the different games at videoslots.com and you see one described as Super Fun, you might be a bit interested. If it's fun or not is of course up to you to judge, however, it is a popular blackjack game.

Super Fun 21 is probably not the blackjack game for hardcore blackjack fans, since it differs from the original strict blackjack rules. For instance, in Super Fun 21 blackjack pays 1 to 1, but if you hit a diamond blackjack, you are paid 2 to 1. A diamond blackjack is a blackjack with two diamonds.

Super Fun 21 has a few card combinations paying you extra, in addition to the diamond blackjack. Any five or six card 21 pays you 2 to 1, and any six card hand with the value 20 or less pays 1 to 1.

You will have a choice to surrender your bet, after being dealt your first two cards. Just hit the surrender button, and you will be paid back half your bet. But remember, you will loose half your bet. It's not always easy to know when to surrender a bet and when to play the hand. One guy at videoslots.com tried to find out, looking for different strategies on web, but he came back empty handed, so you will probably have to trust your gut feeling.

Super Fun 21 at videoslots.com you also have the options to double your hand on any combination, split cards of the same denomination, and also to take an insurance, to protect your bet from the dealer hitting the blackjack. We really hope you agree this game is Super Fun.