Battle of Slots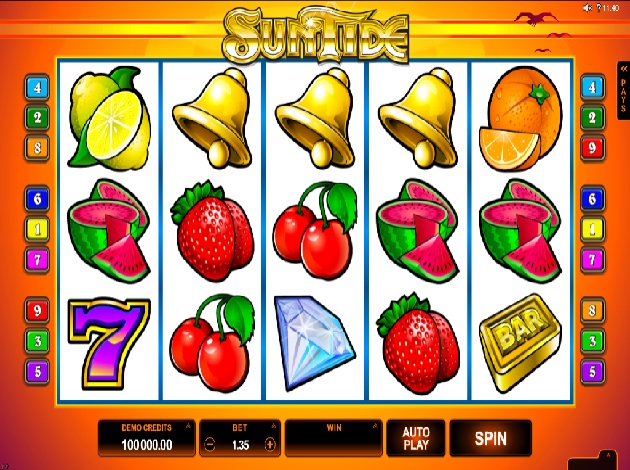 Play SunTide online: Check out our slot review below
Hi and welcome to SunTide! If you like the classically styled fruit themed slots, this one is for you. The graphics have obviously evolved from the old ones and the fresh color scheme adds that summer feel to this video slot. With 9 paylines over 5 reels and 3 rows, you don't have to remember hundreds of different winning combinations. The symbols all look like you would expect from these kind of games and has Wilds and Scatters which fit the theme. The Wilds will replace all symbols except for Scatters if it gives a winning combination, and they look like golden medallions. The Scatter symbols depict a sunset with palm trees in the foreground and has the text "Scatter" in the bottom so they are hard to miss.
You have the chance to get expanding wilds on reel 3 when you are playing outside of the free spin bonus round, every Wild you land on that reel will expand. If you manage to land 3 or more Scatter symbols on the reels, you will be awarded with a bonus round with 15 free spins with the added feature of Expanding Wilds on reels 2, 3, and 4. Landing the minimum of 3 Scatters will award you 15 free spins where these Expanding Wilds over several reels are enabled. Free spins can be retriggered so there is a great chance of some big wins coming your way with the added chance of expanding Wilds over multiple reels.
Now we're covered the basics of this video slot, further information such as the paytable and so on can be found inside of the actual game. Let's talk a bit about the history of one-armed bandits since Microgaming chose to release a slot with such a nostalgic feel to it. The American inventor Charles August Fey released the first ever machine, which resembles what we today refer to as slots. He did so as early as 1895 in his hometown San Francisco. Fey called his creation "The Liberty Bell" and did his best to introduce this brilliant machine to casinos in his vicinity to no avail. "The Liberty Bell" had three rolling reels with the symbols from a deck of cards painted on them: spades, hearts, cloves, diamonds, along with a lucky horse shoe and a bell. Just like most slots of today, the goal was to get 3 or more symbols in a row and the chance to win was not great; probably something along the lines of 1 to 1000. Fey would sell his idea to Mills Novelty Company and the rest, as they say, is history. The one-armed bandit were to be exported to other parts of the world and its name is said to come from someone uttering the phrase "You one armed bandit!!" upon losing their bets once upon a time.
Microgaming helped evolve the slots to where they are today and this casino game is a new take of the old classics, which appeared in the wake of the one-armed bandits. Now it's time to bring your laptop, chill in the sun with a cold drink in your hand, and just enjoy SunTide immensely just like we did. Good luck!