Battle of Slots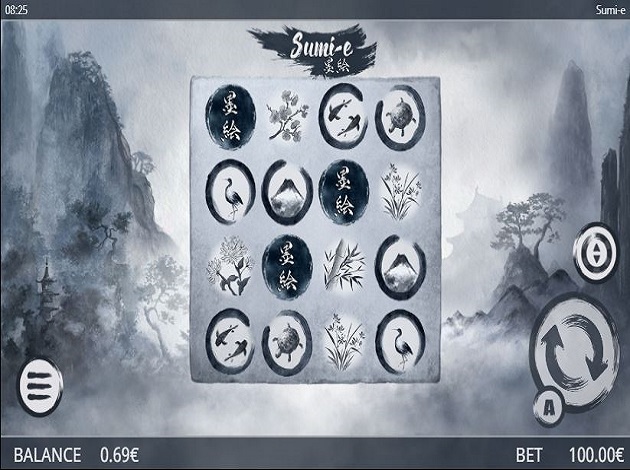 Play Sumi-e online: Check out our slot review below
Sumi-e Introduction
The word 'sumi' is used to describe a type of black Japanese ink that's prepared in solid sticks and used for painting and writing. This slot tells the story of the Master carpenter, who's passion for drawing and writing was bigger than everything else in his life. His love for these two artistic acts stemmed from his upbringing as a carpenter, and the more he grew the more he started seeing his profession as a way to sustain himself just to be able to do what he believes he is set out to do; write and illustrate his own stories.
The Master carpenter decided to climb Mount Fuji in search for inspiration and there he met a Stork who told him that in order for him to get inspiration he needed to go through these particular tests which he had prepared for him. The carpenter was surprised to see that the Stork knew him and knew that he would come, and the Stork explained to him that it was written that a great craftsman would climb the mountain in search of truth and meaning, and that its goal in life was to assist this craftsman. Of course, the craftsman was the Master Carpenter himself. Check out this four-by-four slot and help the craftsman fulfil the prophecy!
Sumi-e Game Features
The symbols to the game are a series of Japanese symbols, all done with this particularly ink-like design, having things such as Cherry blossom, Chrysanthemum, Bamboo, Japanese Cedar, a Turtle, a Stork, two Koi Fish and what looks like Mount Fuji.
Sumi-e Free Spins and Bonuses
If you get one Red Enso symbol on the screen you get one free game. Not only that, but for every Red Enso symbol on the screen you can get one additional multiplier which continues to grow in all the consecutive free games. Naturally, the multiplier resets once the Free Games are over.
Sumi-e Payouts
To win some prizes you need to get at least four of a kind. The payouts to Sum-e according to every different symbol are as follows:
The lowest paying symbol, the Japanese Cedar, can get you a prize if you get at least four of a kind, with 1x your bet.
The Bamboo can get you a prize if you get at least four of a kind, with 2x your bet.
The Chrysanthemum can get you a prize if you get at least four of a kind, with 5x your bet.
The Cherry Blossom can get you a prize if you get at least four of a kind, with 10x your bet.
The Turtle can get you a prize if you get at least four of a kind, with 20x your bet.
The Stork can get you a prize if you get at least four of a kind, with 25x your bet.
The Koi can get you a prize if you get at least four of a kind, with 50x your bet.
Mount Fuji can get you a prize if you get at least four of a kind, with 100x your bet.
Sumi-e Graphics and Sound
The game is very beautifully designed, having a mystically greyish backdrop with dark blue ink creating the only visible features in this simulation of what sumi drawings look like. The drawings are of mountains, long trees, a house-steeple and some hills. The centre of the slot is the reel frame which is in the shape of a square since there are four-reels and four-rows, topped by the slot logo name. On either bottom corners are the information option and the auto-play feature.
The music is what solidifies this experience as one gets truly immersed into this tale with the ambience that's created by both the minimalistic design but more so than that, by the enchanting eastern-influenced music.
Sumi-e Conclusion
Climb the mountain with the Carpenter and experience this enchanting moment of the aligning stars, as this simple craftsman encounters his destiny in a truly magical moment as the stork shows him the reeling riddles from which he can get the potentially promised prizes! Check out this cool game right now here on Videoslots!
Gambling is a form of adult entertainment only. You must be over 18 to play. Play responsibly.
About the Provider
Ganapati was established in 2013 by a team of experience entrepreneurs with a vision to engage players like never before. They are an international company with game studios, media platforms and production companies located all over London, Tokyo, Los Angeles, Estonia, Taiwan, Malta and Curaçao. For a relatively young company, they're hugely global and popular.
Ganapati's content is designed to entertain players through a unique combination of entertainment with gaming to create truly unique products. This is a company with a love for Japanese culture, both old and new, and they aim to bring that to the global gaming sector in the most authentic way possible. Their mission is to produce immersive content by utilising the expertise of their global network, from all kinds of sectors. Everything from film and music, to animation, Japanese design, great story-telling and technology is used to provide amazing content for the iGaming market.
There are many Japanese themed slots out there, but none which show the same passionate flavour for this culture as Ganapati's games do. They combine the traditional style of European iGaming with an amazing Japanese touch that's completely unique to Ganapati. Although their games are primarily Japanese-themed, there's still a lot of variety.
Check out the games available now at Videoslots, like the hilarious PPAP, She Ninja Suzu and Sushicade.
Play in our Battle Of Slots
Don't miss out on the opportunity to play a thrilling Battle with our special, unique and very first social online casino experience – Battle of Slots. Videoslots gives you the chance to play first time Battles against your friends and other players on Videoslots.com with games from NetEnt, Thunderkick, Play'n GO and Pragmatic Play. There is only one Battle of Slots – and you'll only find it on Videoslots.com!