Battle of Slots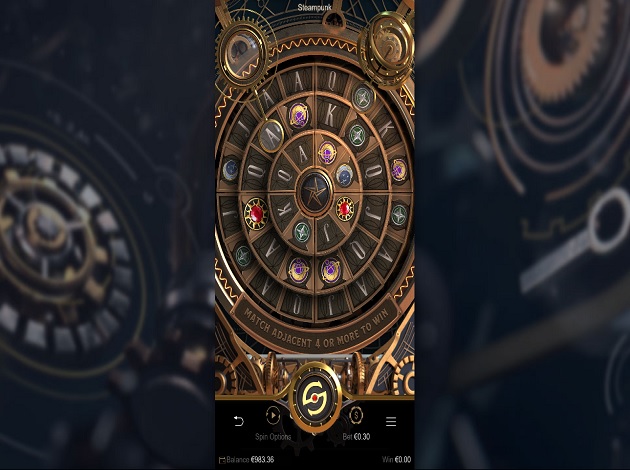 Steampunk
Steampunk Introduction
Steampunk will turn your slots world upside down because it's actually unlike any other video slot you've ever played before – it's not really a slot, it's totally one of its kind! Steampunk will take you on a surreal time travelling adventure into the 'Fourth Dimension'. PG SOFT was inspired by contrast between day and night, light and dark, time and space, to create the magnificent Steampunk slot.
Steampunk is totally based on the idea of the fourth dimension, the area that exists between the cracks of space that vanish as soon as they appear. The time traveller who can reach this fourth dimension must first unlock the roulette of the sun, moon, and stars. You are the time traveller in Steampunk, and the daunting task is yours if you accept it. If you can manage to make the moon and the star symbols align, you will be awarded with free re-spins! When the sun symbol appears on the three-tiered roulette, you will then travel to a bonus game where you can be awarded with some cash prizes too! Not only that, with each spin of the wheel, you can also double your winnings.
Steampunk Game Features
Steampunk looks completely unusual and unlike any other slot you might have played, but it's actually a very simple and easy game to play. All you need to do is spin the wheel and match symbols on adjacent wheels. The symbols include a jewelled sun, a globe, a half moon, and a compass, as well as four playing card symbols, A to J. Matching four or more symbols of a kind adjacent to each other will earn you a prize!
Shuffler Feature
Above the wheels you can see two shufflers, one on the left and one on the right. Each shuffler points to a fixed symbol position on the wheel. With every spin, both shufflers will show a random high paying symbol.
Respin Feature
If only one of the shufflers matches with its pointing symbol, the respin feature is awarded. During the respin feature, the reel on the wheel which activated the Shuffler feature will be frozen while the other two wheels respin. The unactivated Shuffler will now be assigned a new random high paying symbol which could lead to a match with its pointing symbol. If it does, the bonus game will be triggered.
Steampunk Free Spins and bonuses
There are no free spins in Steampunk but as you can tell by now, this is far from any ordinary slot and PG SOFT has included something even more unique than free spins!
Bonus Game
If both shuffler match with their pointing symbols, the bonus feature is awarded. In the bonus game, you will be shown eight tiles with a prize value indicated on each tile. Now, it's up to you to choose the 'Take Win' option on a tile or to choose 'Gamble' to remove one tile and change the 'Take Win' value. The feature will then end either if you choose to take the prize of a tile or if there is only tile left after gambling the other tiles.
Steampunk Payouts
There are no paylines or ways to win in Steampunk, instead, you just need any adjacent matches of four or more symbols to win a prize. It's also possible to get multiple combinations in one spin!
Steampunk Graphics and Sound
Steampunk is inspired both by a cosmic theme and a steampunk style, with an action steampunk engine making up the game machine. The wheel is made of bronze metal with touches of gold as well. In the centre, you'll find the star symbol with the three wheels around it. On top, you can see the two shufflers with the red sun symbol and the moon and stars symbol inside.
The design is splendid to say the least and the level of detail that makes up the game engine is truly impressive! You can see all kinds of wires, metal pieces, cogs and bolts in typical Steampunk style. When the wheels get spinning, you can actually see and hear the machine working, with steam coming out of the spin button and powering the wheels. Whenever you get a win, a tube with electricity running through it will come out of the machine and display your prize.
Steampunk Conclusion
Steampunk from PG SOFT not only comes with a highly original concept and look, there are also some impressively unique features that add a lot of excitement in the game in the form of re-spins, and a bonus game with different prizes. If you're looking for something out of the ordinary, Steampunk video slot is it!
Are you ready to try your chances at unlocking the wheel? Find out by playing PG SOFT's Steampunk slot at Videoslots today!
Gambling is a form of adult entertainment only. You must be over 18 to play. Play responsibly.
About the Provider
"Difference makes the difference" – that's the clever motto of this young provider, PG SOFT. They are a mobile game development company based in Valletta, Malta. For a company that joined the iGaming industry in 2015, they've grown to an impressive size of 200 employees, expanding beyond the island of Malta as well. Now, they have offices in Europe, North America, and Asia. Albeit being a new name on the iGaming scene, PG SOFT is quickly making a name for themselves with their impressive mobile slots.
With a motto like, "difference makes the difference", they really take the element of 'difference' seriously. PG SOFT's games are truly different not just in themes and gameplay, but in every other aspect of the game as well, with ideas that are completely out-of-the-box!
Hotpot is the best example that proves this big claim. Hotpot takes place literally inside a hotpot, a boiling soup full of spices and ingredients which are also the 'reels'. Other crazy themes include adorable plushies, legends and myths, anime, and much more.
Besides awesome ideas that will stun you with their originality, the graphics will also blow you away. Above the reels, most slots will have a video screen showing animations related to the game. They'll take any idea and turn into a brilliantly executed game that any player will love.
Check out games by PG SOFT like Hood VS Wolf, Joker Wild and Win Win Won.
Play in our Battle Of Slots
Don't miss out on the opportunity to play a thrilling Battle with our special, unique and very first social online casino experience – Battle of Slots. Videoslots gives you the chance to play first time Battles against your friends and other players on videoslots.com with games from NetEnt, Thunderkick and Play'n GO. There is only one Battle of Slots – and you'll only find it on videoslots.com!