Battle of Slots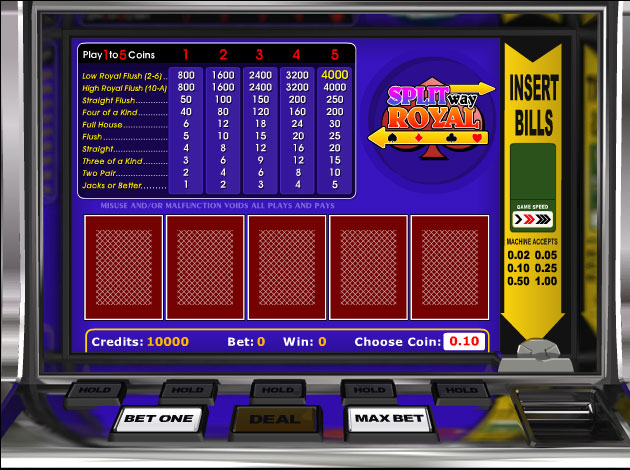 Split Way Royal
Welcome to this classic video poker called Split Way Royal. It has been provided to you by the reputable and cool game provider Betsoft Gaming. They are a reputable brand with over 150 unique and diverse games in their impressive portfolio. They are always looking to provide the most engaging and exciting gaming experience to their players. They offer a large variety of classic casino game favourites, such as table games and video pokers and some of them are also available in cinematic 3D- graphics. We are really proud to be co-operating with them.

Are you a dyed in the wool video poker lover or a new friend of these superior machines? Or do you just want to spice up your everyday life and get a chance to chase some tasty wins that only a deck of cards can provide to you? Either way you have arrived in the right place here at Videoslots.com. Video poker games don't get much more classic than this and I definitely don't mean it in a bad way. Just click the image above to start the video poker experience of a lifetime and who knows, maybe you manage to reach the epic jackpot with a Royal Flush.

Split Way Royal is a video poker with classic design and controls. You can choose your bet between 1 and 5 coins and a coin value from € 0.02 to the awesome € 5 which allows you to choose the most suitable bet for yourself. The game also includes a great and generous double up feature which gives you a chance to double your every win. During the double up feature you get to choose one card out of 4 and your aim is to find a bigger card than the dealer's card. It sounds pretty amazing, doesn't it? The wins can also be collected directly without the double up feature. You can also stop the double feature and collect your wins at any phase. If the dealer's card is bigger than yours, you will lose your winnings. The winning hands of the game include some of the most traditional video poker wins, starting from Jacks or Better to the highest wins such as high and low Royal Flushes. Royal Flushes reward you with the jack pot of incredible 4000 coins when you are playing with the highest bet of 5 coins. You can see all of the game pay outs from the upper left corner of the screen.

The fresh graphics and sounds in Split Way Royal really boost your gaming experience to the maximum and they really give you the feeling of the real stone base casinos in the heart of Las Vegas. At the same time you can optionally imagine yourself playing the good old poker machine in the corner of your local pub. Every time you hit a winning combination, you will hear a pleasant bling sound which you will surely learn to love. With its purple background and traditional big buttons, the graphics are highly inspired by classic video and poker machines, just the way our players like them.

We at Videoslots.com want to wish you the best of luck in this lovely Split Way Royal video poker game. Good luck!