Battle of Slots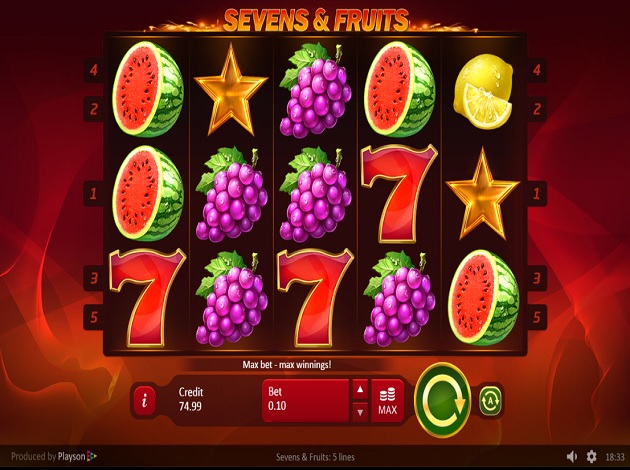 Sevens and Fruits
Sevens & Fruits introduction
In a botanic sense, a fruit is a plant that is grown for procreation to occur. When we speak of fruits as an everyday thing, we mean the botanic fruits with juicy and sweet flesh. Berries and nuts are actually also fruits, just not in an every-day sense. The kinds can vary in appearance depending on the type, and comes as nuts, berries, capsules, and rock fruits. Usually, we also see tomatoes and avocados as vegetables – but really they are botanical fruits too.
On the reels of Sevens & Fruits Video Slot, we won't find tomatoes or avocados, but juicy fruits are filling them up, as well as golden stars and red sevens. Countless Video Slots has been made with fruits and sevens, but not all as well-made and stylish as the one we are presenting now. See for yourself by making your way into the game.
Videoslots.com proudly presents Sevens & Fruits by Playson!
Sevens & Fruits features
In Sevens & Fruits Video Slot, the player is taken onto a reel set made up by 5 reels over 3 rows and additional 5 fixed paylines made out by flames. The winning combinations are confirmed from left to right on the reels and only the highest win is always paid out.
At the bottom of the image, you can see the control panel where you can adjust the bet value. In Sevens & Fruits Video Slot, the minimum bet is of € 0.1, and if you wish to bet higher you can, as the possibility is there. In the control panel, you can also activate the Autoplay.
Seven & Fruits free spins and bonuses
This is a game perfectly made for players who enjoy relaxing in front of the screens while spinning. Sevens & Fruits Video Slot doesn't offer any special features such as Free Spins, Multipliers or Bonuses. On the other hand, there is a Scatter Symbol which is made out by golden stars. They have the ability to generate wins as soon as they land on the reels, which means that they don't need to land in a specific payline or determined position on the reels.
But if you are instead a player captivated by special features, then we would strongly suggest that you try Claws & Paws from Playson. This is yet another game that Videoslots.com has the opportunity of offering you. In Claws & Paws Video Slot, you get to come along with a pack of cats in the middle of heisting a city. Come along on a thrilling and humoristic chase which often ends with Re-spins, Walking Wilds, progressive Jackpots, and Free Spins.
Sevens & Fruits payouts
There are, as mentioned, 5 fixed paylines in the game. The win you land on depends on the matching value of symbols in the payout table as well as the bet you placed before you started your spins. 3 or more matching symbols have to land at the same time for a win to be triggered. Take a peek at the payout table to see what symbols can award you wins.
In this payout table, we can see that the red sevens grant the highest possible win. These are followed by juicy watermelons, sweet grapes and golden stars. Blue plums, orange oranges, yellow lemons and red cherries gives slightly higher payouts.
Sevens & Fruits graphics and music
Sevens & Fruits Video Slot is placed against a backdrop made up by flames. The colour scheme goes in red and orange tones while the reels go more towards brown tones, which in its turn extinguish all colourful and vibrant fruit symbols to its full potential. To the sides of the reels, you can see numbers which work for clarifying the amount you win in the various combinations. The logo is flaming hot and has been designed as flames. Playson has engaged itself in the design of the game which is clear when you see the graphics. The symbols are made in 3D graphics and as a win lands on the reels, they start pulsing in small and powerful animations.
About Playson
Playson is a Malta-based gaming company, founded in 2012, that provides solutions for both online gaming platforms as well as land-based gaming partners such as casinos. The experience the company holds has given playson a grand start, and they are definitely a company to keep an eye on.
With a staff of over 250 people, stacked with experience from several different sectors, the sky is the limit for what the future will bring. Playson currently offers content for both Flash and HTML5, along with the game design of your choice.
Playson's aim is to create games that differ from everyone else's to enhance the gaming experience and keep everything fresh. Some examples of their games are Bumper Crop with its amazing graphics, growing Wilds, and other interesting bonus features; the beautiful Alice in Wonder slots with its awesome soundtrack and theme; and Wild Hunter with its cool bonus rounds and fun gameplay. Playson has proven themselves to the world of gaming with these solid slots.
But apart from the classic video slots and slots, they also develop video poker games among others. All titles are filled with wonderful visuals and players can find something new in all of them. Playson has indeed great games in their selection and it is safe to say that there is more coming.
Some of the Playson editions are Burlesque Queen, Alice in Wonderslots, Aztec Empire, and Riches of Cleopatra.