Battle of Slots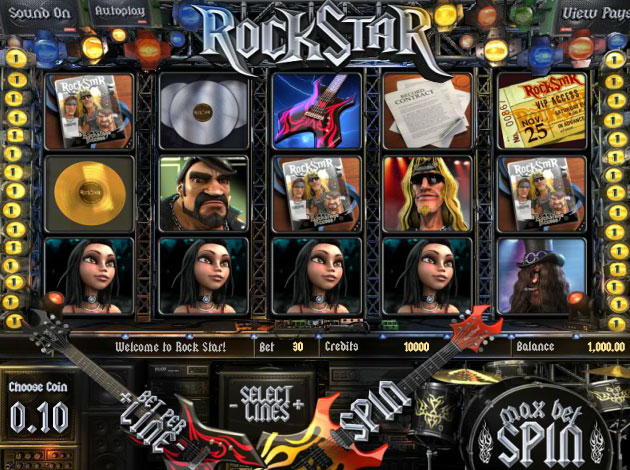 RockStar
Rockstar is a five reel, three rows, and thirty paylines video slot game. Among the cool and hardcore rock themed graphics you'll find symbols such as guitars, drum symbols, band members, whiskey bottles, Rockstar record contract, and more. The objective of the game is to match symbols from left to right on any active payline. So you first need to choose the value of the coin you wish to wager in each bet, then select the number of lines that you wish to play on. Then you need to select the number of bet per line you wish to play with.

Receive three or more of the guitar symbol in a winning combination on any active payline to unleash the epic solo! Rock your way into instant bonus credits! Here you will see one of the band members electrifying the guitar icons on the screen and revealing the prizes behind each and every one of them. After the total credits have been collected into one icon, you will see the band coming out of the side of the slot game, and perform a short piece of their songs, after which fireworks will ignite ending the mini show of the band, and you will then continue to the main game.

Earn either of the two drum symbols gold or silver, alone or together, and multiply your winnings by two times, five times, or even ten times as much. Are you ready to rock? Receive three or more ticket symbols in a winning combination on any active payline in order to trigger the bonus round!

The stage is set and the crowd is cheering for our Rock Star. With unforgettable band members playing high-energy rock music in the background, players will experience the thrill of being onstage, performing for thousands of adoring fans.

Rock Star explodes onto the stage in a fury of colorful pyrotechnics, showing off Betsoft's inimitable 3D visual effects and animations . Players will witness the band play an epic solo in an incredible on-reel bonus feature, experiencing the infectious energy of a rock concert. "To continue with our tradition of utmost excellence and attention to detail, Rock Star features original music specifically composed for this larger than life game. This music is highlighted in Rock Star's amazing interactive bonus round, where the player rocks out with the band, accumulating credits.

Betsoft's Slots3™ style is defined by rich, visually stunning 3D graphics, smoothly cinematic animations and an engaging, dynamic soundtrack that combine to provide the most rewarding and immersive slots gaming experience to players.

So, let out your inner rock god just waiting to come out, fire up RockStar and live out your fantasy!