Battle of Slots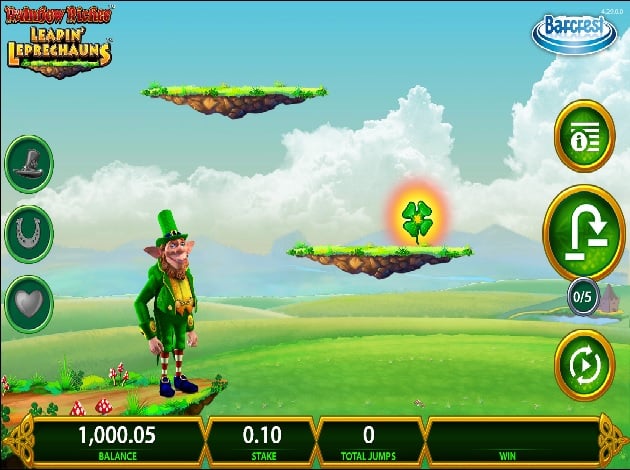 Rainbow Riches Leapin' Leprechauns
Welcome to a brand new and amazing addition to one of the greatest online games in the history. We are proud to present the newest and freshest version of Rainbow Riches, this is Rainbow Riches Leapin Leprechauns.
Barcrest is one of the true pioneers on the markets today, as one of the most experienced developers in the history of gaming. They went from developing bingo equipment, to fruit machines, and entering the online gaming for both desktop and mobile games. They have now given us countless popular games, such as Monty´s Millions, Ooh Aah Dracula, Rainbow Riches, Call of fruity and many more.
We hope that you are prepared to enter a world of new and amazing wonders that you guaranteed haven't seen anywhere else. Rainbow Riches Leapin Leprechauns is the latest version of its kind and it is an innovative way of playing video slots for sure. It is not the regular classic styled game, it has a new way to it and I think you will enjoy it with every piece of your body.
This game is all about jumping, and how high you can jump. If you really want to get your hands on those riches, you need to take the leap to go and get them. But let us get more into how to get your hands on those real prizes with Rainbow Riches Leapin Leprechauns.
So as mentioned, this game is all about the jumping. You simply make a jump by pressing the jump button, and the leprechaun will then jump to a new platform. He can jump away to new platforms, and on every new one, there is something in store. You may find a prize, a power-up, an obstacle, or an empty platform.
When jumping to a platform you can amongst others find the four leafs clover, which is the smaller prize. The coins are the medium prize, the pot of gold is the large prize, and the grand jackpot comes in the shape of the rainbow. Exactly what you will win from these prizes, is all up to you to find!
The power-ups works in the way that they can crush any obstacle and increase the life of the leprechaun. They can also be used for a longer game. There is four different power-ups. The heart is good for two jumps, and it can crush the obstacles for the next two jumps. The leprechauns hat is used when all other power-ups has been used. Apart from these two you also have the horse shoe in shear gold and the orange balloon with multipliers ad crushers.
But what are the obstacles that I keep talking about then? They come in the shape of either a cracked mirror, a black cat, a vicious snake, unlucky number 13, or the cracked platform. These are the ones you should look out for and do everything in your power to avoid. But remember, the power-ups can help you get rid of these!
We hope that you will find Rainbow Riches Leapin Leprechauns games most entertaining and fun, we know that we sure did! We wish you the best of luck in your gameplay.