Battle of Slots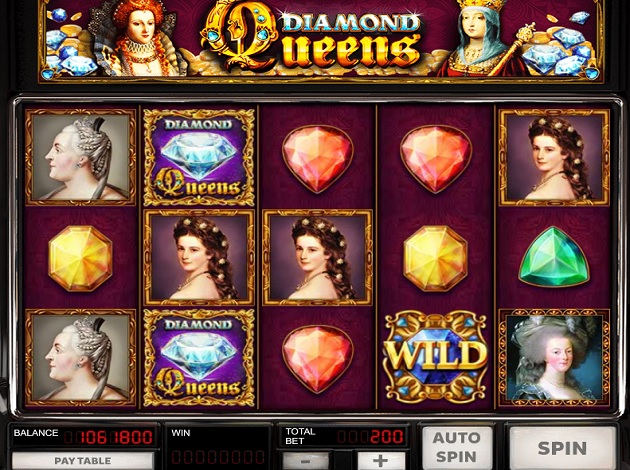 Queens and Diamonds
Queens and Diamonds Introduction
As far as unique ideas for slot games go, Queens and Diamonds definitely takes the cake for the most elaborate execution of a very uncommon theme: historic queens of England. It features all the most famous queens, from Queen Victoria to Queen Elizabeth I, so this attractive game is bound to impress history buffs, as well as those looking for a break from run-of-the-mill video slot themes.
The setup of the game is almost as unusual as the theme itself – making it all the more exciting to play. Queens and Diamonds is made up of 5 reels, 3 rows and 20 fixed paylines, and includes a number of special symbols and features in a brilliantly designed and developed slot by Red Rake. Although the fixed paylines makes it inflexible, the lack of customisability is made up for in other ways.
Queens and Diamonds Game Features
With Queens and Diamonds, you have no choice but to bet with the maximum possible ways to win. This is because the 20 paylines are fixed, and while there is not much room for flexibility there, you still have total control of how much you bet.
The game is customisable in other ways, such as the betting level, which can be set anywhere between € 10 and € 5. Since there are 20 paylines, your minimum bet per spin amounts to € 200 and a maximum of € 1. The handy 'autospin' option will save you from spinning the reels each time manually, as it automatically spins up to a 100 times.
Queens and Diamonds Free Spins and Bonuses
Queens and Diamonds does not have a long list of bonuses, as it follows a relatively simple model when it comes to extra features. But the features it does include are uncommon in themselves and lucrative in their own way.
The game largely revolves around the tumbling reels feature, which is also the best way to win at this game. Whenever you get a winning combination on the reels, the symbols vanish to be replaced by fresh symbols which drop down in their stead. This increases the probability of getting more winning combinations when compared to games in which the symbols stay in place.
Three queen symbols on the middle reels will trigger the free spins bonus round, which will give you six free spins straight out of the box. There's a good chance that it won't end there: if, during these six spins, you manage to score even more bonus queen symbols, you'll keep triggering free spins until you stop being as lucky. This is the surest way to get the highest possible payout from this game.
What's more is that during the free spins, the bonus symbols turn into scatter symbols, giving you a reward each time they appear on the screen, anywhere.
Queens and Diamonds Payouts
If you score a combination of five Diamonds & Queens logo symbols on any payline, expect a massive payout as this symbol awards up to € 2. Similarly, the wild symbol – the brooch – apart from acting as a wild, can also pay up to € 2 if you manage to land five of them on a payline.
A matching combination with any of the queens can grant you a payout of € 500, € 300, or € 200 depending on which symbol appears. The lowest paying symbols are the gems, which come in red, gold, and green. A matching combination of 5 on a payline of these grants you up to € 100.
Queens and Diamonds Graphics and Sound
The artwork is just about the most spectacular aspect of this game, as the royal paintings complement the rest of the charming symbols and the appropriate layout. The seamless marriage between the archetypal art and the rest of the set-up stands as testament to the high quality of the game and the expertise of the game developers, who managed to create a slot which is both attractive and incredibly immersive. This experience is further emphasised by the relaxing music and sounds of chatter in the background, creating an excellent gaming atmosphere.
Queens and Diamonds Conclusion
Inspired by the world's most iconic queens of history, Queens and Diamonds is arguably one of the most creative slots out there. The unique theme aside, the lucrative 'tumbling wheels' feature is just as unusual and give the game an edge over other slots of its type. Overall, the game provides decent chances for payouts, and is endlessly entertaining – particularly for history buffs.
About the Provider
Red Rake Gaming is a software development company, specialising in Slots and other casino games. Spain might not be the Mecca of online gaming, but Red Rake Gaming provides an exception. With a development crew of Spanish natives, the website is offered in Spanish and the company headquarters are in Valencia, Spain. Because of this, the main markets are those of Spain and Europe. The Red Rake Gaming team consists of 40 experienced professionals, who have created the world´s first video slot with orbit reels!
The employees mostly focus on generating high quality content in the casino industry, with a particular focus in slot games. These are all quite successful, generating a volume of more than 5 million spins daily, just to mention some of the statistics related to it. These statistics are pretty positive: Red Rake is a company with over 40 employees, offering over 50 Slots in 16 languages, 7 casino games on Facebook, 15 million users, and 15 new Slots every month – just to mention a few.
The game portfolio of Red Rake Gaming is vast and versatile, offering games with various themes, spectacular graphics and animations, as well as careful algorithms that result in an even better gaming experience.
Red Rake Gaming editions we offer at Videoslots.com right now are Little Red Riding Hood and Atlantis.