Battle of Slots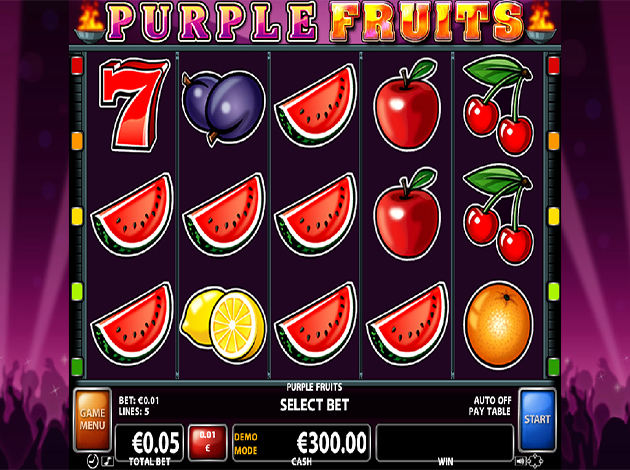 Purple Fruits
Welcome ladies and gentleman to play and have fun with Purple Fruits slot! We are incredibly excited about this slot because we here at Videoslots.com, we love all kind of video slots and slots but there is always a special place on our heart that is dedicated to the old-school traditional slots. And this fills the criteria's to be that kind of slot and we just can't get enough! Behind this awesome Purple Fruits slots stands the one and only Casino Technology game provider. Casino Technology always delivers games that are unique and innovative and the games quality are the best you can find! When you look at their games, you can really see that they really put their mind to creating games and if for some reason this doesn't feel like your game, we recommend you to browse through their impressive portfolio of games. And now they have created a game full of delicious fruits and old-school slot game feeling! So should we start this exciting journey towards the big bucks? I think we should!
If you click the image above, you will purchase the ticket to dream land full of fruits! Purple Fruits is 5 reels on 3 rows and 5 paylines which you can keep active. If you want the maximum game experience from this game, we highly recommend you to keep all the available paylines active. It will give you more chances to get good and awesome wins! This game is full of nice symbols such as bananas, water melons, lemons, plums, number "7", oranges, cherries and apples. Little warning: when you play this game, there is a slight possibility that you will get cravings for fruits. So prepare for this game! Bring all kinds of fruits with you and start to play this fruity game!
So we have a surprise for you! This game consist an awesome feature which will help you to change your smaller wins to a super-duper awesome wins! Whenever you get a win, you have 2 options: Take the Win or try to double the win! When you get a win and you click the double up option (which you can find on the left bottom of the screen), then you will be transferred to another screen. Then you will see 1 playing card face down. If you want to try double your winnings, you just need to know what colour the card is (black or red). If your guess the colour of the card, you double your winnings! Then there is another option. You can try to guess which card the face down card is. Is it Heart, Spade, Club or Diamond? If you guess this right, you will quadruple your winning. Fantastic feature, don't you think?
This game is fantastic and very entertaining and this game suits for everyone, every player around the world! If you are little bit unsure about this game, you can always first try our demo-version of the game. And when you will fall in love in this game, just log in to your Videoslot.com account and start the real and best gaming experience with real winnings! We here at Videoslots.com want to wish you good luck and have fun while playing the Purple Fruits slot!