Battle of Slots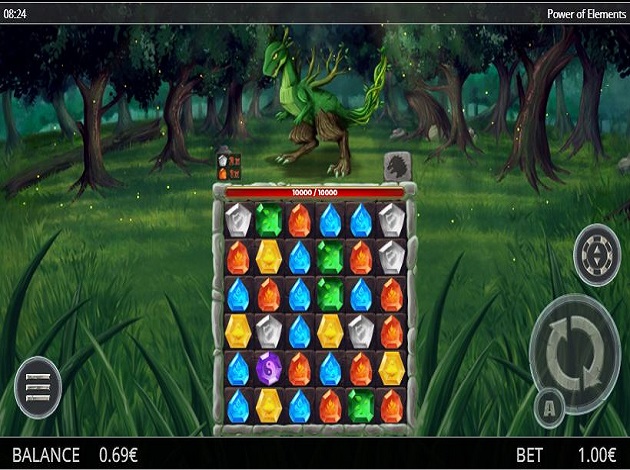 Play Power of Elements online: Check out our slot review below
Power of Elements Introduction
Defeat five elemental guardians in Power of Elements, a beautifully designed video slot by Ganapati that's configured across a 6x6 gem grid. Learn what each elemental is susceptible to, unlock elemental guardians, and blitz your way through hundreds of gems.
Power of Elements Game Features
The purple gem featuring the yin yang symbol represents Power of Elements' wild symbol. The cool thing about wild symbols is that they're able to stand in for any other symbols should there be the possibility of creating a new winning combination.
In Power of Elements, wild symbols are able to appear on every reel, and whenever they form part of a winning cluster your multiplier is increased by one. Apart from that, every time you hit a win the cluster in question is removed from the grid making space for new gems to drop down instead. Because of this tumbling feature, Power of Elements allows potential multiple wins with a single spin.
Power of Elements Free Spins and Bonuses
Power of Elements revolves around the five elemental guardians present in the game representing wood (green), earth (yellow), water (blue), fire (red) and metal (grey). The game kicks off in the middle of the forest with the wood elemental standing in your path. You must first defeat the wood elemental before being able to unlock one of the remaining four elemental guardians.
Once an elemental guardian is defeated you'll receive a cash prize with a random multiplier, and your next guardian is unlocked. Once you're already unlocked an elemental guardian you're also able to go back to that level at any time.
Every time you hit a win you'll either damage the guardian or it will deflect your advances. Each guardian is weak against the following two elements:
Wood – fire and metal
Earth – metal and wood
Water – earth and wood
Fire – earth and water
Metal – water and fire
Whenever you hit a win that corresponds to one of the elemental guardian's weaknesses, then you'll deal damage each time, with the intention of potentially defeating this opponent and moving on to the next.
With each spin you'll either hit or miss the elemental guardian, land any of its susceptible symbols and you'll cause it damage, landing a win with any other symbols will cause it to deflect your efforts, whereas missing a win will cause the elemental to fight back and restore its energy. Total guardian XP is indicated in the red bar above the reels.
Power of Elements Payouts
The elemental you're currently battling will affect the value of each gem as follows. Each win is your total bet multiplied by the values written in the information section. Refer to the paytable there for more details.
Power of Elements Graphics and Sound
As soon as the game loads you're immediately confronted with the first elemental guardian, which represents wood and is depicted as a green dinosaur that's part reptile and part plant. The setting is intriguing, with blades of grass dancing softly in the breeze, completely unaware of the threat ahead.
Every time you hit the spin button, which is the spinning arrow button to your right incidentally, all the gems will drop to the bottom to make room for new ones. Unlike the payline structure which we're used to in most slots, Power of Elements makes use of a cluster payout element to assign wins, which is absolutely gorgeous to watch.
Every time you hit or miss the guardian comes to life, occasionally attacking so hard that it will even appear to have smashed your screen. It's a highly entertaining game that's bold, bright, and engaging, which seems to be one of Ganapati's signature traits.
The creature's current hit points are displayed on the top of your reels, whereas clicking on the dino head stone button just above allows you to choose which guardian you'd like to battle once you've unlocked more than one.
The triple line button to your left grants you access to the settings menu, allows you to select auto play mode or adjust your bet, as well as review the paytable should you be interested in being completely up to date about the game before making your first spin.
Once you're ready to play simply hit the spin button to reveal your next gemstone combination.
With each spin you'll either hit or miss the elemental guardian, land any of its susceptible symbols and you'll cause it damage, landing a win with any other symbols.
Power of Element Conclusion
Japanese based games developer Ganapati are known for producing games that are gorgeous to look at whilst mostly keeping in theme with their local pop culture, which really makes them stand out in terms of gameplay and themes. Power of Element is a multi-tiered casino slot that's both engaging as well as entertaining – and like all other Ganapati slots it's available at Videoslots.com.
Gambling is a form of adult entertainment only. You must be over 18 to play. Play responsibly.
About the Provider
Ganapati was established in 2013 by a team of experience entrepreneurs with a vision to engage players like never before. They are an international company with game studios, media platforms and production companies located all over London, Tokyo, Los Angeles, Estonia, Taiwan, Malta and Curaçao. For a relatively young company, they're hugely global and popular.
Ganapati's content is designed to entertain players through a unique combination of entertainment with gaming to create truly unique products. This is a company with a love for Japanese culture, both old and new, and they aim to bring that to the global gaming sector in the most authentic way possible. Their mission is to produce immersive content by utilising the expertise of their global network, from all kinds of sectors. Everything from film and music, to animation, Japanese design, great story-telling and technology is used to provide amazing content for the iGaming market.
There are many Japanese themed slots out there, but none which show the same passionate flavour for this culture as Ganapati's games do. They combine the traditional style of European iGaming with an amazing Japanese touch that's completely unique to Ganapati. Although their games are primarily Japanese-themed, there's still a lot of variety.
Check out the games available now at Videoslots, like the hilarious PPAP, She Ninja Suzu and Sushicade.
Play in our Battle Of Slots
Don't miss out on the opportunity to play a thrilling Battle with our special, unique and very first social online casino experience – Battle of Slots. Videoslots gives you the chance to play first time Battles against your friends and other players on Videoslots.com with games from NetEnt, Thunderkick, Play'n GO and Pragmatic Play. There is only one Battle of Slots – and you'll only find it on Videoslots.com!