Battle of Slots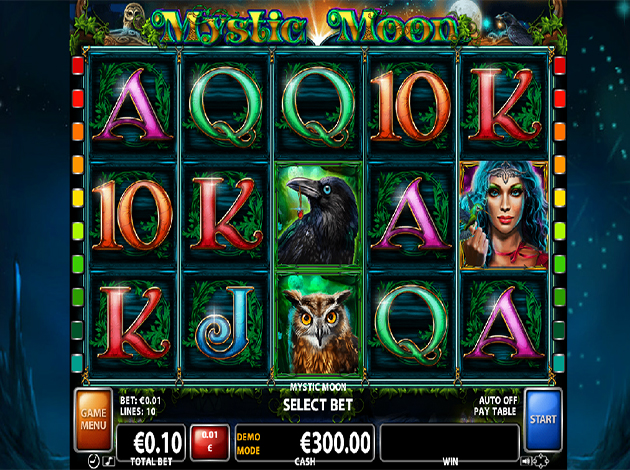 Mystic Moon
Imagine that you are taken to the nature at nighttime. Its dark in the forest, but when you look up, you can see the vast, beautiful deep blue sky without a single cloud that is lighten by millions of twinkling stars and the huge, round and luminous full moon. That kind of view is simply beautiful, and also little mystical. If you search the forest more carefully, you might see pair of blue, yellow or green eyes glimmering in the dark. Blue eyes belong to a black raven, yellow eyes belong to a bronze feathered owl and the light green eyes belong to a beautiful black cat with sleek, long fur. Blue eyes can also belong to a very beautiful lady that lives in the forest with birds and all those other animals. Her blue eyes are absolutely enchanting, she has bright blue curly hair and lips as red as rose. She has a lovely little friend, green hummingbird that follows her anywhere she goes. Would you like to see and experience all this beauty and mystic nature with its lovely creatures? We at Videoslots.com are really happy to give you opportunity to experience that. We proudly present you our new addition to our constantly growing game library. This new video slot is called Mystic Moon and it surely provides you that nocturnal, mystical and beautiful atmosphere we described above. This wonderful video slot is designed, produced and provided by great Casino Technology.
Mystic Moon is a Videoslots with 5 reels, 3 rows and 10 pay lines. The graphics, animations and background music are just great and support the night theme really well. Regarding the theme in this slot, the symbols in this game are animals that are usually considered to be awake at nighttime. These symbols are raven, owl and black cat. Regardless all the myths that black cat would bring bad luck when seen, there is also good myth that tells if black cat sits on a fence or bough of a tree during full moon, he has a purse full of coins that he will give to the first human he meets. In Mystic Moon this black cat certainly gives you coins when you meet him, because in this slot it is always full moon. Talking about full moon, the best symbol in this slot is moon. It stands for the wild symbol and it gives you highest prizes, even 15 free spins and it can substitute any of the other symbols in this slot to create more winning combinations. So the title of the game is not Mystic Moon by accident. There is also another symbol in this slot that gives you as big pay outs as the wild. That symbol is the beautiful blue-haired lady of the forest with hummingbird. You don't want to miss any of these enchanting and beautiful creatures of nature in this game.
Step in to the gloomy but mesmerizing forest and start looking for the animals and the engaging lady there and don't forget to have a look at the night sky every now and then to see the full moon. We at Videoslots.com guarantee that you will enjoy your trip there and we really hope that you will go back home with your pockets full of coins.