Battle of Slots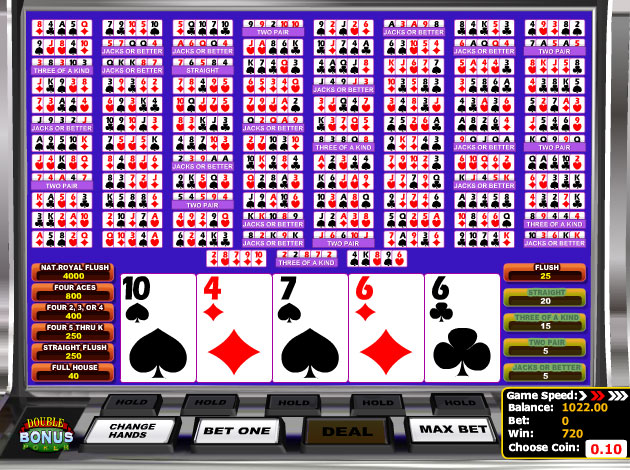 Multihand Double Bonus Poker
Video poker is a very popular form of casino game. We offer you a real exciting and fun video poker machine here, Multihand Double Bonus Poker where you can play up to 100 hands at the same time from just one poker hand. This poker game is very similar to 5 card draw there your goal is to get the best ranked hand possible by replacing anything from none of your cards up to all of them. There are some differences in Multihand Double Bonus Poker though. Welcome to try a new experience.

First off, click on the image above to start the game. You will have to determine how many hands you want to play with and click on 5, 10, 25, 50 or the maximum 100 hands. You can choose from coin size from 0,02 up to 0,50 and you choose your stake for every round by clicking on the Bet One button. If you don´t mind your stake you can click on Bet Max for maximum action.

You will be dealt with 5 cards in your first round and you need to have one pair of jacks or better to qualify for a winning hand. You can hold the cards that you want to save by clicking on them or use the Hold Button under the cards. Once you are satisfied you click on deal. Your held card will stay on the screen and transfer to your remaining hands and then you will be dealt with new cards if you chose to discharge any and your remaining poker hands will start to complete. For every hand containing a minimum of one pair of jacks you will be paid and pays from all hands will be added up and later be transferred to your balance.

After each completed round you will be asked if you want to Double Up. You can choose for between Double or Collect. If you choose Collect you will be paid and the game will get ready for a new round. If you choose Double, you will get a chance to double your money won. The Dealer card will be turned and show its value. The remaining 4 cards will remain closed and you will get 1 pick to see if your money will double or not. You need to choose a card with a higher value than the Dealer card. If you succeed you will get another try to double your new sum of money. Choose wisely though, because if you pick a card that has a lower value than the Dealer card you will lose all your money and the game will get ready for a new round of Multihand Double Bonus Poker.

This is a fun and nail biting poker game that will keep you busy for a long time. The chance to double every win is a real treat and if you want to try your luck you should really try to double as much as you possibly can.

Try Multihand Double Bonus Poker or any other poker variety offered at VideoSlots.com.