Battle of Slots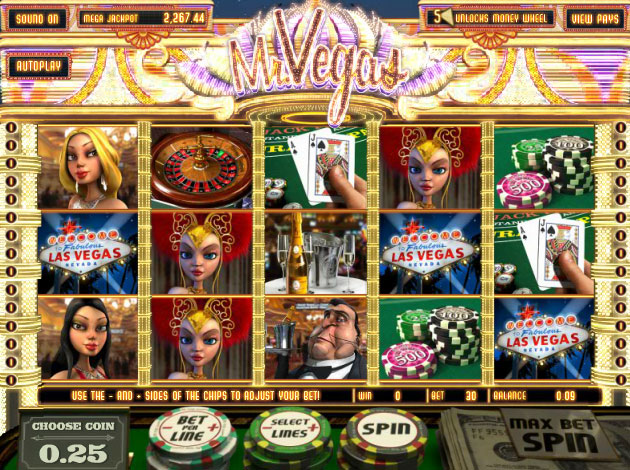 Mr. Vegas
Incorporating the glitzy glamorous elements of the Entertainment Capital of the World into one very spectacular 3D slot game, the ground-breaking Mr. Vegas transcends all player genres and encompasses the very essence of gaming. Mr. Vegas encompasses the visually stunning 3D graphics comparable to that of a studio feature film, smooth cinematic animations and a dynamic soundtrack all of which combine to provide the most immersive slots gaming experience to players. Players will partake in the adventures of the engaging Mr. Vegas, strolling down the Strip, living large and winning big. Bonus rounds include classic Las Vegas casino games, such as Roulette, the thrilling Money Wheel and a Mini-Slot within a Slot!

Mr. Vegas, there's no other man in town that thrills a day quite the same as he. Mr. Vegas high roller extraordinaire he'll double down and buy us all a round, he's the man everybody wants to be.

Mr. Vegas is a five reel, three row, and thirty paylines progressive 3D slot game. Apart from this astonishing design to this game with its crystal clear 3D graphics, you will find symbols such as roulette, champagne, blackjack, chips, Las Vegas sign, Vegas starlets, dealers, dice, slots and of course Mr. Vegas himself. Everything about this game is glitzy and extremely glamorous and truly gives you the ultimate high roller Vegas life feel. Moreover the background jazzy music really fit into this game and relaxes you whilst making you feel like you are literally in a Vegas casino itself. This is without mentioning this game's extremely high-end intro animated 3D video where you will see Mr. Vegas make his way to the casino on the Vegas strip accompanied by his two starlets.

Receiving the dice symbols on the left or on the right side of Mr. Vegas' symbol on paylines 1,2 or 3 will trigger the free spins feature! The value of the dice roll will equal the number of rewarded spins. Roll doubles and earn two times on all wins during free spins mode, moreover you can earn even further more free spins by receiving the same combination during the free spins mode. Furthermore when receiving three or more slot machine icons anywhere on the screen you will unlock free spins on the mini slots feature too.

Receive five slabs of the money wheel in the main game on any position to trigger money wheel feature! Slabs can appear on any symbol on the main game. Take a spin of the money wheel to win amazing prizes such as free spins, bonus rounds, free credits, and when playing on max bet you can even win the progressive jackpot! Get Mr. Vegas himself on any position on reels 1,3 and 5 in order to trigger the roulette bonus round. Play a game of roulette with Mr. Vegas and his beautiful starlets and win it big!

Mr. Vegas is a 3D game that speaks for itself. Top notch graphics accompanied by high definition sound make Mr. Vegas one video slot not to miss out on, as it's definitely a game worth entertaining yourself on!