Battle of Slots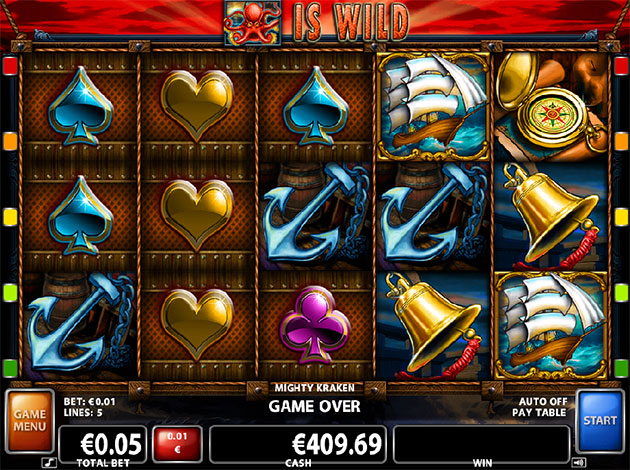 Mighty Kraken
Welcome to another video slot for Casino Technology. This time it is all about the big and Mighty Kraken. The Kraken is a legendary sea monster of large proportions that is said to dwell off the coasts of Norway and Greenland. The legend may have originated from sightings of giant squid that are estimated to grow to in length 12-15 meters (40-50 feet) including the tentacles. The sheer size and fearsome appearance attributed to the kraken have made it a common ocean-dwelling monster in various fictional works. Since the late 18th century, kraken have been depicted in a number of ways, primarily as large octopus-like creatures, and it has often been alleged that Pontoppidan's kraken might have been based on sailors' observations of the giant squid. The Kraken is also depicted to have spikes on its suckers. In the earliest descriptions, however, the creatures were more crab-like than octopus-like, and generally possessed traits that are associated with large whales rather than with giant squid. Some traits of kraken resemble undersea volcanic activity occurring in the Iceland region, including bubbles of water; sudden, dangerous currents; and appearance of new islets.
This is a 5 reel and 5 payline video slot and there are quite a lot of different symbols that I will tell you about now. There is two scatter symbol, the first one is a symbol that has a nice ship that looks like it is from the 1800 century, very nice detailed. The second symbols is in the form of a gold arrow and it will only appear on 1st, 3rd, and the 5th reels. Another symbol is the old captain with a nice look pipe sticking out or his mouth and this symbol pays out the most. There are also an anker, a bell and compass. You will also find the 4 different cards in a deck, so spade, heart, diamond and clubs. This game also have the wild symbol that is the Might Kraken. It really seems like Casino Technology have put down time in every detail of their games since all of symbols is extremely detailed which we really like here at Videoslots.com.
Casino Technology have been around for more than 15 years we have some great experience and we definitely see this in their games. The music is always top notch and the overall quality of the games a very high. They are committed to decisively pursue innovation and create great products for seamless land based and online gaming experience. Their dedication is focused on delivering endless players' excitement through a deep understanding of clients' present and future needs. They will work to create a change with the aim to make a firm contribution in gaming and establish a leading position at the forefront of the gaming and entertainment world.
So what are you waiting for, jump straight into this game and face the big and Might Kraken. We hope that you will find some great winnings in the super game created by Casino Technology.