Battle of Slots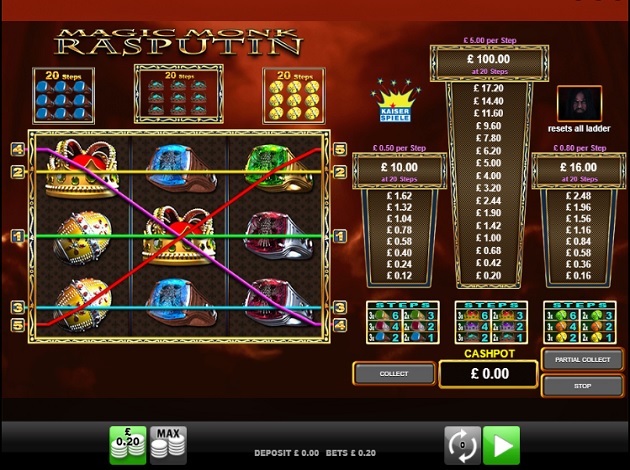 Play Magic Monk Rasputin online: Check out our slot review below
Magic Monk Rasputin introduction
Grigorij Jefimotvij Rasputin was a Russian mystic, preacher, and a healer who came to be one of the most infamous and mythical people of Russia. People had mixed feelings about Rasputin, some spent a lifetime trying to hurt him, while other spent a lifetime glorifying him. Rasputin grew up in Siberia and couldn't either read or write, his father was a farmer and he became known at an early age to be a sneaky lady-killer.
There is a saying, "rumours spread faster than news and news spread faster than the happenings" – and Rasputin was a living, breathing proof of it. Hearsay stories arose constantly of how he could see what people did and what would come to happen to people. He is then said to have used these details to help the needing and ill. After a, to say the least, interesting life, Rasputin started his pilgrimage, whereas he ended up visiting Sankt Petersburg – where he hoped to meet some female companion. But as soon as he arrived he was taken to a cellar where he would later take the last breath of life. Despite the tragic ending, Rasputin is said to have had a huge impact on people, and especially when it came to the era of haemophilia – as he was said to have helped with the process of finding a cure for it. Maybe he had magic hands?
We are now introducing you to a game with as much magic, this is brilliant; Magic Monk Rasputin Video Slot by Merkur Gaming!
Magic Monk Rasputin features
This is a Video Slot dedicated to the story we told about Rasputin, meaning it is a game inspired by the Russian culture, consisting of 5 reels over 3 rows and additional 5 fixed paylines.
The following describes features that can grant you big wins – so keep reading!
Magic Monk Rasputin free spins and bonuses
Above the reel set, you can see a screen which reveals a Jackpot, which grants the highest payouts. Above the reels, you can also see three towers which indicates various amounts, from the start the pointer is on the lowest amount. As soon as 3 or more matching symbols falls onto a payline, you are moved up on one of the towers. Which of the towers depends solely on the symbol you landed. Yellow, red, and green eggs climb on the right-side tower. The brown, purple and gold head-crowns moves on the middle tower, while the turquoise, pink and lime-green climbs on the left tower.
All while landing winning combinations you have the possibility to choose if you would like to take you full win amount right away, or if you would like to take parts of the win you made in any of the Jackpots. You can, of course, keep climbing – but there is a catch. If Rasputin would appear during the gameplay, you would lose all wins from the Jackpots. He would release the pillars from the towers so that you would be able to start from scratch again.
Magic Monk Rasputin payouts
As we mentioned breafly already, there are also 5 fixed paylines which pay from the left side of the game field. At least 3 matching symbols has to land to make a winning combination. In the payout table, you will find symbols such as eggs, head-crowns, and rings in various colours.
On the control panel, there are alternatives which you can activate the practical option of Autoplay. This is also where you can read the rules of the game, the symbols and the Jackpots.
Magic Monk Rasputin graphics and music
Magic Monk Rasputin offers a simple layout which is inspired and based on gambling machines, this as the game from the get-go was actually a game one could find in arcades and land-based casinos. This also explains why the payout table with the Jackpots is visible on the reels.
The backdrop is made up of narrow fields of clouds, which are lit-up by a magnificent sunrise. The graphics of the symbols and the Jackpot towers are all of the high quality and reflect Merkur Gaming´s skills flawlessly. Rasputin´s animations, which resets the Jackpots, are a first class designed and gives great life to the game.
The music is very mysterious, which grants some more thrill to the gameplay. It isn't just the looks of the game that reminds one of the land-based machines, but also the special effects.
About Merkur Gaming
Magic Monk Rasputin Video Slot is a game brought to you by Merkur Gaming – a brilliant game supplier.
Merkur Gaming is a part of the German Gauselmann Group – the largest gaming company in Germany with 8000 employees. They have more than 50 years of experience in the gaming industry and live by the cornerstones – Tradition – Passion – Innovation. They have made a name for themselves through land-based gaming products such as slot designed cabinets, games and progressive Jackpot systems that are integrated worldwide.
The company was founded in 1957 by Paul Gauselmann. The company has branch offices across the globe, but the head office is still in Germany, in the city of Lubeck. Merkur Gaming has the sun as its logo. It is world known to symbolize experience, innovation, quality and entertainment.
Their games are designed to suit all types of players, and they are packed with the latest technology, modern graphics and rewarding features. This is to ensure that you, as a player, get the best gaming experience.
Merkur Gaming always offers games that are extremely good, with full HD graphics, cool concept, bonuses, free spins and a wide variety of features, a few of them being 221 B Baker Street, Cash Fruits Plus, Double Triple Chance and Blazing Star.