Battle of Slots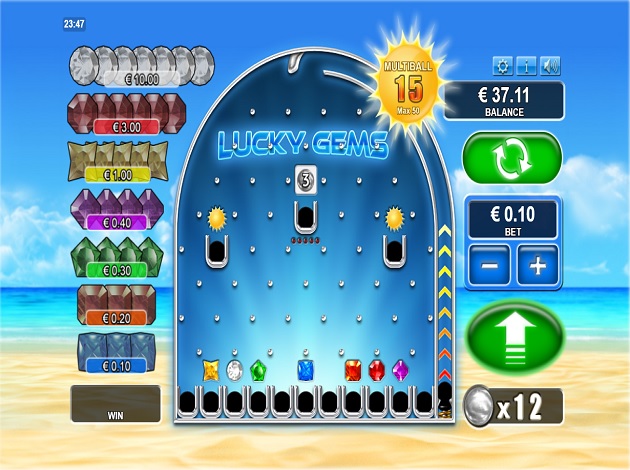 Lucky Gems
Lucky Gems Introduction
Lucky Gems bring… erm, luck. Win big in this very unique of video slots produced by Leander Games, where unlike your traditional video slots you don't get to play on reels and paylines. All you have to do to score wins is to land the balls in the right holes to increase the worth of your gems!
Lucky Gems is easy to play and if you're after a different way to score big wins, this might be the video slot for you. There are no bonus features worthy of note maybe, but you will surely find this game to be a lot of fun, with plenty of excitement. Lucky Gems is not a rainy day at the office – there are big wins waiting for you!
Lucky Gems Game Features
Gems are not only a thing of beauty, for they are also of a certain geological and archaeological importance since we can learn more about the Earth's past. Diamonds, emeralds, rubies, sapphires, all with their different colours and formation processes, are present in Lucky Gems and will be landing on this pinball machine in all their glory.
In this game, play from a minimum of € 0.01 up to a maximum of € 100, while the RTP stands at a rather decent 96.05%.
Lucky Gems Free Spins and bonuses
The gameplay in Lucky Gems is its main attraction. Unlike most of the games you will find on our online casino, there are no reels and no paylines, no wilds and no Scatter symbols either. Instead, you will play on a pinball machine in which balls fly onto the screen and your aim is to land them in a hole with a prize.
At every attempt you will have 12 balls, which are launched automatically. Some balls award either a gem, a reel spin or are collected for the Multiball feature. With a reel spin you will get more balls or even a gem.
The Multiball bonus will add extra balls to the game, increasing your chances of winning. Balls dropping into the Multiball holes will be collected and displayed, and once they are awarded they will go back to the game. The bonus is awarded at 50 balls, or at random every time a ball is collected.
Lucky Gems Payouts
As we said there are no bonus modes, no Wilds and no Scatters in Lucky Gems – what you see is pretty much what you'll get, so you don't really have to worry too much about bonus modes or minigames where you have no idea what you have to do. Your focus is on landing the winning combinations – and five of a kind will give you a nice payout indeed, without any distractions whatsoever.
Starting with the highest paying symbol, the diamonds and emeralds offer 25x prizes; the blue diamond offers 10x; the sapphire comes at 7x; the golden gem at 3x; while the blue and purple diamonds come at 2x and the dark purple and white gem offer 1x.
Lucky Gems Graphics and Sound
Leander have done a great job, creating a game that looks very good with a particularly sharp attention to detail. This video slot is indeed rather colourful, giving you enough reason to like it straight away, offering a relaxing set of visuals with which to play, and some interesting animations which give the game that something a bit more special.
Lucky Gems Conclusion
Lucky Gems offers something unusual, interesting and well-designed for all you players. If you're tired of the same old video slot, then Lucky Gems by Leander Games is there to offer you something fresh – even without extra features or bonuses – and you might find yourself coming back to this game even sooner than you think!
If you want to play Lucky Gems, you can do so from your computer or mobile device, and this is in no small part thanks to Leander Games' work to create a game that is compatible with both iPhone and Android models. So, get spinning on Lucky Gems and we wish you the best of luck!
About the Provider
Leander Games was founded in June 2008 in Buenos Aires, Argentina and in this short period of time Leander Games were able to build an appealing and innovative game library that attracted the attention of most of the largest platforms in the industry. They have since their start providing them with their products, and they are much appreciated for this.
Some games are successful because of their art, their behaviour, or their concepts. But Leander Games is defining a company of its own style by creating a hard to find a balance like no others offer: they give their players the pleasure of great graphics, excellent animations, exciting and well-calculated mathematics, and hyper-attractive concepts.
Leander Games background is quite diverse but they all share a common passion and goal: Creating the best performing games in the industry.
Leander Games has recently joined forces with other game providers to spread hundreds of games across the world together. This cooperation will surely grant all players with tremendous, new, and fresh experiences.