Battle of Slots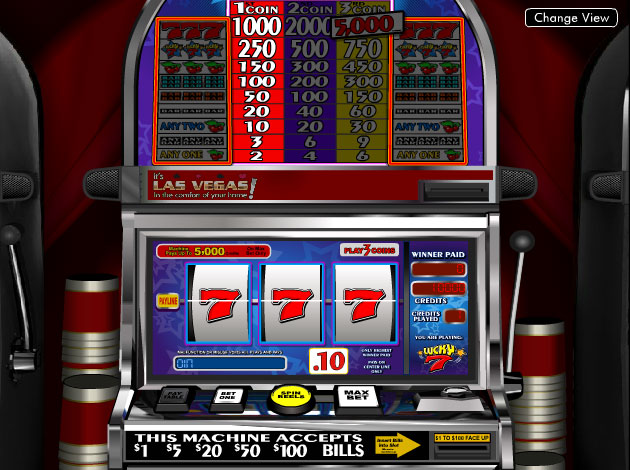 Lucky 7
This is a classic slot game which looks exactly like something you can find among the classic slots in Las Vegas. The fact is that the slogan of this game is "It's Las Vegas in the comfort of your home!". And you know that people go to Las Vegas to make big money and so can you do from your sofa or wherever you are and make thousands. It truly feels as if you are standing right in front of a slot machine and when you hit the right combinations it's a magical feeling.

Lucky 7 is a 3 reel classic slot game and you have all the classic symbols like the BAR, cherry, 7 and more. You can chose to play this game from 2 different angles where you either see the entire slot machine exactly like they look at the casino with the payout structure on top and all the gadgets visible. Or you can chose to play at a more close up angle where you only see the reels, the buttons and the most vital parts of the game and this option is really good.

The graphics in Lucky 7 is nothing fancy, just simple and straight forward which can be very nice for a change since most games are focused on being more and more advanced. Also the music and the sound effects in the game is very classic with that particular tune which you probably have heard so many times before. So you will feel right where you belong and if you don't like it you can simply turn the volume down.

As usual the lucky number 7 is the best paying symbol and if you manage to hit three sevens you can win the maximum payout which is up to 5000 coins. Of course the other symbols pay good money when you get the right combinations but at Lucky 7 it's the sevens that pay the best.

If you have the luck on your side you will not be disappointed and after all this game is called Lucky 7. So you need some good old luck and if you feel that it's you lucky day or that you just have more luck than usual you should definitely try this game.

To get a winning combination the symbols that make the combination need to be on the middle line and they all need to be aligned to win you the money. Nothing unusual, it's just like the classic slots you can play at a regular land based casino and it's not too hard to get the winning combinations either since the game only has 7 different symbols.