Battle of Slots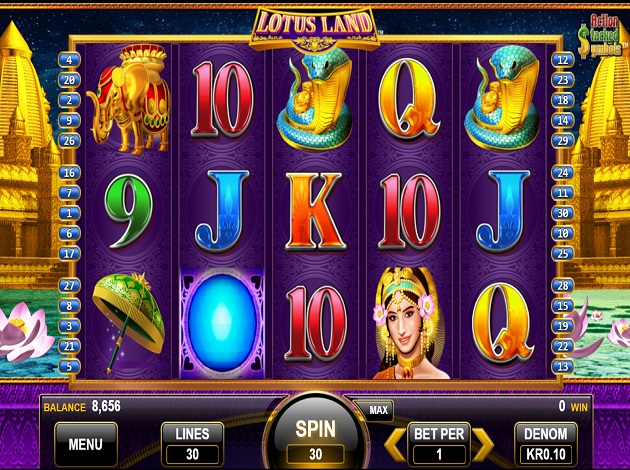 Play Lotus Land online: Check out our slot review below
Lotus Land Introduction
Let your imagination run as this game transports you to the oriental wonder of Thailand's purest places. Enter a hidden paradise that is filled with gold and riches and where Lotus flowers populate the calm river banks that surround the palaces.
Designed by the most innovative software by Konami, this oriental online slot surely has a lot to offer with its great payouts, high-paying bonus symbols and sophisticated reels. Konami knows not only how to reach the high expectations that we have for it, but exceed them.
Enter a world that seemed to be unmarked by the man and find out what there is in store for you to win.
Lotus Land Game Features
Take a spin at the reels in order to discover what the great Thailandese lands have to offer. When you start the game, you will first be directed to a welcome panel where a siberian white tiger glares at you. He's just there to guard his riches - which you're about to claim as your own.
Before you start spinning the reels you can decide to change the coin value as well as the amount of coins that you want to bet per line; from 1 to 50 coins. The minimum coin value that you can attribute is € 0.01, while the highest amount is € 5. The 30 paylines of the 5 reels of the game are fixed.
If you tend to get mixed up between coin value and amount of coins when betting, just click on the numbers at the bottom of the panel in order to see them convert to dollars or coins, depending on your preference.
Lotus Land Free Spins and Bonuses
Wild Symbol
They say diamonds are a girl's best friend, but jewels are for all. Look out for the Blue Jewel symbol when spinning the reel. This is the game's Wild symbol and substitutes all of the other symbols of the game, except the Scatter symbol (which we will be explaining further below).
The Wild symbols only show up in the middle reels, so you've really got to watch out for them.
Scatter Symbol
The Pink Lotus symbol is one we absolutely love. Not only is it gorgeous to look at, but the bonuses that this Scatter symbol wins for you are immense. Land on three or more of this symbol after a spin, and you will earn free games and trigger the Free Games feature.
During the standard game, the payouts are rewarded like so:
3x Scatter Symbol, 8x Free Spins
4x Scatter Symbol, 12x Free Spins
5x Scatter Symbol, 20x Free Spins
Even more free spins can be unlocked when playing in the Free Games feature itself. The winnings are given out as such:
2x Scatter Symbol, 5x Free Spins
3x Scatter Symbol, 8x Free Spins
4x Scatter Symbol, 12x Free Spins
5x Scatter Symbol, 20x Free Spins
Free Games Feature
During this bonus feature, there are so many wins to be won our heads are reeling! Not only can you win even more free spins, but the Blue Jewel Wild symbol that we spoke about earlier can be transformed as so:
On Reel 2, 3x or 2x multiplier symbol
On Reel 3, 4x or 2x multiplier symbol
On Reel 4, 5x or 2x multiplier symbol
The Multiplier symbols that the Wild transforms into each substitute every one of the standard symbols, except for the Scatter symbol. If the Multiplier symbol substitutes a win, then it will multiply the pays you earn by their respective amount.
There's surely lots and lots to win when playing in Thailand's paradise.
Lotus Land Payouts
Just as the bonus features of this game are absolutely great, so are its payouts. The maximum you can bet is € 7, or 1,500 coins, when betting 50 coins per line at a value of € 5 per coin.
You can have a look at the paytable in the game in order to see the payouts of each symbol, but we'll give you a feel of them here. The Scatter symbol pays the highest amount of € 600 when you land on five of a kind. The White Tiger symbol gets you € 200, and the Thailandese Woman symbol € 150. Don't forget that all of these values can be multiplied by the Multiplier Wild in the Free Games feature, so there's always heaps to be won.
Lotus Land Graphics and Sound
This elegant game is set against a purple deep-night sky backdrop, with golden lines framing the panel and the reels. The Thai temples surround the reel that rests upon the river that is teeming with beautiful pink lotus flowers.
The visuals surely remind us of pure royalty, and this land is filled with assortments of riches; from golden elephants, to serpents to beautiful head-dresses. It's pretty fitting that the Blue Jewelled Wild symbol and Pink Lotus Scatter symbol have so much waiting in store for us.
Lotus Land Conclusion
We're thrilled to have landed among this stunning paradise that has its riches quite literally lying in wait for us to discover. From incredible payouts, to exciting bonuses and alluring visuals, we're certain that our journey to Thailand is going to be worth its while.
About the Provider
Konami is the twentieth-largest game company in the world, and it has been producing and distributing all kinds of games and entertainment products since 1969. Following the decline of the arcade game sector, Konami greatly diversified its business interests in the early 1990s and branched into the manufacturing of slot machines.
The company built a solid reputation thanks to the popularity of its land-based gaming products found in parlours across Japan. Over the years, Konami designed some of the most imaginative and entertaining slot games, which it exported with great success to countries overseas, most notably in North American casinos through its ties with game developers there. Try Konami video slots today, including: China Shores, China Mystery, Gypsy Fire and Jumpin' Jalapenos.