Battle of Slots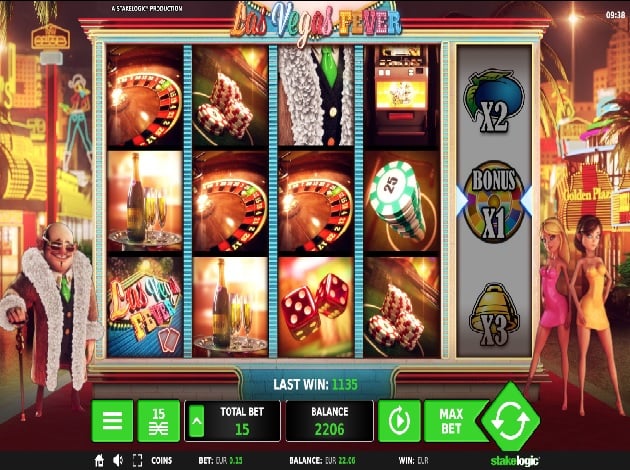 Play Las Vegas Fever online: Check out our slot review below
Welcome to Vegas! Where the girls are pretty and the reels spin to make you win – and win it all. This is a game set in Las Vegas, like you have never seen it before. You can be anyone you want, and surely you will be in this game. Rich, with a mushy moustache, and ladies by both sides, this is the true Vegas game – and it will leave you in absolute awe.
We proudly present the steamy, Las Vegas Fever – a Video Slot brought to you by Stakelogic!
Stakelogic is a game developer that creates state of the art online games for many of the biggest operators on the markets – and you will shortly get to see just how they are. Stakelogic is all about innovation and creativity, and they are looking to revolutionize the online gaming industry. Their games offer players highly animated and intense graphics, with the most recent technologies and tools.
They use a so-called 360° technology to make their games more unique than any other games on the markets, also focusing highly on the mobile gaming platforms. This is what sets them off from their competitors, and grants players an immersive gaming experience backed up by advanced algorithm and turnkey solutions.
Their team is one with vast experience in all areas, and they all came together to create a game-changer. Creating a relationship with their partners and clients is key to them – and it has surely proven to work perfect for them. Stakelogic is surely a provider to keep a lookout for.
Some of the games brought to you by Stakelogic are Dr Magoo´s Adventure, King Bam Bam, The Amsterdam Masterplan, and John Doe.
Las Vegas Fever main game
First off when starting the game, you are introduced to the game by an intro. Here you get to meet the new Fabio or Richie Rich – with a mighty moustache, non-harming fur coat, brills, and two ladies following him everywhere he goes. This guy is one of a kind – and he is you. Winning the BIG WIN at the Roulette tables, hitting the right side of the dice, landing right on the wheel of fortune, and landing the lemons on the one-armed bandits – that is him. Are you cool enough to join him in his hot Vegas adventure? Let´s start!
The symbols on the reels are all made to suit this flair theme of game. The lower valued symbols are of the finest things in life, ranging from champagne, the roulette board, the poker chips, the high pile of won chips, and the two dices ready to land you a win, as well as the wheel of fortune. The higher valued symbols are then bigger, covering more spots on the reels. These are the one-armed bandit, the suitcases, the neon sign of a cowgirl, your blonde and your brunette company, and the new Richie Rich himself. These are worth between 300 and a staggering 3000 when landing five of a kind – with the man of our dreams as the top player.
Above these basic symbols, you can also come across some extra special symbols – ones that can grant you both higher wins as well as thrilling features. The wheel of fortune with Bonus x1 and Mystery ? written on them are your way to some extras, as well as the SLP x5 Symbol. The Las Vegas Fever sign can then grant you a Bonus and the Slot machine can land you some lucky Free Spins. We will tell you all about these shortly!
Las Vegas Fever theme, graphics, and music
Las Vegas Fever offers its players a vivid and quite obvious theme. There are countless Video Slot games in the world inspired by Vegas – it is the mekka of gambling after all. But Stakelogic has made this one different than any others, maybe due to the high standard the game brings with its flawless graphics and designs. Everything is in perfect details and there isn't a blurry sight anywhere. The backdrop of Vegas, Rich, the ladies, and the inside of the casino all looks as good as can be.
Las Vegas Fever payout
The game grants you a total of 5 reels on 3 rows, with one reel made to be unlike the rest. With this comes 15 paylines.
We will tell you all about the fifth reel shortly.
Las Vegas Fever click me bonus game
The Click Me Bonus is triggered when three or more of the game logos land on the reels. When this happens, you will see faced down card on a poker table, and your goal here is to cklick and pick card to reveal Bonus prices. The wins in the Bonus will be Multiplied by the number of active lines and the active bet placed on the winning spin.
Las Vegas Fever free spins
When three Slot machine symbols land on the reels, you are awarded 15 Free Spins and when four of them lands, you are awarded 25 Free Spins.
The Free Spins are played on a different reel set with higher valued symbols, for higher wins. these symbols are of card deck symbols, the ladies, and a cartooned version of Richie Rich. These are instead of the main game symbols worth between 300 and 15.000!
Las Vegas Fever extras
Multiplier Reel
This game holds a unique Multiplier Reel, which is the 5th reel mentioned earlier. When landing a win, the Multiplier Reel will automatically spin and award you with a Bonus Multiplier, and this ranges between 1x and 5x.
The Multiplier Reel also holds a Mystery Wheel of Fortune and a Bonus Double Wheel of Fortune, see below.
Mystery Wheel of Fortune; when the wheel lands on this, you will get one spin on the wheel. Here you can win Multipliers between 1x and 10x and the wins will be added to your triggered spin.
Bonus Double Wheel of Fortune; when the Multiplier reel lands on this, it will spin once. Here you can win Multipliers of between 1x and 25x.
This is the real and true Vegas – are you cool enough to handle it?
We wish you the best of luck, and enjoy your company!