Battle of Slots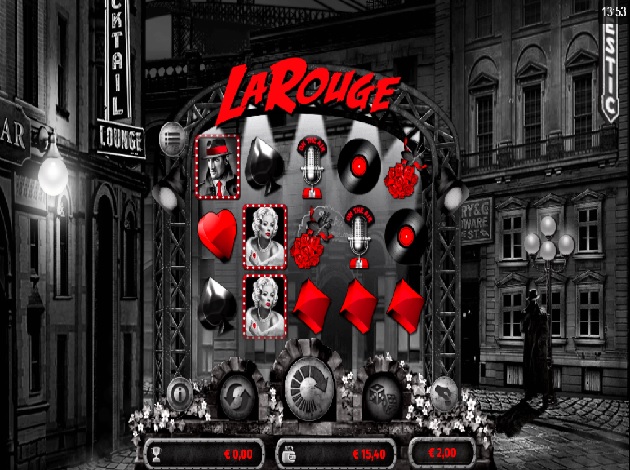 La Rouge
A game taking you back to one of the most flair and luxury eras and places of all time is La Rouge Video Slot. With inspiration taken from the 1940´s Hollywood, and Sin City to be specific, this is a game that can suit all players and ease all kinds of cravings.
We proudly present; La Rouge Video Slot, a game brought to you by Old Skool!
Old Skool is a game developer and provider, fairly young, that was founded back in 2010. It is a game provider focusing on everything – making them one of the providers out there that actually offers nothing but flawless, innovative, and unique games for all the best operators. It is time to find out just why Old Skool is one of the best when seeing modern, innovative, and stylish games.
The story of Old Skool
Old Skool has been creating, designing, and developing online games since the year of 2010, all through their service studio by the name of LM Design Werks. They signed their first partnership as soon as in 2011, and from there on, it went fast and good. They continued to sign new deals and partnerships, all with the biggest and best operators of casinos, as well as with services. From there, they went on to apps and online games delivered to the best out there.
Old Skool strives high, with a quest to take over the world with their love for games. What is most important to them is how the games are actually built – and for them it starts with a strong narrative. To have a good base with a good story to tell within the game is for Old Skool the key to a successful and great game. Without a theme that truly allures, there wouldn't be anything luring enough. This narrative is clearly shown in all games brought by Old Skool, as all of them offers themes that you can't see anywhere else, perfectly designed accordingly, and engaging as few others.
We are just about to show you all of this in one game, this is La Rouge!
La Rouge main game
Inspired by classic movies and film noir, this is a most alluring and stylish Video Slot. A set in black and white, with spots of colours every now and then, with the movie stars, the artefacts and symbols that suits the theme, are all mixed together in a beautiful symphony. Sin City by Frank Miller in the main inspiration, and you can see this all over the gameplay. We will tell you how in just a bit!
The symbols and animations you can come across while spinning the reels of the game are all made to suit the theme of the game flawlessly. The lower valued symbols are the four card suits, hearts, clubs, spades, and diamonds. These are all in black and red, worth between 40 and 50 coins when landing five of a kind. The higher valued symbols are the vinyl record, the olden days "on the air" microphone, the red roses, and the old telephone. These are also in black and red, with worth of between 100 and 500 – with the phone as the top player.
But above all these basic symbols you also have a few extra ones that can grant you winning combinations and features. You have everything from a Scatter, Wild, to a Starlite Bonus Symbol, and a Free Spins Symbol. So, as you might realize, there is a lot waiting for you in the game! We will tell you all about it shortly.
La Rouge theme, graphics, and music
La Rouge Video Slot lets you dive deep into the feel and atmosphere of the past days Hollywood movies. It is time to travel back to the 40´s where film noir movies had their golden era. On the big screens there were numerous films in big cities where crimes and violence flourished, and dark shadows and contrast created a dramatic atmosphere. The roles of actors such as Rita Hayworth and Humprey Bogart were in full splendour.
The glamourous setting of La Rouge takes place just there, with an atmosphere that feels even more due to the graphics and jazz music. With this comes graphics of black and white, with red colours sneaking in. Old Skool has done a really good job with it all, and it was not made for an expense of either gameplay and features. In this game, they are all made to be in top class.
La Rouge payout
La Rouge is played with 5 reels on 3 rows, and additional 20 paylines.
La Rouge starlite bonus game
When landing on three Scatters on reels 1, 3, and 5, you trigger the so-called Starlite Bonus Feature. This Feature contains no less than five mini games with up to five Bonus levels.
When in the Feature, you can win prices, advance to new levels, get Win-alls, and collect. The Win-all items will award all prices in the level and let you advance to the following level. The advance items does not award a price, but you're still advanced to the following level. If you collect a price to end the feature.
La Rouge free spins
Two Scatter Symbols will trigger the consolation price – for not hitting the Bonus. 3, 4, or 5 Scatters will also trigger the Free Spins and award an extra price. You can be awarded as followed;
3 Scatters award you 8 Free Spins
4 Scatters award you 12 Free Spins
5 Scatters award you 20 Free Spins
A Movie Theatre mini game can also appear and award you a 2x, 3x, 4x, 5, or 6x Multipliers.
All Free Spins come with extra Wilds and you can re-trigger them in the feature.
Wild Symbol
The Wild Symbol is one that can step in to substitute for all symbols apart from the Scatter.
Are you ready to indulge in this stunning, sophisticated Video Slot – one that you surely have not seen before.
Best of luck!