Battle of Slots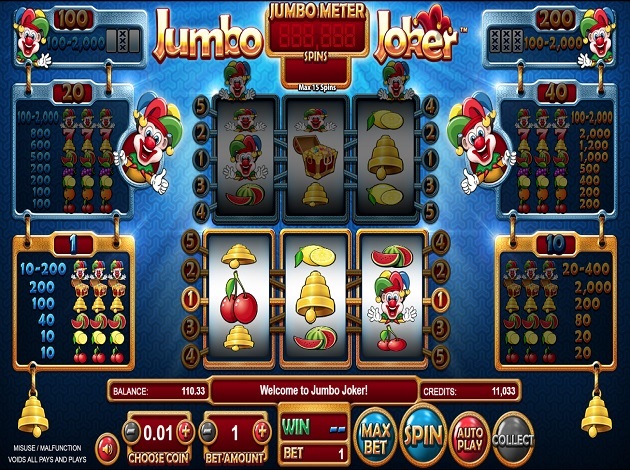 Play Jumbo Joker online: Check out our slot review below
Jumbo Joker Introduction
We are proud to present you with Jumbo Joker, a jolly and colourful video slot created by Betsoft. This video slot resembles a lot of traditional slot machines and the fruit symbols with its twin reels. These include, among others, lemons, cherries, oranges and grapes. However, there is also a small variation in the basic game, as in this video slot all the winnings of more than 20 coins will be transferred to the Jumbo Meter, allowing you to spin the second coin with slightly higher stakes. Before you spin the reels, we want to show you a bit more about the bonuses and special features of this video slot!
Jumbo Joker Game Features
The Jumbo Joker video slot offers you twin reel sets consisting of three reels each. Both reel sets contain five paylines. During the base game, you can bet from 1 to 10 coins for each spin. If you bet 1 coin, you will get 1 payline; by betting ten coins you will activate all 5 paylines. The minimum bet in this video slot is € 0.01 and the maximum bet is € 200. However, the bigger bets can only be played when the Jumbo Meter is activated.
In the Jumbo Joker video slot, you can use the base game to spin one of the two reel sets. If you win more than 20 coins, your winnings will go to Jumbo Meter and you will be able to spin if you want to roll more than one coin. However, you do not have to start another spin, but you can collect the prize you earned by pressing the collect button. The jumper meter can be active for a maximum of 15 spins.
Jumbo Joker Free Spins and bonuses
The Jumbo Joker video slot does not include any special bonuses or free spins, but there are two exciting special features that offer a little extra comfort to the basic game. One of these is the Jumbo Meter which we have already mentioned above.
Another special feature of this video slot is called Mystery Prize. In practice, this feature means that whenever you land a wild symbol on any active payline, you win the mystery prize. At bet level 1 this mystery prize can be 10-200 coins and at bet level 10 the mystery prize may be 20 to 400 coins. If you activate the Jumbo Meter with 20 or 40 coins, the mystery prize may be anywhere between 100 and 2000 coins. If you bet 100 or 200 coins in the game, you will earn a mystery prize every time you spin at least one wild symbol on the coils.
Jumbo Joker Payouts
In this video coin game, you grab yourself to victory every time you manage to spin three identical symbols on one of the active paylines. You can see the payouts placed around the reels as to how much a symbol can bring you coin winnings on the bet you place. During the base game, your bet may be 1 or 10 coins and once your jumper is activated, your bet may be 20, 40, 100 or 200 coins. In the base game, the coins of this video slot will spin in addition to the wild symbols plus five different symbols that will win your winnings. Depending on your betting level, cherries and lemons bring you 10 or 20 coins, watermelons 40 or 80 coins, golden bells 100 or 200 coins and treasure chests 200 or 2000 coins.
At bet levels 20 and 40, the reels spin in addition to the wild symbol and seven different symbols. Depending on the wager you place, cherries and oranges can bring you 100 or 200 coins, lemons 200 or 400 coins, grapes 200 or 500 coins, watermelons 500 or 1000 coins, bells 600 or 1200 coins and 800 or 2000 coins.
Jumbo Joker Graphics and Sound
The Jumbo Joker video slot site is located on a blue glowing backdrop. Both reels are placed in the middle of the game area and above them, there is the Jumbo Meter. The lower reel set is bordered with golden frames and is used during the base game.
Six payout tables have been placed on the left and right sides of the game area. From the left side, you can see how much you can win when you bet 1, 20 or 100 coins on every spin. From the right side of the reels, you will see how much a symbol will earn you when your bet is 10, 40 or 200. A cheerful theme character of this game, a colourful joker, looks at some of the payout tables.
Jumbo Joker is a rather traditional slot game that takes you into the atmosphere of the clowns. The background includes a background meter familiar to small country casks and when you press the start button, you hear a mechanical tone. You can also hear, among other things, the sounds from of the accordion. In this case, the payout tables will also ignite and begin to flicker.
Jumbo Joker Conclusion
Are you ready to face the joker? With its twin reels and mouth-watering rewards offered by the Jumbo Meter, Jumbo Joker is another top offering from Betsoft!
About the Provider
Betsoft Gaming is an online casino and software provider founded March 1999. Thanks to their desire to reach the top, they soon reached the level they set out to achieve; so when they started to expand properly, their games quickly became very popular with players everywhere and Betsoft instantly became very popular for the games they deliver.
Today, Betsoft are known as innovators and leaders in 3D cinematic gaming. They really meet the high-quality standards of console video games, along with the quality of major animated movies, and they've brought this into their games to give their players crisply designed and developed games.
Betsoft keep players coming back to their games mainly due to the high quality and entertainment value they deliver with every release. The use of 3D graphics in all Betsoft games turns them into visionary producers.
Betsoft not only offers video slots and slots but have also successfully developed many popular games in the blackjack, roulette, craps and video poker sectors, too. Poker3 is their special gift to the players where they can immerse themselves in realistic 3D quality as they play head to head against other players in other parts of the world.
Among Betsoft top games, you will find popular titles such as Ned and his Friends, After Night Falls, Pinocchio, Dr Jekyll & Mr Hyde, and The Angler.