Battle of Slots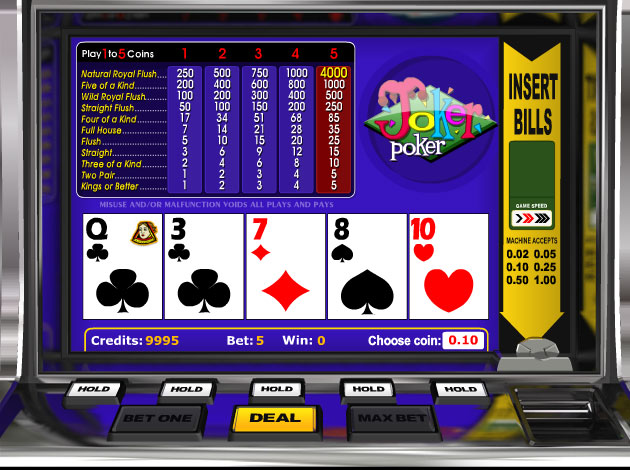 Joker Poker
Welcome to Joker Poker. This is a fun video poker game and it is similar to the game jacks or better with the difference that in this game there are 53 cards in the deck since there is a joker added to this game. This joker can be used to make any hand so it can substitute all cards to make you a three of a kind into a four of a kind or a pair into a three of a kind. It can also substitute any suit to make a flush or any other hand.

First of all you will be dealt five cards and you can keep as many of these as you want. The cards you want to keep are kept by clicking on the button under each card you want to keep named hold or just to click on the actual card. If you don't want to keep any of the 5 cards you simple skip clicking on any of the cards and click on deal and you will be given 5 new cards which will fall on the same spots as the rejected cards were on.

In joker poker there is also a double up bonus game where you can double you winnings. After each winning hand you are given the choice to collect the money from your win or double up against the dealer. If you chose not to double up, the money from your win will be added to your balance and you can continue to play. But if you feel like gambling and you click on double you will be taken to the bonus double up game. You will be presented with 5 cards in total of which one is the dealers card and you have to get a higher card than the dealer to double up. The remaining 4 cards are face down and you just have to go for one of them and if you manage to pick a card higher than the dealers you can chose to double up again or collect the money and go back to the game. You can double up 4 times in one round and when that is over you go back to the game and the money won in the double up game will be added to your balance.

Since you have a joker in the game which makes is easier for you to get better hands and even the possibility to get a five of a kind, the smallest paying hand is a pair of kings or better. But nonetheless you can win a lof of money in Joker Poker and the joker in this game certainly makes it easier to get those big hands.