Battle of Slots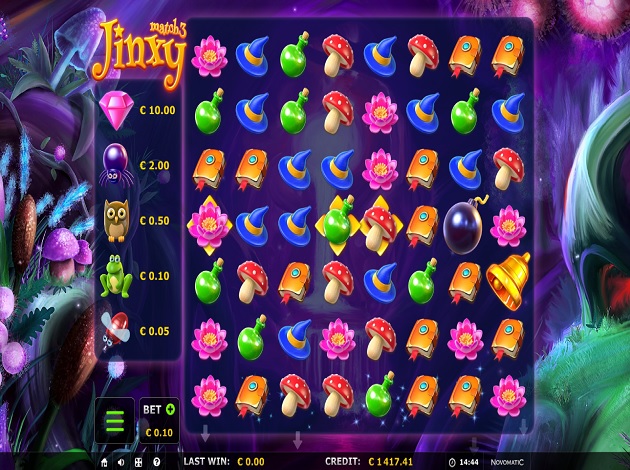 Play Jinxy Match 3 online: Check out our slot review below
Jinxy Match 3 Introduction
Jinxy Match 3 from Greentube is a refreshing grid game set up of eight columns and seven rows set in a mystical forest with magical dust floating around. In this game, you don't spin any reels, instead you have to match three or more identical symbols by moving them around with your mouse. It is sort of like an old school phone game where you have to match various candies together or other symbols in order to earn some type of rewards.
When you match symbols in this slot in a certain way, you can also trigger special other symbols which have rewards of their own!
Jinxy Match 3 Game Features
The way to make a move in this game is by swapping the positions of two adjacent symbols, creating a match of at least three symbols of the same colour. Once you make a match, those symbols will be removed from the game grid. The win symbols might drop onto the board from above after every move. You will win as soon as you successfully remove one of those symbols from the grid.
With every move, you have a chance to introduce a special winning symbol to the game. Your chances of gaining one of these special symbols increase the more symbols you can remove. The symbols that you need to match on the playing grid are represented with a bottle of a green potion, a blue wizard's hat, a red mushroom with white spots, a pink flower, and a brown book. The special symbols consist of a pink diamond, a purple spider, an owl, a frog and a red insect.
Jinxy Match 3 Free Spins and bonuses
Jinxy Match 3 doesn't have a free spins bonus round however it does have several other bonuses that can help you earn some potential prizes and they are listed below.
Special symbol 'Cross'
In order to create cross symbols, you need to match four identical symbols either horizontally or vertically. Then they will be cleared, and a cross symbol is created. If symbols of the same colour are matched, it will trigger an explosion of the entire vertical and horizontal row.
Special symbol 'Bomb'
In order to create bomb symbols, you have to match five identical symbols in a L or T form which will be cleared from the board and will then create a bomb symbol. The detonation of a bomb symbol is caused simply by moving it which will clear up to 12 surrounding symbols after that.
Special symbol 'Bell'
In order to create a bell symbol, five identical symbols need to match either horizontally or vertically. Once this match is made, they will be cleared from the board and will create a bell symbol. When a bell symbol is swapped with another symbol, then all symbols of the same colour will turn into bell symbols and explode immediately.
Jinxy Match 3 Payouts
After every move, win symbols might drop onto the board from above. You can clear a win symbol by moving it to the bottom of the board or by letting a special symbol explode within reach of it.
The pink diamond symbol is the highest paying symbol. The purple spider symbol is the second highest paying symbol with the owl following it as the third highest paying symbol in Jinxy Match 3. The frog and then the red bug symbol are the lowest paying symbols.
Jinxy Match 3 Graphics and Sound
The graphics in Jinxy Match 3 are really something special and unique. Behind and around the game grid, you will see a mystical forest full of extraordinary colours and magical dust floating around making it feel fairylike. There is a waterfall directly behind the grid which you can see if you look closely as the background of the grid is transparent blending in with the rest of the colours of the slot.
In addition to the stunning graphics, the sound effects add an extra charm to this game from Greentube. You will hear various nature sounds being played in the background along with a very calming and serene soundtrack that is always playing. When you attempt to switch the symbols or when you match them various other sound effects will also come into play.
Jinxy Match 3 Conclusion
Jinxy Match 3 from Greentube has a unique concept to it and stunning animations to match the gameplay. The goal of this game is to match three or more identical symbols on the grid which will award you with some potential prizes. You can also trigger 'special' symbols in this slot which will then award you with different potential prizes!
Check out this really fun game at Videoslots today!
Gambling is a form of adult entertainment only. You must be over 18 to play. Play responsibly.
About the Provider
Greentube is one of the most appreciated, well-known, and most experienced game suppliers of everything from software, games, and land-based gaming products in the world. With its launch in 1980 and their successful, international expansion only 2 years later, the company strived and reached all its goals quickly. Today it has offices and locations in over 50 countries all over the world and still exporting high-tech gaming equipment to over 70 countries. The company has 24,000 employees, all working to provide its players with brilliant products, which consist of among others 160,000 gaming terminals!
The way to its success can surely be found in its dual strategy as the work goes from being producers of high-tech gaming equipment and operators of electronic casinos, regular casinos and sports betting outlets, as well as technology and service partners in the lottery segments. As you hear, there is no stopping to this brilliant company.
But we are here for its online Video Slots – and they are sure brilliant too. Currently, over 240 Video Slots are offered by Greentube, and they all offer us vivid themes, a grand gameplay, thrilling features, and big winning opportunities – which is why Greentube is one of the most beloved game suppliers on the markets. They also offer Video Slots for both online and land-based casinos, as well as Multi-games, Jackpots, and Electronic Table Games.
Some examples are Captain Venture, Book of Ra 6 and Lord of the Ocean.
Play in our Battle Of Slots
Don't miss out on the opportunity to play a thrilling Battle with our special, unique and very first social online casino experience – Battle of Slots. Videoslots gives you the chance to play first time Battles against your friends and other players on videoslots.com with games from NetEnt, Thunderkick and Play'n GO. There is only one Battle of Slots – and you'll only find it on videoslots.com!