Battle of Slots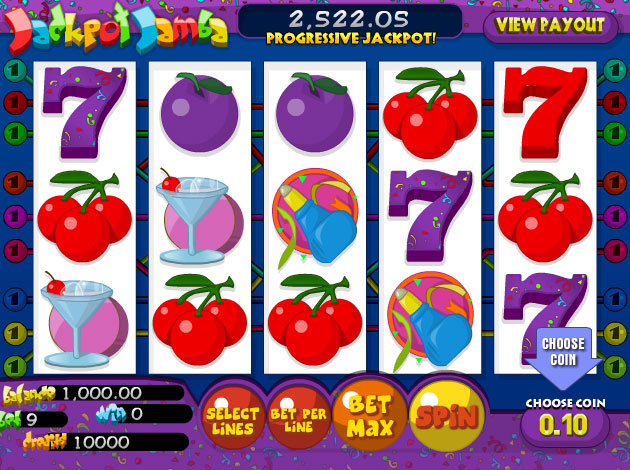 Jackpot Jamba
Welcome to Jackpot Jamba, this is a groovy slot game with a progressive jackpot which makes this game very exciting to play. The jackpot grows continuously and the more people play it the faster it grows.

This is a 5 reel slot game and you have a total of 9 pay-lines with a great bonus game and the chance to win the big jackpot. To win the jackpot you need to get 5 jackpot-symbols on one of the pay-lines and you need to play with max bet to qualify for the jackpot if you get the jackpot-symbols.

There is also a fun bonus game where you can win a lot of money in this slots game. To get there you need 5 7's, but not the normal 7. You need 5 party 7's on one of the pay-lines to get to the bonus game, but don't worry, there are planty of party 7's in jackpot jamba. Once you get to the bonus game you have 4 balloons and each of them hold different amounts of money. You can pick one of them and once you have done so you can see how much the balloon held and it will be added to your balance. Then you will be taken back to the normal game mode and you can continue to play. And the next time you get 5 party 7's on one of the pay-lines you will be taken back to the bonus game again to choose one of the balloons and if you are lucky you can win quite a bit of money in the bonus game.

Jackpot Jamba is a very fun game to play and with the bonsu game and the progressive jackpot you also have the chance to win a lot of money.

The theme in this game which you probably already have figured out is party and the symbols are reflecting that. You will find presents, drinks, funny hats and more. The most valuable symbol is the jackpot symbol which can make you win the jackpot and even if you don't win the jackpot this is the symbol that will bring you the most money. You can find all the payouts in the game just by clicking the button View Payout.

There is also a wild-symbol in this game which will substitute all other symbols except for the jackpot symbol.

If this sounds interesting you should try this game out. It is a truly fun game to play and together with the chance of winning a lot of money this is a great game. Playing a fun game and winning money at the same time must be one of the best combinations. So try this game and if you like it, why not give it a go.