Battle of Slots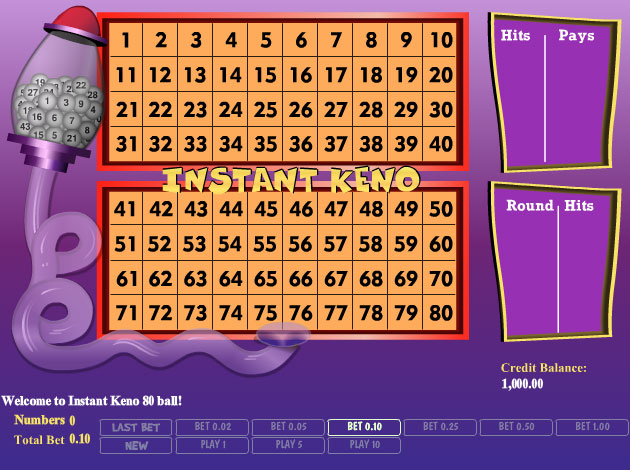 Instant Keno
Instant keno is a great casino game where you can win a lot of money. The game is based on numbers and all you have to do is to choose at least 3 numbers and no more than 10 by just clicking on the numbers you want to play. It's as easy as that, just click on the numbers you want to play. And if you have any lucky numbers or any numbers you usually play this game is perfect for you.

The graphics in this game is very well developed and it is a fun game to play for all ages. It is a game where you can win a lot of money at the same time as you are having fun and if you have any lucky numbers you should definitely try this game.

The game consists of a board with numbers on it and a mixer with balls. There is also a set of buttons for you to control the game. So when the game start you first have the set how much you want to bet on the game and after you have done that it is time for you to choose the numbers you want to play just by clicking on the numbers of your choice and you can choose 3 – 10 numbers.

Then it is time to play the game and you can go for 1, 5 or 10 plays and if you go for 5 or 10 plays you will play the same set of numbers for 5 or 10 times. After that the amount of numbers you have picked will decide on how many balls will be thrown on the board. If you pick 5 number then 5 balls will be thrown on the board making it possible for you to get 5 hits on 5 numbers and get the highest payout. So this is perhaps one of the easiest casino games to play and if you have never played instant keno before it should not take long before you are an expert at it after you have played your first game.

This is a very entertaining game and you can win cash pretty fast if you are lucky enough to pick the winning numbers. The graphics are also very well made and it is a pleasure to play this game. You can also play this game from two different angles. You can play it zoomed out which is the default setting of the game but you can also zoom in to get closer to the game if you want.

In a sence Instant keno is similar to bingo with the difference that you get a set of numbers in normal bingo while you can choose your own numbers in instant keno which is great if you want to play a certain set of numbers that you always play.