Battle of Slots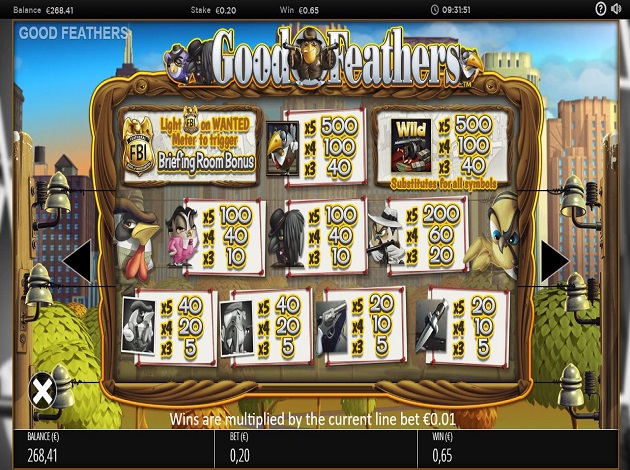 Goodfeathers
Good Feathers Introduction
Good Feathers from Blueprint Gaming is a feature packed slot with plenty to enjoy especially with its amazing and engaging graphics. This slot consists of five reels, three rows and twenty paylines which are all loaded with bonus features that will trigger randomly and keep you on your toes as you partake in this action packed, criminal themed slot! The title might ring a bell to the 1990's film, Goodfellas, the Italian-American crime gang however, this slot has a nice twist with the characters being showcased as birds.
Good Feathers Game Features
The standard wild symbol in Good Feathers is an image with a gun, bullets and money in it which has the power to substitute for all symbols except for the scatter or the bonus symbols. There are several characters featured in Good Feathers from the birdfather himself, the woman bird dressed in a pink suit, a good cop, a bad cop, and two mobster birds. There are also two weapon symbols which are a gun and a knife which you can imagine are used for crime or to fight crime.
The birdfather has a special effect; after losing spins, he can appear and award either stork wilds, flyby wilds or an egg bomb.
Good Feathers Free Spins and bonuses
Three or more successful cascades after an initial win will award the bonus and trigger the bonus which will take you to a new location set aside a briefing room which awards the briefing room feature picker. Once brought here, you will be able to pick from one of the five cases which will reveal the bonus! The different bonuses that will be available there are the warehouse bonus, prison escape bonus, scarbird free spins, infeathergation free spins and the crime scene free spins.
Prison Escape Bonus
In the prison escape bonus, you'll see a three-story prison with cell doors hiding potential goodfeathers. You'll need to break out as many goodfeathers as you possibly can so that you can be awarded for your good efforts! If you manage to reveal the poster, you'll need to level up to the next phase of the bonus where higher prizes come into play. If you hear the siren, be prepared that means that this feature will come to an end.
Warehouse Bonus
A scene will show a warehouse with five sets of suitcases which you'll need to pick from the suitcases to reveal an amount. You can then decide to take this offer or leave it and open up another suitcase for a possibly better or, worse win.
ScarBird Free Spins
In this scene, you will be brought to an inside of a house with a new reel set where you'll be awarded with five free spins with a scarbird wild symbol. Any scarbird that lands in or cascades in will shoot at the reels to create bullet hole wilds. When the free spins come to an end, you'll have the opportunity to pick from the two suitcases and if you reveal some bullets then the free spins are retriggered however, an empty suitcase will end the free spins round.
Infeathergation Free Spins
You will be brought to the inside of the police station with a new reel set as well which will include stacked infeathergation wilds that can substitute for any other symbol. At the end of eight free spins, you'll be able to pick from two cards from a board and if you reveal the good cop then the free spins will be retriggered. On the other hand, the bad cop will end the free spins round.
Crime Scene Free Spins
You'll be brought to a night scene where it will see a crime scene where you'll receive ten free spins and every win will result in an increasing win multiplier. The higher the win multiplier, the more evidence will be recovered. There are four levels of evidence with a win multiplier of up to 20x if every piece is recovered. Any FBI badge in view will award three additional free spins!
The features of Good Feathers don't end there; there's also a gamble feature which will help you to increase your winnings! Basically, whenever a feature win is achieved in the game then you'll have the option to either collect the feature or gamble!
Good Feathers Payouts
The highest paying symbols are the wild symbol and the birdfather which can reward you with up to 25x your total bet! The bad cop is the second highest paying symbol which can reward you with up to 10x your total bet. The pink suited bird and the good cop can reward you with up to 5x your total bet. The two mobsters can reward you with up to 2x your total bet while the gun and the knife are the lowest paying symbols awarding you with up to 1x your total bet if you get one of a kind.
Good Feathers Graphics and Sound
In the background, you'll hear the typical mysterious music that is always played in detective-themed movies. It adds a nice touch to the slot and goes well with the theme. In the far background it looks as if there are black and white polaroid's of the criminals that are starred in this slot. Closer to the reels, you'll see a park and tall city buildings farther back. The clouds are passing by making it livelier as if it the scenes are taking place in real time. The spin reel also has a unique feature to it being the front of a revolver. The different bird characters also move and make different motions making it more lifelike again.
The sound effects and animations of this slot are really engaging and has a lot to keep you hooked. Even small details like when the birdfather speaks out loud, it's with a typical, New York mobster accent from back in the day.
You can find the autoplay button just below the spin button and the paytable even further down by pressing on the button that has the three horizontal lines.
Good Feathers Conclusion
As you can see, you're in for quite a show in this slot! Good Feathers is packed with great stuff from the great animations that really come to life captivating you into the plot of the slot. In this game you get to investigate the crime scene to find out who is guilty or not. There's a good number of bonus features to benefit from as well as keeping you entertained throughout. It's not your typical free spins rounds here, cascades and wilds also come into play! For a good time and a different gaming experience, Good Feathers has so much to offer.
Play Good Feathers at Videoslots!
About the Provider
This is a company that's been around for a long time, having extensive experience in both land-based slot machines and online slots as well. Blueprint Gaming was acquired by Gauselmann group in 2008, a large gambling conglomerate in Germany, propelling them to further success. Now part of the Gauselmann group, they develop their own unique games as well as exciting licensed games.
The goal at Blueprint has always been to create exciting slot games for the global online and mobile markets. Today, their products are available to be played on over 100,000 land-based gaming terminals across the entire UK, as well as in Italy and Germany.
Their licensed games offer an extra-special experience for players, with games like Casper and Worms, inspired by the ghost film and the famous computer game of the same names. Ted is another licensed slot, based on the popular comedy film of the name. One of their latest and already hugely popular licensed slots is Spinal Tap, a slot jam-packed with interactive features and animations, based on the mockumentary from the 1980's.
Blueprint gaming already has a strong portfolio and many of their games are now available to play on mobile devices too. As their portfolio keeps growing, we're can't wait to see what's next for Blueprint Gaming. If you're a fan of action-packed slots with a great sense of humour, you can't miss checking them out. You can play Ted, Top Cat and Wish Upon A Jackpot and more right here at Videoslots.com.
Play in our Battle Of Slots
Don't miss out on the opportunity to play a thrilling Battle with our special, unique and very first social online casino experience – Battle of Slots. Videoslots gives you the chance to play first time Battles against your friends and other players on Videoslots.com with games from NetEnt, Thunderkick and Play'n GO. There is only one Battle of Slots – and you'll only find it on Videoslots.com!