Battle of Slots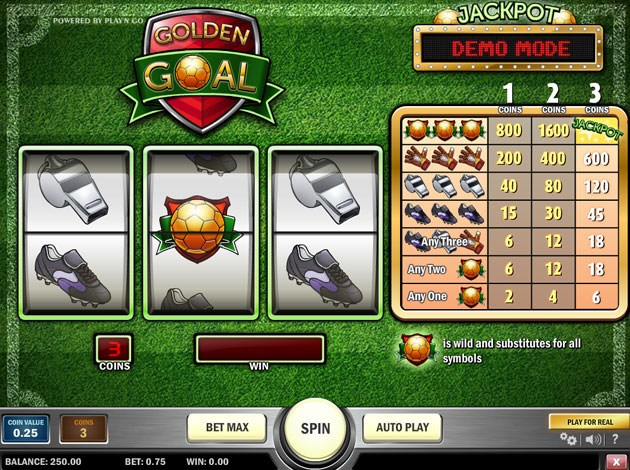 Golden Goal
Welcome to Golden Goal, another of our classic slot games from Play n Go. This is a very soccer inspired slot game where the golden football is the most valuable symbol which can win you the jackpot.

You have 3 reels 3 rows and 1 payline in Golden Goal so a slot game can't get much more classic than this is. Even the design of the entire game is very classic. In the middle you have the reels and right to the side of it you will find the score board where you can see how much you will win with each of the winning combinations.

There are 4 different symbols and they are the golden football, a goalkeepers glove, a whistle and a soccer shoe. The golden football is the most valuable of these symbols and if you get three of it whilst playing with 3 coins you will win the jackpot. This symbol is also a wild symbol which means that it will substitute for all other symbols. So not only can you win the jackpot with this symbol, you can also improve any other combination.

The graphics in Golden Goal is inspired by a soccer field and every time you spin the reels you will hear the crowd cheering for you. And when you hit a winning combination you will hear the audience go crazy on the stands. Should you wish to listen to something different you can simply switch the sound off in the settings in the bottom of the game.

So if you are a football fan and just love classic slot games, this is the game for you!