Battle of Slots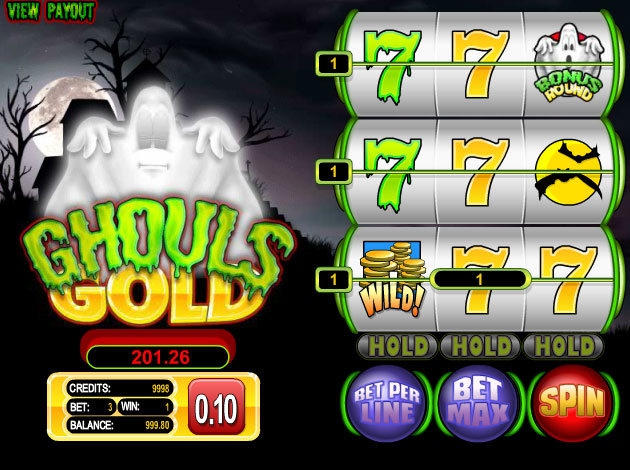 Ghouls Gold
Ghouls gold is a very exciting ghost themed slot game. Why don't you give it a try and catch as many ghouls as you can in this great slot. There is also a progressive jackpot in this game and it's yours as soon as you hit the jackpot combination. So come on in and see if it is your lucky day unless you are too scared of the ghouls..

What is unusual about Ghouls Gold is that it is a 9 reeled slot game divided into 3 rows with 3 reels in each of them. On the first spin on any given round you only spin the first row of reels and when it has stopped you have the option of holding any of the symbols by clicking on the hold button under the symbols you want to keep. Then you get to spin the other two rows of reels with the symbols that you kept from the first reel already in place.

That means that if you got 2 of the same symbol on the first row of reels and you click on hold for them, they will already be in place on the next 2 rows of reels giving you 3 more chances to get a third of the same symbol. In this sense it is similar to video poker where you can keep cards and replace the ones you don't want to keep with new ones. You can keep any of the symbols in the first row and essentially you are getting new symbols on row 2 and 3 thus giving you a better chance to get the right combination to win more money.

As mentioned above there is also a progressive jackpot in Ghouls Gold and it keeps on getting bigger and bigger. To win the jackpot you need to get 3 jackpot symbols on one of the rows and if you don't and get just 2 or 1 on the first row you can hold them and see if you get the remaining on the other 2 rows.

There is also an innovative bonus game in Ghould Gold and to get to this bonus game you need 3 bonus symbols on any of the rows and when you get them the bonus game starts. The goal is to catch as many ghould as you possibly can. They will fly by and you just have to click on them with the mouse to catch them. The faster ones are worth more then the slower but all of them have a value and when you click on it it will be added to your balance. But you need to be quick as the bonus game has a time limit. When the time is over the total value of the ghouls you caught will be added to your balance and you can continue to play.

In Ghouls Gold there is also a wild-symbol which will replace all other symbols, even the bonus round symbol. The only exception is the jackpot symbol, so to win the jackpot you need to get 3 jackpot-symbols. For all other symbols the wild-symbol can replace them.

Go on and catch the ghouls in Ghouls Gold.