Battle of Slots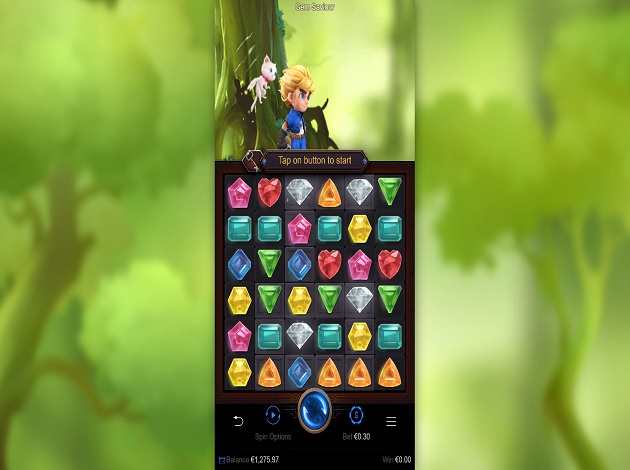 Gem Saviour
Gem Saviour Introduction
Gem Saviour from PG SOFT is a cartoon animated, action-packed slot based on mystical creatures and a hero on a quest to save the village of Audora. This game is set on a 6x6 grid with six reels and six rows. Gem Saviour is packed with features containing a lot of action making this game even more engaging, especially with the moving animations that are in motion at the top of the reels throughout the game!
The features in Gem Saviour include respin gem, hero's adventure, relic encounter, money bag, treasure map, treasure chest and monster encounter!
Gem Saviour Game Features
The basic symbols in Gem Saviour are all represented by various coloured gems and jewels! There is a pure diamond symbol, a yellow gem, a red heart gem, a magenta gem, an orange triangle gem, an emerald rectangle gem, a dark blue gem as well as a light green upside-down triangle gem.
Gem Saviour Free Spins and bonuses
There isn't a free spins round in Gem Saviour but there are a load of other wonderful features which are explained in detail below.
Respin Gem
When a respin gem appears on a reel and no more winning combinations can be tallied, all the gems on a reel will be removed and a new arrangement of gems will be cascaded into the reel.
Hero's Adventure
At every spin, the hero will travel and may encounter various events such as relics with different types of rewards and different types of monsters.
Relic Encounter
If the hero encounters a stack of relics, the hero will attack and destroy a block of the relics at the start of every spin and at each gem explosion round after the spin that encounter the relics until there is no relic left.
Once there is no relic left, the hero might obtain a money bag, a treasure map or a treasure chest.
Money Bag
When a money bag is obtained, a prize of 2x to 5x the current bet will be awarded.
Treasure Map
Encountering a stack of relics with the treasure map can only occur when there is no active treasure map on the reels or treasure key in hand. After obtaining the treasure map, a treasure key can be obtained when all positions indicated in the treasure map is activated by exploding gems on the reels.
The treasure map is removed when all positions indicated in the treasure map are activated by exploding gems on the reels and the treasure key is obtained.
Treasure Chest
Encountering a treasure chest can only occur when there is a treasure key in hand. When a treasure chest is obtained, you will be awarded 10x, 15x, 20x or 30x your current bet. The treasure key is removed when the treasure chest is obtained.
Monster Encounter
If the hero encounters one or more monsters, the hero will attack the monster and the monster will attack back at each spin after the spin that encounter the monster until the monster HP bar reaches zero.
A special gem might appear when the hero attacks the monster which will be placed on a random position on the reels when there is no more gem explosion and no respin gem on the reels. The special gem will transform into some gems into a random gem.
There are four types of special gems which are:
Horizontal Special Gem
Vertical Special Gem
Area Special Gem
Plus Special Gem
If the Hero HP bar reaches zero, the Hero is unable to attack, and the flying cat will create a healing shield around the hero. Every spin and gem explosion from there on out will increase the hero's HP bar. The monster will still attack the hero at every spin but with reduced damage. When the Hero HP bar reaches one third of the maximum HP bar, the healing shield is removed, and the hero is able to attack the monster on the next spin.
If the monster HP reaches zero, the monster will die, and coins will be awarded.
Defeating a mimic, bat or skeleton will award 3x your current bet amount.
Defeating a gargoyle or treant will award 6x your current bet amount.
Defeating a werewolf or golem will award 15x your current bet amount.
Defeating a witch will award 44x your current bet amount.
Gem Saviour Payouts
During every spin, any combination of four or more gems touching horizontally or vertically will result in a winning combination. For every winning combination, a payout will be made.
The diamond is the highest paying symbol awarding you with up to 30 coins. The yellow gem is the second highest paying symbol which can earn you 15 coins. The red heart gem and magenta gem can both earn you 10 coins.
The orange gem and emerald gem can earn you 5 coins. The blue gem and light green gem can earn you 3 coins.
Gem Saviour Graphics and Sound
Above the reels you will see the hero running through a very green forest, with a small white cat fairy following him. The colours are bright and vivid! With the constant motion above the reels, with the hero running through the forest and all, it makes this game extremely engaging and appealing. There is a soundtrack that is constantly playing as well, which is upbeat and uplifting bringing a lot of good energy to the gameplay.
You can find the autospin button to the left of the spin button. The paytable can be found by clicking on the three horizontal lined button at the bottom right-hand corner of the play screen.
Gem Saviour Conclusion
Gem Saviour is a gem inspired slot featuring various gems which have to be matched in order for things to get moving on the 6x6 grid of this game. It's all about the respin gem feature, special gem transformations, treasure hunting and battles with monsters in the beautiful green forest. This slot has a lot to offer from the amazing graphics and sound effects to the interesting and engaging gameplay.
Try out Gem Saviour at Videoslots today!
Gambling is a form of adult entertainment only. You must be over 18 to play. Play responsibly.
About the Provider
"Difference makes the difference" – that's the clever motto of this young provider, PG SOFT. They are a mobile game development company based in Valletta, Malta. For a company that joined the iGaming industry in 2015, they've grown to an impressive size of 200 employees, expanding beyond the island of Malta as well. Now, they have offices in Europe, North America, and Asia. Albeit being a new name on the iGaming scene, PG SOFT is quickly making a name for themselves with their impressive mobile slots.
With a motto like, "difference makes the difference", they really take the element of 'difference' seriously. PG SOFT's games are truly different not just in themes and gameplay, but in every other aspect of the game as well, with ideas that are completely out-of-the-box!
Hotpot is the best example that proves this big claim. Hotpot takes place literally inside a hotpot, a boiling soup full of spices and ingredients which are also the 'reels'. Other crazy themes include adorable plushies, legends and myths, anime, and much more.
Besides awesome ideas that will stun you with their originality, the graphics will also blow you away. Above the reels, most slots will have a video screen showing animations related to the game. They'll take any idea and turn into a brilliantly executed game that any player will love.
Check out games by PG SOFT like Hood VS Wolf, Joker Wild and Win Win Won.
Play in our Battle Of Slots
Don't miss out on the opportunity to play a thrilling Battle with our special, unique and very first social online casino experience – Battle of Slots. Videoslots gives you the chance to play first time Battles against your friends and other players on videoslots.com with games from NetEnt, Thunderkick and Play'n GO. There is only one Battle of Slots – and you'll only find it on videoslots.com!