Battle of Slots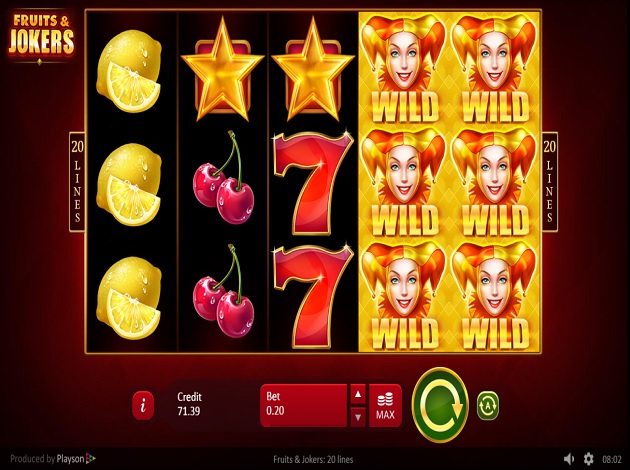 Fruits and Jokers 20 Lines
Fruits & Jokers: 20 Lines Introduction
Fruits & Jokers: 20 Lines was released in August 2018 as an addition to the 'Timeless Fruit Slots' series by Playson. This classic fruit slot plays with 20 fixed paylines on a 3x5 grid that features realistic fruit symbols, red sevens, star scatters and the Joker.
The Star Scatter pays regardless of paylines, while the Joker heads are Wild and land in stacks to improve your chances of a Big Win!
The betting amount ranges from only €0.2 per game, up to a maximum wager of €100.
Fruits & Jokers: 20 Lines Game Features
The focus of Fruits & Jokers: 20 Lines slot is squarely on simplicity and for this reason it presents to players a rather stripped-down gaming experience. The reels take up most of the screen and the bright symbols are set against a dark, featureless background.
The main controls are found in the lower part of the screen. Players can see their credit, select their bet amount or hit the 'Max' button to wager the highest amount allowed. When they're ready to play, hitting the large spin button sets the game in motion and the smaller autoplay button locks in the current bet amounts for a predetermined number of spins.
Less conspicuous are volume control and the Quick Spin setting, which are located at the bottom-right of the screen. The latter cuts down spin duration by about half, allowing players to squeeze in more spins during a single play session.
Fruits & Jokers: 20 Lines Free Spins and Bonuses
While its looks easily set it apart from the usual fruit machine slots, one thing that Fruits & Jokers: 20 Lines shares in common with its old-school counterparts is a total lack of free spins and bonus features.
As mentioned previously, players can count on Wild and Scatter symbols to improve their odds of landing a win on the reels. The only other extra feature available is the autoplay functionality, which is actually quite sophisticated in this game. Players may set the game to spin from 5 to 999 times automatically; by clicking on the 'Advanced' pull-out menu they can also select a win and loss limit to exit autoplay.
Fruits & Jokers: 20 Lines Payouts
Every symbol on the Fruit & Jokers' reels pays out a multiple of the player's original bet. The exact prize amount due for each combination of symbols is displayed on the paytable screen, which can be accessed by clicking on the Info button.
Players can change the bet amount from the controls and see the potential payout updated in real-time on the paytable.
The symbols pay the following multiples for any amount of real money wagered in the game:
Cherries, oranges and lemons: each pay out 0.5x, 1.5x and 4.5x for 3, 4 and 5 matching symbols on a payline respectively
Grapes and watermelons: both pay 1x, 3x and 8x for 3, 4 and 5 matching symbols respectively
Sevens: pay 1x, 5x and 18x
Joker Wilds: pay 2.5x, 25x and 75x
Star Scatters: pay 5x, 20x and 400x
All bet lines pay from left to right. Scatter wins are pay independently of normal bet lines.
Fruits & Jokers: 20 Lines Graphics and Sound
The graphics of Fruit & Jokers: 20 Lines can be easily summed up in one word: slick. The game uses a minimalist aesthetic with clean lines and plenty of space in its design. This style was a clever choice by Playson for this classic slot, as it gives it a modern feel without compromising on the signature retro gameplay.
The symbols are rendered in gorgeous, glossy detail. The designers added droplets of water on the fruit to make them look all the more realistic and juicy. Besides the artwork, one should also mention the animations that give more vibrancy to the game. Low-paying combinations are highlighted with a subtle flare behind the symbols, while high-paying lines spontaneously combust in flames to mark big wins.
The sound effects in this game are low-key yet still very effective. The reels come alive with various clicks when you spin them and when they come to a halt. Other sounds are used to mark symbols that lie on a winning line, and the game pipes out classic music whenever you land on a 'Big Win'.
Fruits & Jokers: 20 Lines Conclusion
It would be sheer folly not to give Fruits & Jokers: 20 Lines a try! Beneath its deceptively simple appearance, there lies a game that delivers plenty of thrills in the tradition of old-timey slots. Focus and determination are key to pull one over the Joker, and should you manage to do it the final payout then is definitely no jest.
About the Provider
Playson is a Malta-based gaming company, founded in 2012, that provides solutions for both online gaming platforms as well as land-based gaming partners such as casinos. The experience the company holds has given Playson a grand start, and they are definitely a company to keep an eye on.
With a staff of over 250 people, stacked with experience from several different sectors, the sky's the limit for what the future will bring. Playson currently offers content for both Flash and HTML5, along with the game design of your choice.
Playson's aim is to create games that differ from everyone else's to enhance the gaming experience and keep everything fresh. Some examples of their games are Bumper Crop with its amazing graphics, growing Wilds, and other interesting bonus features; the beautiful Alice in Wonder slots with its awesome soundtrack and theme; and Wild Hunter with its cool bonus rounds and fun gameplay. Playson has proven themselves to the world of gaming with these solid slots.
But apart from the classic video slots and slots, they also develop video poker games among others. All titles are filled with wonderful visuals and players can find something new in all of them. Playson has indeed great games in their selection and it is safe to say that there is more coming.
A few titles by Playson are Burning Wins, Happy Jungle and Claws vs Paws.