Battle of Slots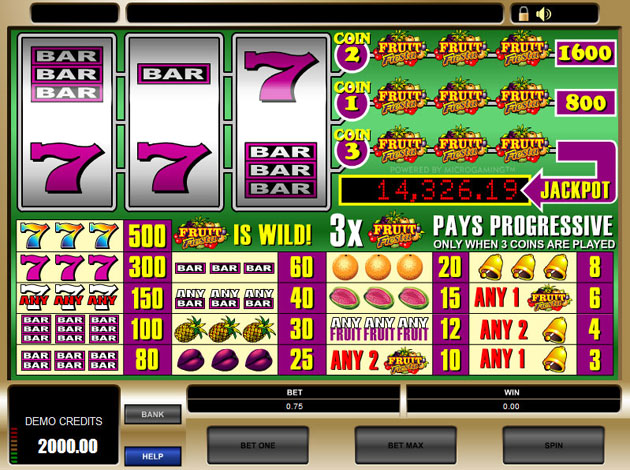 Fruit Fiesta 3 Reel
Videoslots.com offer the slot Fruit Fiesta in two different versions, as a three-reel progressive video slot game and as a five-reel video slot. This is a slot with three paylines, with a maximum bet of three coins.

The Fruit Fiesta symbol is the a wild symbol of the game. The wild symbole creates its own winning combination when multiplie symbols appear in a line on an enabled payline. Only one winning combination is paid out per payline. If there happens to be more than one possible winning combination on a payline, only the value of the highest combination gets paid out to you. If three of the Friut Fiesta symbols is showing in a line on payline three, you will win the progressive jackpot. The value of the progressive jackpot is displayed in the game. You must bet three coins per spin to qualify for the progressive jackpot.

Fruit Fiesta 3 is featuring the classic slot symbols as Sevens in different colours, Bars and fruits such as pineapples, melons, oranges and grapes. You can read about the winning combinations right under the slot. Whatever symbols make up the winning combination, they have to line up on one of the designated paylines to win. This greatly resembles a traditional slot setup, so there is nothing about it that will make you not feel right at home. You will really feel that you are playing a classic Las Vegas slot but with the progressive jackpot as an extra carrot.

In Fruit Fiesta, you can choose to play in Regular Mode or switch over to Expert Mode. Expert Mode will enable AutoPlay, an automatic feauture that allows you to play without having to interact with the slot at all. Maximize your winnings and try out the Autoplay feauture, but don't go too far from the computer, you don't want to miss when you hit the jackpot.

The Fruit Fiesta video slot is very player friendly and you can customize sound, allowing you to diasble all of the different sound effects on or off. The controls are also player friendly, and allow for any kind of atmosphere in that regard to be enabled. To play the game you need to place a bet, and then you just click on the Spin button in the bottom right to start playing. If you have a winning combination lined up on the payline, the win is highlighted on the reels. You will be paid out the win amount that is displayed in the Win box. If you do not have a winning combination, just try your luck again.