Battle of Slots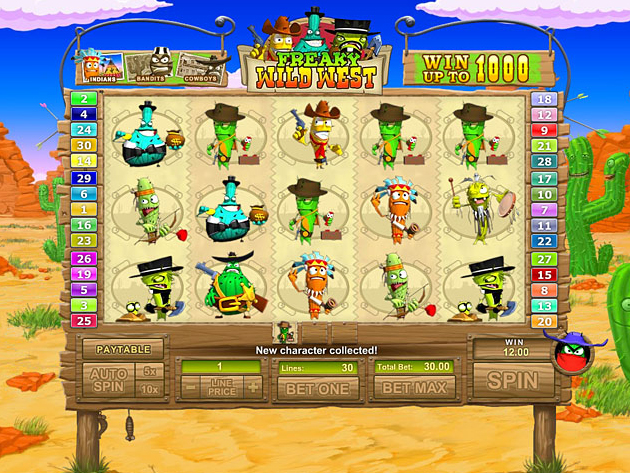 Play Freaky Wild West online: Check out our slot review below
Come if you dare to this cruel world called Freaky Wild West brought to you by incredible GamesOS! If you have played their amazing games Freaky Cowboys and Freaky Bandits then you will recognize this game. The music in this game is Western inspired and is very suitable to the game. The graphics are breath taking with very colourful animated symbols. The symbols that you will find in Freaky Wild West are of course western inspired and are in forms of bandits, Indians, prison inmates, banker men and much more.

There are many different, fun and exciting features in this game. The Scatter symbol for example, will trigger free spins. This is the symbol of an Indian shaman playing the drum. To trigger these free spins you first have to get at least 2 Shamans anywhere on the reels. 2 will trigger 3 Free Spins, 3 will trigger 5, 4 symbols will trigger 15 and 5 symbols will trigger as many as 30 Free Spins. Can you imagine how much money you can win on just one bet? Wild West also offers you a Jackpot feature. The Jackpot is won if you get a combination of 5 symbols of the Banker. There are 3 different bonuses that are connected to 3 different worlds. You trigger these bonus games with different combinations of symbols. This will give your experience in Freaky Wild West variety and will fend off boredom. You can check the paytable to learn which symbols you need for you to take part of these amazing bonus games.

At the bottom of the screen you can change the different game settings. You might want to do this before you start playing the game. Here you can change your payline value by clicking the buttons in the Line Price window. The next button is Bet One and you click this to change the paylines that you would want to be active. You can also do this by clicking the number next to the reels. By hover your mouse over one of the numbers you will be able to see what kind of line it is. Next to Bet One is the button that you click if you would like to bet the highest amount possible. To the left in the bottom of the screen you will see the Auto spin button and above it you will find the paytable button where you can read more about the different paylines and symbols. On the furthest right you will find the spin button, click this when you have customized your settings the way you want them and feel ready to embark on your Wild West adventure!

Are you ready to enter this fantastic Western adventure? Then click the image above to enter Freaky Wild West. You can try the game for free or with real money here at Videoslots.com. Good Luck!