Battle of Slots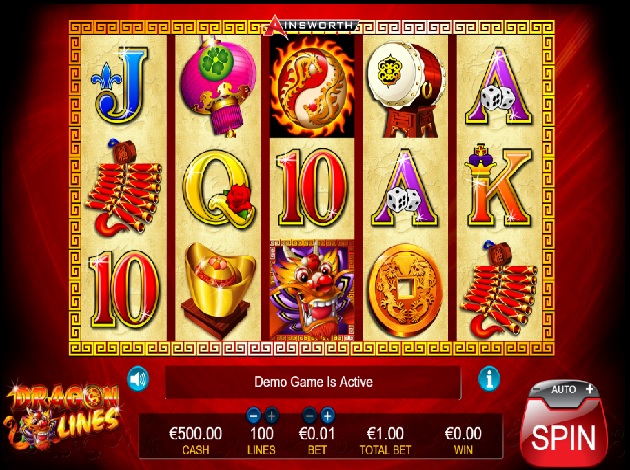 Dragon Lines
Hi there and welcome to Dragon Lines, our brand new video slot from the solid game provider Ainsworth. Ainsworth is a new game provider to Videoslots.com so let's talk a bit about them first. Len Ainsworth founded the company back in 1995. His goal was to become the leading manufacturer and supplier of gaming solutions. Ainsworth's mission is to provide innovative gaming solutions with high quality throughout the globe and to secure sustainable profitability and growth for all stakeholders. They're located in Australia but have offices around the world including the US and South America.
So back to the game. The symbols and overall feel of Dragon Lines takes you to Asia, the Chinese dragon Albi appears a lot and is who the game is based on. If you are familiar with Ainsworth or Aristocrat slots you will recognise the standard sound effects as the reels are stopping. But that's fine, even though you've heard similar ones before it's a winning strategy and brings great feel to the game. This slot has 50 paylines available and even though you can lower them, we recommend you decreasing coin value instead since the bonus round in this game has stacking Wilds on 3 reels. If you want, you will have the possibility to gamble your winnings after each round with a winning combination. Just click the flashing Gamble-button on top of the Play-button and you will be taken to another screen where you can gamble on a card being black or red, or in 1 of the 4 different suits.
Now let's talk about our friend the Chinese dragon Albi, he's the guy you will see cruising by on the reels every time you win. The thing with Albi is that he's not exactly like all the other dragons. He lives in a cottage-cheese cottage located in the marmalade forest approximately between the make-believe trees. One day, the villagers chased Albi out of town and he took refuge in a cold and dark cave instead. It was so dark and so scary in there that Albi began to cry dragon tears, which we all know turn into jellybeans. Just then, Albi felt a tiny cold hand on his tail and who was it if not the little Korean boy Wil Ah from the next town that Albi met the day before. Even though he had been eating dragon tears throughout the whole day and had a tummy ache, he was still thinking about Albi and asked why he was crying. Albi then told Wil about the big pizza disaster which happened earlier on in the day and the situation now became clear. Wil suggested they make gingerbread cookies and cinnamon buns for the entire village to make up for the mishap, which Albi thought was a marvellous idea so they got to work. 573 gingerbread dragons and 842 cinnamon buns later, Wil had a relapse of the earlier tummy ache but both him and Albi felt quite good about themselves. When they headed into town, Albi was showered with rocks and was chased back into the cave. Luckily, Wil invited the dragon back to his town where they lived together in a cabin for the rest of Wil's life. Dragons live almost forever, so Albi still lived on of course. But he never forgot Wil's kindness.
If this didn't make your tear ducts fill up with liquid, I don't know what will. No matter, enough reading. It's time to play Ainsworth's masterpiece Dragon Lines and say hi to Albi from everyone at Videoslots.com. Good luck!