Battle of Slots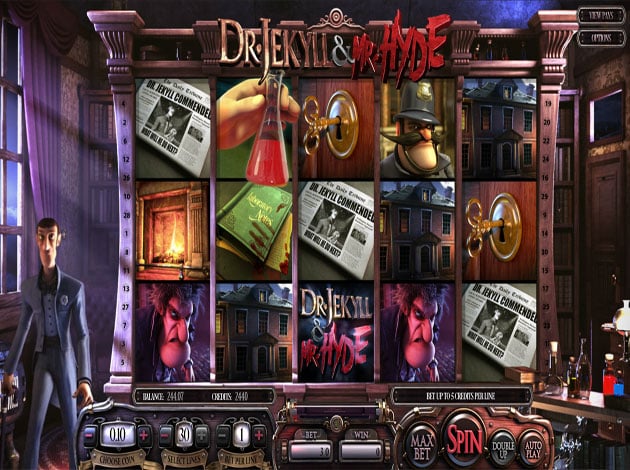 Play Dr Jekyll & Mr Hyde online: Check out our slot review below
Welcome to this new and awesome slots game from Betsoft; Dr. Jekyll & Mr. Hyde! This is a truly amazing video slot based on the classic story and horror movie of doctor Jekyll from London who had a theory that good and evil in a man could be separated. An experiment reveals his evil side, named Mr. Hyde. This video slot has 5 reels, three rows and 31 paylines . Here you will see symbols such as magazines, different potions, laboratory notes, locked doors, policemen and much more.

Dr. Jekyll & Mr. Hyde is a video slot with a lot of different and cool special features such as a Potion bonus, Frenzy Bonus, Wilds and Free spins.

The Logo symbol marked "Dr. Jekyll & Mr. Hyde" can occur on reels 1, 3 and 5. This symbol does not earn winning combinations on its own; however it is a Wild symbol for the Hyde symbols and the Jekyll symbols. It also helps to trigger bonus rounds and other special actions involving Jekyll and Hyde.

When the Logo symbol is between two Mr. Hyde symbols on reels 2, 3 and 5 the Frenzy bonus will start. When Mr. Hyde comes to a turn you may choose to go right or left. Travel along the streets of London stealing and avoiding police officers as Mr. Hyde, while you have the chance to earn 30 times your bet! When the Logo symbol is between two Dr. Jekyll symbols on reels 2, 3 and 5 the Potions bonus will start. Select potion elements to craft the perfect Anti-monster serum. The faster you can find the correct ingredients the higher your prize is. You can win up to 120 times your bet!

When Dr. Jekyll occurs between 2 Red potion symbols on reel 3 all the Jekyll, Hyde and Logo symbols will become Wild Mr. Hydes. All elements on the screen will go crazy randomly selecting new locations. When the symbols are placed in their new locations you will be awarded with new winnings. When Mr. Hyde occurs on reel 3 between two blue potion bottles you will get a special bonus up to 20x your game bet! A random multiplier will be awarded ranging from 5 to 20x your game bet.

To start the amazing Free spins feature you will have to fill the Red Potion meter below the reels. Each Red potion that occurs on the reels during any spin is equal to 1 fill unit. 100 fill units are needed to unblock the Free spins mode. When the meter is full you will get to watch an amazingly well-designed short video of Dr. Jekyll turning into Mr. Hyde. During the Free spins a meter can be filled by collecting Blue potion. When the potion meter is completely filled the Free spin mode will end.

This is an exciting video slots that everyone should try out. You will enjoy the amazing graphics, the great sound and all the fun features. Play the game by pressing the image above.