Battle of Slots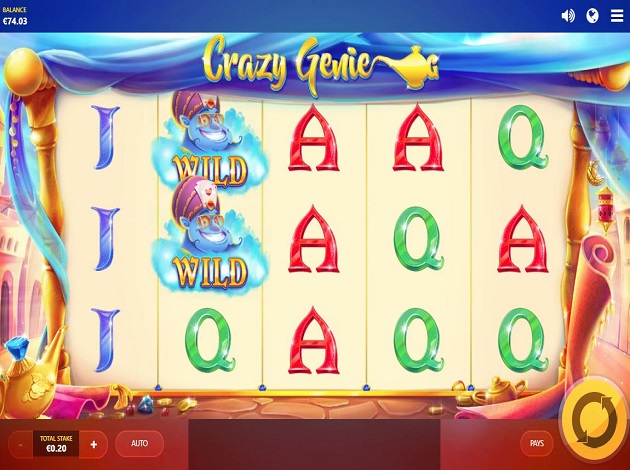 Crazy Genie
Crazy Genie Introduction
Genies, also called Jinn, originates from a long line of mythological creatures dating back to as early as 2400 B.C. according to some, genies were created out of "fire of a scorching wind". Genies are said to be a lot more than spirits or demons, as some mean they are – they are very intelligent, free-willed creatures of some sort, that lives close to nature and holds magical powers. Some are good, some are evil, some are in between, and some are simply like supernatural humans.
The genies are known for being able to change form and appearance, based on their state of mind – and also living in bottles, not coming out until a human find it and rubs it. it was later said that the genies disappeared and scattered in the wind, as the upset the man above.
But we can all rest pretty much assure that genies actually doesn't really exist, apart from in mythology, believes, folklore, and fairy tales – one of the most infamous one being the generous genie in Disney´s Aladdin.
Today, we will feel the myth up close, and it will surely still be magical. We proudly present; Crazy Genie, a Video Slot by Red Tiger Gaming!
Crazy Genie Features
Crazy Genie is a flawless name for this game, as it is filled with lunatic genies, fun attributes, and a lot of features. The symbols and designs of them all take you to the Arabic desert, where the genies are said to lay in their lamps. The lower valued symbols are the classic card deck symbols, ranging from 10 to Ace, made in different colours. The higher valued symbols are then the genies blue hand with a thumbs up, the red-gold magic carpet, the red coin packed cobra, and the big dagger in a pile of gold and diamonds.
Above the basic symbols, there are utterly special symbols to keep a lookout for – this being the magic gold lamp. This can grant you some extra nice wins, and a total of 5 various Bonuses! We will reveal all of these below.
Crazy Genie Free Spins and Bonuses
Your way to the big features is the gold, magic lamp – and if you land 3 of these on reels 2, 3, and 4, you trigger the Bonus Wheel.
When landing these symbols, the genie peeks up from his lamp and jumps onto the reels, holding a bonus sign. He then takes you to the Bonus Wheel and spins it for you – what it then stops on, chooses the triggered Bonus. They are as followed;
Gold Bonus; when this bonus is triggered, all reels will be spinning with gold coins. In total, you are awarded 6 Gold Reel Spins. This will, of course, grant you win in the form of credits.
Gift Bonus; here, the genie will be with arms stretched out for your pleasure. In his 10 arms, he is holding 10 coins, and your goal is to pick a gift out of these – and be awarded for the better pick.
Treasure Bonus; here, the genie takes you to a hidden dungeon filled to the top with various treasures. Your goal is to choose from a gold vase, the beaker, the dagger, the genie´s hand, the statue, the Pharaoh, the genie painting, and the treasure chest with a duck on it. These treasures all hide away some rewarding gifts, and it's your aim to find and grab them.
Lamp Bonus; when the genie triggers this Bonus, he lets you rub the dear gold lamp – but do it with caution. If you rub it the right way, you might be awarded some high Multipliers to boost your wins.
Oasis Bonus; finally, a tropical vacation in the desert! In this Bonus, the genies take you to a small little lake, with sunbeds, palm trees, drinks, and a rewarding piñata for you. Your goal here is to hit the piñata as good as you can – each hit will generate coins falling out, possibly granting you a juicy credit win in the end.
Crazy Genie Payout
Crazy Genie is a Video Slot played with 5 reels over 3 rows, and additional 20 paylines. All wins are paid out when a symbol matches a payline pattern from left to right on the reels. The prize is basically the value of the bet made, multiplied by the prize advised on the paytable.
Crazy Genie Graphics and Music
Crazy Genie is a Video Slot all in the Arabic and magic feel, with the scenery of the deserts, and magical town with sand houses. The reels are placed here, with a gold frame, and purple fabric of silk hanging on the frames to make it feel a bit more luxurious.
The colours of the game are all very vivid and vibrant, making the game a delight to simply look at. With this, along with the features, Crazy Genie is a game very alluring for players.
About Red Tiger Gaming
Red Tiger Gaming is a company founded in 2014 – making it one of the youngest and freshest game developers in the industry today. It is a company founded by a group of veterans with a vast experience in the business, all with proven and long track records of casino development both in Europe and Asia. Red Tiger Gaming has built their team very cleverly, with mathematics, psychologists, graphic designers, software developers, account managers, and so much more. A team full of talent and willingness to put in that extra work to be able to bring incredible games for players and operators across the world.
They offer all their games in hi-end 2D and 3D graphics on all devices, and they offer games with timeless and beautiful designs. The themes always vary to suit all kinds of players – to keep them drawn in.
Some of the games created and developed by Red Tiger Gaming are Dragons Luck, Lucky Wizard, Ancient Script, and Happy Halloween. If you are into interesting themes, incredibly clear and bright graphics, and rewarding features, then you should check out these games right away!