Battle of Slots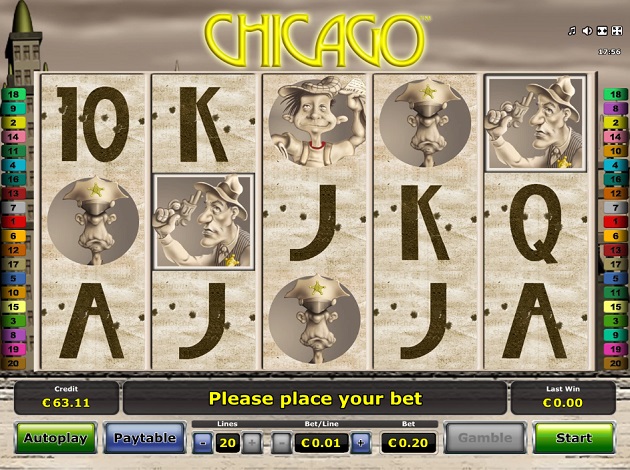 Play Chicago online: Check out our slot review below
Chicago Introduction
A title from one of the most loved and popular game suppliers of all time – at least when asking players and operators – is upon you. This is one that takes on a theme inspired by mobsters and takes place in the Prohibition era. Mobsters are members of organized groups of violent criminals or gangsters – often creepy characters, like in the game we are about to present now.
But then what is the Prohibition era all about? And what does it have to do with mobsters? Well, the prohibition era lasted from 1920 through 1933 and was basically a time where a constitutional ban on production, importation, transport, and sales of alcohol. This led to a big increase in criminal activity – where mobsters took over. This was also the era of some of the biggest gangsters of all time, such as Al Capone, Eliot Ness, Frank Costello, Machine Gun Kelly, and Bugsy Siegel. These are all notorious gangsters (mobsters) and ruled the streets of the ban.
Now, Chicago Video Slot is presented and will introduce you to two of these infamous mobsters – Al Capone and Eliot Ness – where they battle each other and the untouchables of the Chicago streets. It is a thrilling and likeable theme, granted by Greentube, and you are sure to enjoy it. The theme also comes with a lot of features that are bound to boost your balance.
We proudly present; Chicago from Greentube!
Chicago features
The symbols of the game are all made to suit the theme of mobsters, including symbols of everything from the classic card deck symbols which represents the lower valued symbols. The higher valued symbols are then the mobster characters of all shapes, genders, and sizes. You have the goofy, the policeman, the smoking lady, Al Capone himself, and Eliot Ness. These two are the main characters and top players of the game.
But there is more to it than that – as there are 2 extra special symbols that can award you higher wins and special features. The skyline is the Wild Symbol while the Scatter Symbol is the fancy old-fashioned car. We will tell you all about these below.
Chicago Free Spins and Bonuses
To trigger the Free Spins Feature of Chicago Video Slot, you need to land at least 3 of the mobster car symbols – which is the Scatter of the game. If you do, you can be awarded 12 Free Spins. The symbols are in itself quite rewarding too as it can grant you winnings of up to 100 times your stake. After every winning Free Spin, you will be presented a selection of bottles. Your goal here is to take your aim and fire to then reveal a Multiplier of 1x, 2x, 3x, 5x or 10x. The amount stated in the last bottle standing will be applied to your win from that Free Spin. Landing more Scatters can award you another 12 Free Spins.
Apart from this, you also have a rewarding Wild Symbol, which is the one overlooking the Chicago skyline. This is a rewarding symbol as it steps in to substitute for all symbols apart from the Scatter – to create winning combinations. The Wild is worth up to a staggering 100 credits.
Chicago Payout
Chicago Video Slot is a game offering 5 reels over 3 rows and additional 20 paylines. All winnings are for combinations landing from left to right – with an exception for Scatters as these awards winnings on all positions on the screen.
Chicago Graphics and Music
Greentube is a game supplier focusing mainly on the actual structure, mathematics, and gameplay of it all – which results in graphics and designs that are good, but not the sole focus of the game. The quality of the graphics and designs are made fairly simple, and not made to take over the gameplay. You can still it enjoy the visibilities though, where you can see the backdrop of the Chicago skyline line up with a sepia based colour scheme. The reels are placed in front of this, with well-executed animations of the mobsters and gangsters. It is well detailed, stylish, and pleasant to look at. You are surely in for a treat with Chicago Video Slot.
There is no particular music offered in this game, as you will mostly listen to loud sound effects and some notes of classic Slot machine sounds.
About the game provider, Greentube
Greentube is one of the most appreciated, well-known, and most experienced game suppliers of everything from software, games, and land based gaming products in the world. With its launch in 1980 and their successful, international expansion only 2 years later, the company strived and reached all its goals quickly. Today it has offices and locations in over 50 countries all over the world and still exporting high-tech gaming equipment to over 70 countries. The company has 24,000 employees, all working to provide its players with brilliant products, which consist of among others 160,000 gaming terminals!
The way to its success can surely be found in its dual strategy as the work goes from being producers of high-tech gaming equipment and operators of electronic casinos, regular casinos and sports betting outlets, as well as technology and service partners in the lottery segments. As you hear, there is no stopping to this brilliant company.
But we are here for its online Video Slots – and they are sure brilliant too. Currently, over 240 Video Slots are offered by Greentube, and they all offer us vivid themes, a grand gameplay, thrilling features, and big winning opportunities – which is why Greentube is one of the most beloved game suppliers on the markets. They also offer Video Slots for both online and land based casinos, as well as Multigames, Jackpots, and Electronic Table Games.
But it is time to let your inner gangster out and fire the smoking gun – at the exact right moment. We wish you the best of luck!