Battle of Slots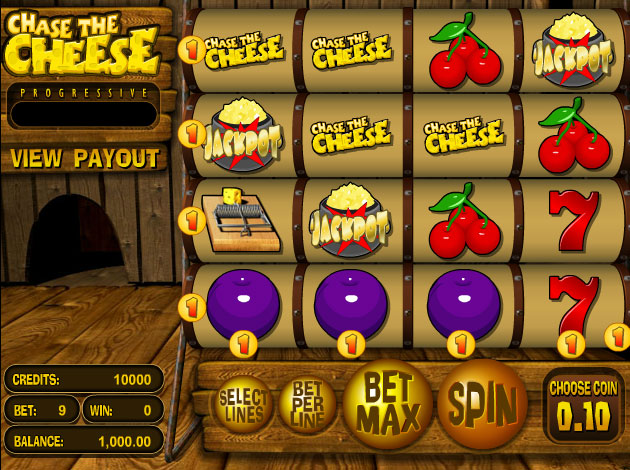 Chase the Cheese
Welcome to Chase The Cheese. This is a 4-reeled slots game where you truly can smell the smell of money coming your way. As the name suggests this is a cheese themed slot game and you have some very exciting features in it like the chase the cheese bonus round and a progressive jackpot which keeps on growing bigger and bigger.

There are 4 reels in this game and 9 pay-lines but the paylines are not only horisontal, they stretch from left to right and also vertically and diagonally so there are plenty of combinations to make you money.

The bonus game is something that really makes this game so much more exciting to play. When you get the right combination with the bonus symbols you advance to the bonus game and there are 3 bonus levels which keep on getting harder for each one you finish. You get more and more bonus points for each level you finish so there are plenty of money to be collected here. Your goal is to guide the mouse around the house and collect as much cheese as you can before you have through the rat hole in the wall. But make you sure you stay clear from the cats, holes, spiders, bats and mouse traps! Something that makes this game even more exciting is that you have a time limit to complete each level but don't worry, it is not that hard at all.

There is also a progressive jackpot in Chase the cheese which means that it keeps on growing and it will continue to grow until someone wins it and if that person is you, you can be sure that it will put a smile on your lips.