Battle of Slots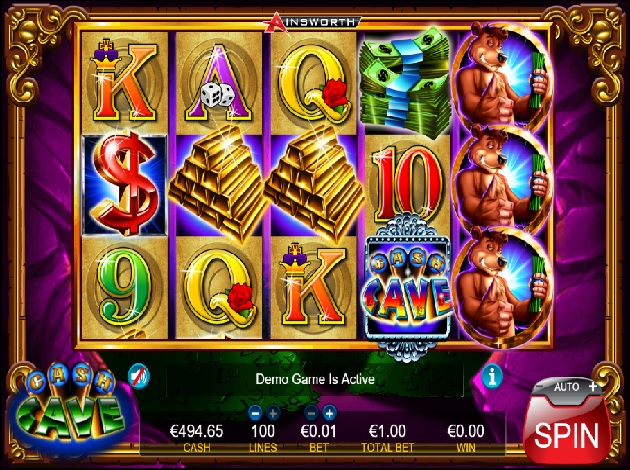 Cash Cave
We would like to greet you with a huge bear hug to this new video slots, Cash Cave! This is a brand new video slot that we here at Videoslots.com are more than happy to get the opportunity to add to our frequently growing game catalogue. We are always searching every corner of the world to find just the best games that there are on the market for online casino games and we have now found one of the most amazing game provider that has ever been founded! We are of course talking about the magical, bombastic, one and only, Ainsworth!
This is a new provider that we have here at Videoslots.com are sure you are going to love just as much as we do! All the games that are developed by Ainsworth has themes that are filled with imagination, graphics as sharp as a bear tooth and sound effects that makes you feel like you are a part of the game. It is soon time for you to discover that Cash Cave is not an exception from any of this! You will not regret clicking your way into this new and brilliant video slot.
In this game you get to make your way into the forest to find the cave that people have been whispering about on the street. People are saying that this is the cave of riches. If you just follow the big paw traces in the mud, they will show you the right way. As soon as you enter the cave, you will see something that you never though your eyes was going to see. A video slot, here? In the middle of the forest? Yes, in this fabulous world of online casino games, everything is possible! This video slot contains 5 wheels, 3 rows and you can have as many as 100 active paylines for each bet! This mind blowing high amount of paylines will increase the chances for you to make loads of winnings that you never thought you was going to find in this dull and damp forest.
ROOOOAR! What was that? Is that a bear?! Suddenly you freeze behind the slot game and you feel something furry on your shoulder, when you slowly turn your head, you can see a huge pawn and then a friendly lick on the cheek. It is the uncommon, brown cash bear. But don't panic! This is a bear that comes in peace. He do not want to harm you. He simply want to help you to spin the wheels and maybe you then will land on the symbol with his fancy snout on it. You should really appreciate his help. The symbols with the bears on here in Cash Cave is the Wild symbol. This is for sure one of the most appreciated symbols there are when it comes to video slots. This is a symbol that will substitute for all of the other symbols in the game. This means that if you have a combination that is next into completed and then also land on a Wild symbol, this brilliant symbol will substitute for the missing symbol and this combination turns into a complete and winnings combination!
These bears has a lot of surprises hidden in their cave and we are not going to spoil their excitement to show all of this for you! But we can promise you that there are more than sparkling gems and unique bonuses that are hidden in here! All that you have to do to find out is to open the game and start the journey here in Cash Cave! We at Videoslot.com are convinced that you will find your new best friends in here!