Battle of Slots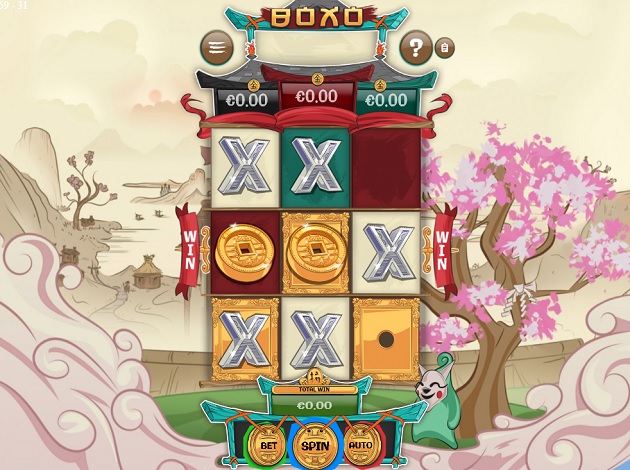 Boxo
Boxo introduction
Beautiful drawings can truly set your mind at ease, and with this game comes just that. A game that has been made up piece by piece, line by line and shade by shade. Japanese cherry trees and valleys stretching for miles away are drawn in a dusk, with the main focus of the three reels in the midst of it all. It is a Japanese inspired Slot game that will make you calmer than the valley wind, due to its soft pencil touch.
The layout and design is one of its kind – but so it the layout of the actual gameplay. This is a 3-reel Slot with two sets of three reels arranged concentrically and coaxially, and spins independently. With this comes 3 colours which can grant you various wins, Bonus pots, Multipliers and more. We are about to reveal all divine secrets to this Japanese masterpiece.
We are proud to present the unique; Boxo Slot by Leander Games!
Boxo features
It might sounds pretty unbelievable, but Boxo is a Slot that technically only consist of a total of 2 symbols. The silver X and the golden Japanese coin. But in this game, the symbols doesn't matter quite as much as the colours and the way the colours lands on the reels. Black, green and red backgrounds are the ways to winning – and we will tell you exactly how right below.
Boxo free spins and features
So, as we mentioned, there are two symbols in this game – and the front set of reels holds these. At the conclusion of every spin, three matching symbols on the game´s central payline will grant a win.
Note that the golden coin is a symbol awarding you 50x your stake while the silver X awards you 5x your stake.
The colour picker:
At the end of each spin, the colour picker reel at the top of the reels will indicate which (if any) colour panels in view are activated. Each activated colour panel contributes 1x the players´ bet to the matching Progressive Bonus pots. (The colour pickers are at the top of the reels and are shown as the roof of the temple).
The Progressive Bonus Pots:
For every time you continue to play, the Bonus Pots will grow bigger. 3 matching colour panels on the payline will pay the matching Progressive Bonus Pot value.
The Golden Multiplier Feature
The Golden Multiplier Bonus Feature is triggered when three gold panels land on the payline. You then choose yourself a block to reveal a multiplier of 1x, 3x or 5x. the chosen multiplier will be applied to the total value of all three Progressive Bonus Pots and paid to the player.
Boxo payouts
So, as we mentioned, there are two symbols in this game – and the front set of reels holds these. At the conclusion of every spin, three matching symbols on the game´s central payline will grant a win.
Only the highest winning combination is awarded per symbol combination. The game has an RTP of 96.47%.
Boxo graphics and music
Boxo is an interesting game, unlike any other you have seen before. The graphics and designs are fairly simple – which in this case is more beautiful than imagined. The game is created as though everything has been painted in fine lines and shades are all going in a subtle colour scheme of brown, beige and soft pink. The reels are placed in the middle of it all, being a temple formed tower with thee reels and three rows – this in somewhat brighter colours to put it in focus.
About Leander Games
Leander Games was founded in June 2008 in Buenos Aires, Argentina and in this short period of time Leander Games were able to build an appealing and innovative game library that attracted the attention of most of the largest platforms in the industry. They have since their start providing them with their products, and they are much appreciated for this.
Some games are successful because of their art, their behaviour, or their concepts. But Leander Games is defining a company of its own style by creating a hard to find a balance like no others offer: they give their players the pleasure of great graphics, excellent animations, exciting and well-calculated mathematics, and hyper-attractive concepts. It is hard not to play their games and be entertained for hours ends.
Leander Games background is quite diverse but they all share a common passion and goal: Creating the best performing games in the industry.
Leander Games has recently joined forces with other game providers to spread hundreds of games across the world together. This cooperation will surely grant all players with tremendous, new, and fresh experiences.