Battle of Slots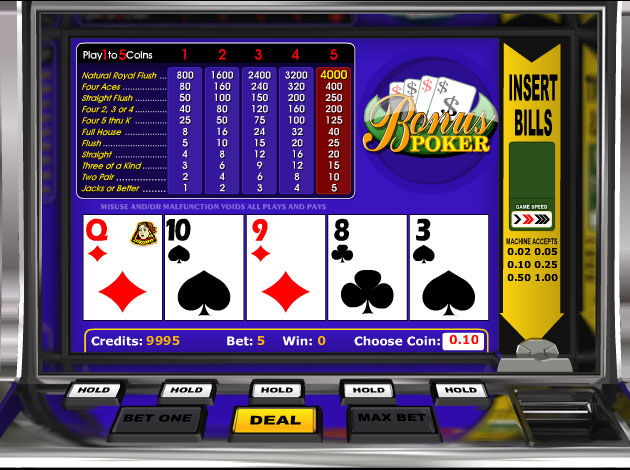 Bonus Poker
Betsoft Gaming offers 60 ways to play video poker with all of the popular variants from a straight-up game of Jacks or Better to advanced bonus pokers. The games come in 3 basic machines; single hand, multihand (where you choose between 5, 10, 25, 50 or 100 hands before starting the game) and Pyramid poker which allows play on the 5 card hand as well as two three-card hands (from left or right with the center card in common).

Pay tables are visible for all games to help determine strategy and a gamble game is available for all but the biggest wins. User controls include game speed and a max bet button for betting all five coins of your chosen value on each hand for the highest return percentages.

In Bonus Poker you simply need to choose your desired bet coin value, then select the bet column and click on deal to reveal the 5 drawn cards. You may hold cards that you think are of good value to your winning hand. That being of jacks or better and then click on deal again for the final draw which will determine if you have a winning hand or not.

To begin the game click the Choose Coin in the lower right part of your screen to decide how much you want to bet per round. Hereafter decide how many coins per line you want to bet per round, click the Bet One button and the highlighted part of the payout table will move, the active paytable is highlighted depending on how many coins you've chosen to play with. Click the Deal button and you'll be dealt five cards. If the hand consists of any cards that you want to keep, you are able to hold them – which mean that they will not get replaced when the new cards are dealt, they will stay in place. To hold a card, click on it. After this you get dealt new cards when clicking on the Deal button once more. The current hand is the last hand, and the hand your winnings are based on. If you got a winning poker hand, you are able to 'double up' your winnings or collect them. By collecting the winnings you'll automatically get transferred to the main game. If you want to gamble them, simply click the double button and in this game you have to pick a card that has higher value than the dealers – which is faced up in the beginning of the doubling game. The payout table is available during each game round; this makes it easier for you to see any winnings and how much they will pay you.

In the lower part of the card area you'll find information about your current credits, bet and win. If you want to play one round with the maximum bet – coin size and coins per round, you can simply click the MAX BET button without having to change the coins manually.

Play this awesome video poker game from Betsoft, we assure you – you'll not be disappointed!