Battle of Slots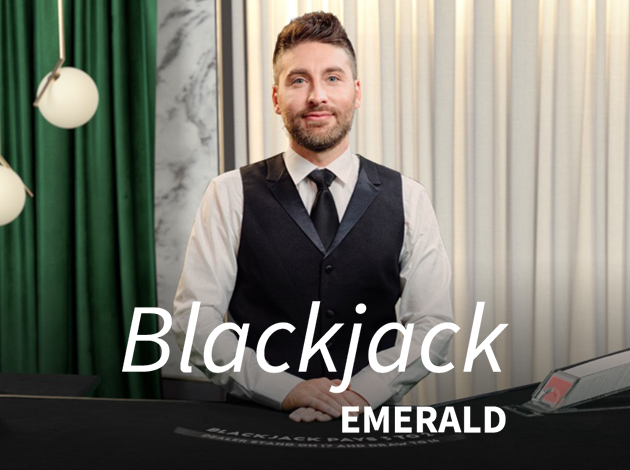 Blackjack Standard
Blackjack Standard Introduction
NetEnt's live Blackjack Standard is a turn-based, multiplayer Blackjack game with a maximum of seven players at the table. This live casino game is played with six decks of cards and hosted by a professional live dealer who will welcome you to the table and guide you through the game. NetEnt's Blackjack Standard offers the same, real-life casino feeling thanks to impeccable video quality and professional dealers that make you feel like you're really at the felt table.
Blackjack Standard Game Features
Take your seat at the Blackjack table and place your bet anywhere between the minimum of € 5 and the maximum of € 1,000 per game. The dealer will guide you through the game to place your bets and will also inform you when bets are closed. There are seven seats available in Blackjack Standard, meaning a maximum of seven players at each table.
Multiple Seats
NetEnt's Live Blackjack Standard also allows you to take multiple seats at the table if there are spots available. When playing on multiple seats, the same bet will automatically be applied to all your seats; it's not possible to place different bets for each seat.
Side Bets
Perfect Pairs
The Perfect Pairs side bet wins if the first two cards dealt to you have the same value. The odds of winning also depend on whether the pair of cards have the same suit or the same colour.
21+3
A 21+3 bet wins if the first two cards you're dealt - combined with the dealer's card - form a winning 3-card poker hand. The 21+3 bet is lost if the initial three cards dealt do not combine to form one of the 3-card poker hands.
Insurance
If the dealer's first card is an Ace, you have the option of buying an insurance bet. The insurance costs half your initial bet and will pay 2:1 if the dealer gets a Blackjack. If the dealer does not have a Blackjack, you lose your insurance bet.
Chat feature
Like most of NetEnt's live games, Blackjack Standard comes with a great chat feature which lets you chat with other players playing at the same table!
Blackjack Standard Rules
Once the bets are closed, the dealer will deal one card for themselves and two cards two each seated player at the table. In Blackjack Standard, you'll be playing against the dealer, trying to beat him be creating a hand that is equal to 21 or as close as possible to 21 without going over.
If the dealer's hand is closer to 21 without going over, you lose. As always in Blackjack, the dealer must hit at 16 and stand on 17 or higher. If you and the dealer have the same hand, this is known as a push and your bet will be returned to you.
Once the cards are dealt to you, you have a few decisions to make, which are described below:
Hit: If you decide to hit, you'll be dealt another card.
Stand: If you decide to stand, you won't be dealt an additional card and you'll play your hand as is.
Double: If you decide to double, meaning your initial bet will be doubled and you'll receive another card before your hand automatically stands. You can also double after a split.
Split: If the first two cards dealt have the same value, you can decide to split them into two separate hands. Splitting will double your initial bet and you'll play both hands, one at a time.
Even money: If you get a Blackjack and the dealer's card is an Ace, you can choose to take 'even money', which pays 1:1.
Blackjack Standard Payouts
Without any side bets places, the payouts are made as follows:
Blackjack pays 3:2
Win pays 1:1
Insurance pays 2:1
If you've placed a side bet on a Perfect Pair, payouts are follows:
Mixed colour pair (one red card, one black card) pays 5:1
Same colour pair (different suit) pays 10:1
Perfect pair (same suit) pays 30:1
If you've placed a 21+3 side bet, the payouts are as follows:
Flush pays 5:1
Straight pays 10:1
Three of a kind pays 25:1
Straight Flush pays 40:1
Suited Trips pays 100:1
Blackjack Standard Graphics and Sound
Blackjack Standard is live streamed from NetEnt's state-of-the-art studio, a setting brilliantly designed to make you'll feel like you're really sitting at the Blackjack table in a real-life casino. In the background, you can hear the buzz of other tables at the casino and other dealers playing as well, although this does not distract from the gameplay. The live dealer will welcome you to the table and can also interact with you. You can view all the rules and the paytable from the Help menu on top.
Blackjack Standard Conclusion
NetEnt's Live Blackjack Standard offers a truly immersive experience that is just like playing at a real casino, except you can do it all from the comfort of your own home. Placing bets is easy and the dealer makes the game even easier to play and understand. With Blackjack Standard, you're also available to play with multiple seats and chat with other players at your table! Take a seat at NetEnt's Live Blackjack Standard here at Videoslots.
Gambling is a form of adult entertainment only. You must be over 18 to play. Play responsibly.
About the Provider
NetEnt is a premium supplier of online casino games used by many of the world's most successful online casino operators. The NetEnt CasinoModule™ is a leading- edge gaming system which includes high-quality online casino games, powerful bonus programmes and a sophisticated Back Office.
Founded in 1996 by one of Scandinavia's leading off-line casino operators, NetEnt was one of the pioneers in online gambling. The heritage in real life casino operations is one of the reasons behind the success of the company.
NetEnt is unique in the market, not only in its focus strategy on casino games, but also because of the fact that the company does not have any casino operation of its own, nor any interests in such operations. This means that there are no conflicts of interest between NetEnt and its customers.
Thanks to a combination of our heritage and focus strategy, the NetEnt casino stands in a class by itself. Another contributing factor to the success of the NetEnt games is the high entertainment value delivered through rich graphics, intriguing bonus games, entertaining animations and innovative features and functions. The games from NetEnt are not just games!
They are productions of a team of highly dedicated and motivated individuals, spanning a wide range of talents with one thing in common – Passion for Gaming!
Editions by NetEnt are Secret of the Stones, Dead or Alive and Jack and the Beanstalk.
Play in our Battle Of Slots
Videoslots.com is the World's Biggest Online Casino with the biggest portfolio of games in the industry! Don't miss out on our innovative Battle of Slots, a thrilling experience where you can compete against other players. Battle of Slots is the first social online casino tournament, giving you the chance to play against your friends or other players on games from NetEnt, Thunderkick and Play'n GO. Remember, there is only one Battle of Slots, and you can only find it on the World's Biggest Online Casino – Videoslots.com!