Battle of Slots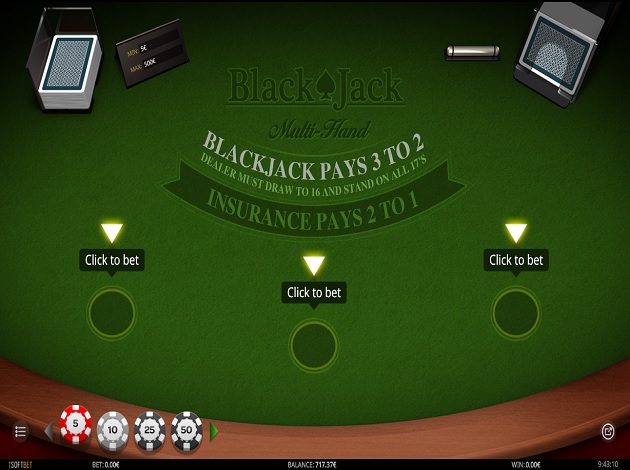 Play Blackjack Multihand online: Check out our review below
Blackjack Multihand Introduction
Blackjack is probably one of the most popular table games in history and players never seem to get tired of this classic. The fun lies in its simplicity: players compete against the dealer by trying to acquire cards with a face value of 21. If the value is more than 21, the player goes 'bust'.
Blackjack Multihand, on the other hand, ups the ante and makes this classic table game much more exciting by allowing you to play with up to multiple separate hands at a time instead of one. In iSoftBet's Blackjack Multihand, you'll be able to play with up to three hands at a time.
Thanks to iSoftBet's brilliantly-designed Blackjack Multihand, you can now enjoy this exciting variation from the comfort of your own home, with the feeling of a real-life casino. The great thing about iSoftBet's Blackjack Multihand is that since it's not a live game, you can think carefully about your strategy without pressure from other players in a live environment.
In iSoftBet's Blackjack Multihand, you'll be playing against the dealer rather than other players. The goal is to get a card value of exactly 21 and no more. Although Blackjack Multihand is a game of luck, there is still an element of skill and strategy involved, as you have to make certain decisions to try and obtain the best hand. Read on to find out how to play Blackjack Multihand and beat the dealer to win get prizes.
How to Play Blackjack Multihand
Playing Blackjack Multihand online is easy once you familiarise yourself with a few simple rules, making this Blackjack variant suitable both for beginners and seasoned pros as well.
You can place three separate bets in Blackjack Multihand. To start, simply click on any of the three positions to place your bet. First, you have to decide if you want to place one, two, of three separate bets, the minimum of which can be as little as € 5. The maximum amount you can place for each bet is € 500.
Once your bets are placed, you have the option to cancel all of them if you're not happy with them. Otherwise, click on 'Deal' and the game begins. The first two cards will now be dealt, and depending on the cards you've been dealt, you can choose to hit, stand, double down, or split.
Hit -If your value is much lower than 21 and the risk of going over 21 is low, you can choose to hit to receive one more card.
Stand - If you're happy with the cards dealt, you can choose to stand and keep your current hand. If you click 'Stand', the dealer will reveal their hidden card and draws other cards if necessary. The dealer must automatically draw on 16 and stand if the number is 17 or higher.
Double Down – After your first two cards are dealt, you can choose to double your ante bet, in which case you'll receive a third card and the dealer will reveal their hidden card. If you double down, you can't receive any more cards for that current hand and you can only double down on your first two cards.
Split – If the main hand's first two cards are of equal value, you can choose to split it into two separate hands.
Insurance – You also have the option to place an insurance bet if the dealer's face-up card shows an Ace. This means that you won't lose your entire bet if the dealer has a Blackjack. The insurance option will only be available if you don't have a Blackjack. Otherwise, if you do have a Blackjack, you have the 'Even Money' option.
Even Money – This option is available when you have a Blackjack and the dealer's face-up card shows an Ace. If you take even money, you get 1:1 on your initial bet and the game ends there.
Push – If you get a 'Push', meaning both you and the dealer have the same card total you'll get a return of your bet.
Bust – If your hand goes over 21, then you go 'bust'.
Blackjack Multihand Payouts
Blackjack Multihand pays out as follows for different winnings:
Normal winning pays 1:1
Blackjack (when the sum of the first two hands is exactly 21) pays 3:2
Even Money pays 1:1
Insurance pays 2:1 of the insurance bet
Blackjack Multihand Graphics and Sound
iSoftBet has created the perfect balance between a real-life casino experience and the benefits of playing table games online. To immerse you in the experience, you'll hear relaxing music played in the background, along with the hushed sounds of other people playing and talking, just like you would hear in a real-life casino.
The design of the game is simple, making it very easy to understand and play. The rules are easily accessible through the information button on the left, as well as the paytable which is displayed above.
Blackjack Multihand Conclusion
Blackjack Multihand provides an interesting variant of the timeless table game, with the flexibility to bet one, two, or three separate bets to beat the dealer. There are plenty of options to customise your game and make sure you put your best hand forward! Immerse yourself in an authentic casino experience from the comfort of your own home by playing iSoftBet's Blackjack Multihand at Videoslots.com today.
About the Provider
London based online and mobile casino supplier iSoftBet was founded in 2010 so it hasn't been in the industry for that long. Despite that, it has already gathered respect and good reputation from pleased clients so it would be safe to say that the company is in a good place right now and will be even bigger in the near future. If you are frequent video slot player you might have played at least one of iSoftBet's creations during these years. In Videoslots.com we have had the opportunity to enjoy this developer's extremely entertaining and beautiful online slots since the end of 2015.
iSoftBet has hundreds of different titles in its game suite. All the games are equipped with the responsible gaming limits, such as bet limit of deposit limit, but offers also an amazing and captivating gaming experience to the players. Having an experienced team and a fascinating game suite as iSoftbet has, it is no miracle that it has some of the world's most successful gaming operators as its partners. Experience, entertainment and responsibility seem to be fully in balance in iSoftBet and its games.
Majority of the iSoftBet slot games are feature packed, modern 5-reel video slots but players who prefer more classical slot games with 3 reels can find some treats from amongst the games too. In addition to original slots, iSoftBet has plenty of branded slots based on hugely popular TV shows or movies in its game selection. It is simply a fantastic and thrilling game provider with lots of surprises for the players! Check out their portfolio at Videoslots.com now!
A few editions by iSoftBet are Super Lucky Reels, Jackpot Rango and Legend of Loki.
Play in our Battle Of Slots
Don't miss out on the opportunity to play a thrilling Battle with our special, unique and very first social online casino experience – Battle of Slots. Videoslots gives you the chance to play first time Battles against your friends and other players on Videoslots.com with games from NetEnt, Thunderkick and Play'n GO. There is only one Battle of Slots – and you'll only find it on Videoslots.com!