Battle of Slots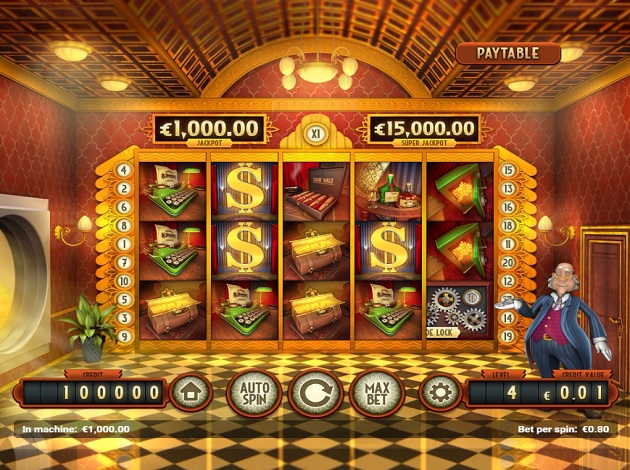 Bank Walt
Bank Walt Introduction
"Follow me please, let me show you to the vault."
Wouldn't you like to follow Walt to into the heart of this massive bank? Walk with him through hallways where cashiers and customers are busy doing their thing, then down a narrow flight of stairs and into another hallway. The door to the vault itself is a massive structure made of very heavy steel – it's bolted shut, but Walt knows the combination to open it.
There's a loud noise and the door opens majestically, revealing a shining array of gold ingots, stacked onto each other. Walt smiles proudly – this, after all, is his bank, and his loyal clients trust him with all that gleaming wealth.
What would you give to have your own gold ingot?
Magnet Gaming gives you the opportunity to win a few big prizes with Bank Walt, this five-reel, 20 payline online slot set in this classic, art-deco era bank. So, if you care to follow us to the vault, we'll tell you all about the hours of fun this game has to offer.
Bank Walt Game Features
There are 21 betting levels in this video slot, and the higher your betting level the higher your wager amount. Worry not though, because Walt isn't very demanding with the minimum deposit amounts: on the contrary, you may bet from as little as € 0.2 with a rather low maximum deposit account of € 10.
With 20 fixed paylines, expect a decent amount of wins thanks to the RTP level of 95% and the series of features and minigames offered by this video slot.
Bank Walt Free Spins and bonuses
There is a Free Spin mode, activated either through a Bonus Spin or when both parts of the Code Lock symbol land on the fourth and fifth wheel as long as they're not opposite each other. You can win anywhere between 10 and 50 Free Spins!
You also get an "Extra Chance" on the third reel in addition to a prize every time you hit a winning payline. The middle reel will spin again and you can win a multiplied prize if you form a winning payline.
The Vault is a minigame activated when you land 4 or 5 Vault symbols on the reels. You will be taken to a screen consisting of 5 columns with 8 deposit boxes in each. In the first and second column, you may open 5 Deposit boxes and another 4 in the third and fourth column. In the fifth column, you can open 3 Deposit Boxes, but one of them has the Super Jackpot Flash lying in store for you! Otherwise, there are eight gold coins to be collected, which will trigger prizes between 15000 and 50000 credits and a green arrow in each column. Each green arrow will increase the prize amount. The mode ends when you can no longer open any other deposit boxes, and you will land the prizes collected from the boxes as well as the bank flash amount selected by the flashing green light.
When the Code Lock symbols land opposite each other on reels 4 and 5, you trigger the Code Lock minigame. This is a round board game with 4 layers and 41 spaces. At the start of this minigame, you are given 10 rolls of the dice which determine how far you get the move on the board. You can land a credit prize which will be paid out immediately or an extra roll whenever the dice roll on a 6. The game contains 6 gold coins worth anywhere between 15000 to 100000 credits, and even more if you get a Bonus Spin after collecting four coins. On the other hand, landing on the arrow will determine in which direction on the board you will go. If you enter the centre, Jackpot Flash will be triggered.
Jackpot Flash is activated via the Code Lock: the light will flash between five different credit prizes and the jackpot, and you get to win the amount on which the light stops. Credit prizes are worth 20000, 30000 and 40000 credits respectively. When it comes to Super Jackpot Flash, this is activated through the Vault minigame and worth prizes of 50000, 75000 and 100000 respectively. Both jackpots are displayed on top of the game window.
Bank Walt Payouts
Bank Walt pays when you land at least 3 identical symbols on a winning line. The Gramophone pays the lowest amounts, while the Cigar, Dollar Symbol and Safe earn the largest amounts, with 5 Safes earning you the beauty of 20000 credits. There is also a Wild symbol which always lands on the third reel to help you form winning combinations.
Bank Walt Graphics and Sound
Set in what looks like a 1950's bank, Bank Walt comes with superb HD graphics and retro fonts. Gold coins shine out from inside moneybags, there's a gramophone symbol and Walt is dressed in the dapper garments of an old-school bank manager, white gloves and all. Magnet Gaming has outdone themselves in theming this game, which not only looks good but plays rather smoothly.
Bank Walt Conclusion
Follow Walt down to the vault and see what great prizes you can land with Bank Walt. The good old bank manager is willing to help you in your quest to win big – with the bonus minigames and two jackpots up for grabs, rest assured you will have a great time looking for the winning combination!
About the Provider
Magnet Gaming is a game development company established in Denmark, and is a subsidiary of CEGO ApS. Magnet Gaming develops innovative and entertaining games for all gaming platforms, ranging from computer-based games to mobile games.
Magnet Gaming's values reflect its strengths in the industry: entertainment, excitement and reliability, all the features that players and operators appreciate in a game developer.
Magnet Gaming strives to create safe and fair games which meet all the requirements of the casino sector and its regulations. Testing, clearing and verification of Magnet's games are always performed by the leading partners; Magnet itself is always sure that it's in possession of all the licences required to operate in the market.
Some of the games brought to you by Magnet Gaming are; Sideshow, Safari, The Vikings, and Space Gems.